AMD has been on a roll after they came out with the Zen 3-based Ryzen 5000 series desktop processors and we're now getting to see the launch of their Ryzen 5000 series APUs. Today's launch is about the AMD Ryzen 5 5600G and Ryzen 7 5700G which are both part of the Cezanne family which have been exclusively for OEMs until today's launch. OEMs have had access to the Ryzen 5 5600G and Ryzen 7 5700G since April this year and at the COMPUTEX keynote, AMD CEO, Lisa Su announced that these processors would be hitting retail availability in August. Unfortunately, the retail buyers will only have access to the mid-range and high-end APUs in the form of these two SKUs while the rest of the Cezanne lineup consisting of the Ryzen 3 5300GE, PRO 5350GE, 5300G, Ryzen 5 5600GE, PRO 5650GE, PRO 5650G, Ryzen 7 5700GE, PRO 5750GE and PRO 5750G, will remain exclusive to OEMs. The AMD Ryzen 5 5600G is priced at USD 259 (approximately INR 27,128 after taxes) and the AMD Ryzen 7 5700G will sell for USD 359 (approximately INR 35,388 after taxes).
APUs are generally favoured in the entry-level segment as it is targeted towards folks who'd like to save some money by not having to purchase a discrete graphics card. We, on the other hand, don't mind every processor having an IGP (or iGPU) as a backup. It's quite helpful when we are troubleshooting our PCs. However, such 'backup' IGPs aren't always powerful since they are usually integrated into the same package and the extra heat generated by the IGPs keep the CPU cores from flexing their full potential. AMD's APUs have been much more powerful than what Intel has had and that continues to be the case. Today's launch is a slightly confusing one since mid-range and high-end DIY PC builders will often get a discrete graphics card making the IGP redundant. So it only makes sense if the IGP does not take away from the CPU's performance potential. Let's see if that's the case here.
AMD RYZEN 7 5700G and Ryzen 5 5600G Cezanne Specifications
The two new APUs fall within the mid-range and high-end segments considering their core counts. When compared to their CPU counterparts such as the Ryzen 5 5600X and Ryzen 7 5700X within the same segments, we see that these new APUs feature the same or better base clocks which is a good thing but the boost clocks are a bit lower. Having an IGP can bring down the boost clocks since they put out quite a bit of heat.
 

Ryzen 5

Ryzen 7

Ryzen 9




CPU

5600G

5600X

5700G

5800X

5950X

5900X




Base Clock

3.9 GHz

3.7 GHz

3.8 GHz

3.8 GHz

3.4 GHz

3.7 GHz




Boost Clock

4.4 GHz

4.6 GHz

4.6 GHz

4.7 GHz

4.9 GHz

4.8 GHz




Process Node

TSMC 7 nm

TSMC 7 nm

TSMC 7 nm

TSMC 7 nm

TSMC 7 nm

TSMC 7 nm




Cores

6

6

8

8

16

12




Threads

12

12

16

16

32

24




GPU Cores

7

NA

8

NA

NA

NA




GPU Freq.

1900 MHz

NA

2000 MHz

NA

NA

NA




L3 Cache

16 MB

32 MB

16 MB

32 MB

64 MB

64 MB




TDP

65 W

65 W

65 W

105 W

105 W

105 W




Price (USD)

$259

$299

$359

$449

$799

$549




Price (Rupees)

Rs.22,687

Rs. 26,125

Rs. 34,600

Rs. 39,233

Rs. 72,000

Rs. 50,000




DRAM freq. support

3200 MHz

3200 MHz

3200 MHz

3200 MHz

3200 MHz

3200 MHz




Bundled Cooler

Wraith

Wraith Stealth

Wraith

None

None

None



More interestingly, the L3 Cache for both the APUs are half of what the Vermeer processors have and even the TDP has been dropped to 65W. So we can't expect the same performance from the G variants as the X variants. As for the IGPs, the AMD Ryzen 5 5600G has 7 Radeon Compute Units with a core configuration of 448:28:8 (Shaders: Texture Mapping Units: ROPs) and the AMD Ryzen 7 5700G has 8 Radeon Compute Units giving it a core configuration of 512:32:8 (Shaders: Texture Mapping Units: ROPs). AMD's IGP will also work with AMD FSR (Fidelity Super Resolution) which is an upscaling algorithm to help boost frame rates in video games by rendering frames at lower resolutions and upscaling them. This addition will make the IGPs in all compatible AMD APUs much more powerful than what Intel can muster.
Another thing to note is that these APUs only support PCIe Gen 3.0. While gaming is not going to be affected, you will not be able to make use of the full potential of PCIe Gen 4.0 NVMe SSDs if you're using these new APUs.
AMD RYZEN 7 5700G Performance
The AMD Ryzen 7 5700G is an APU at the end of the day. So while we will benchmark it against other CPUs in the vicinity of its price range and core count, we will also be dedicating additional benchmarks for exploring the performance of its IGP. And to help make sense of who should be buying these new APUs. Let's see how that pans out in the benchmarks.
We tested the unit on the following configuration:
AMD RYZEN TEST RIG

CPU: AMD Ryzen 7 5700G

Motherboard: MSI MPG B550I GAMING EDGE WIFI

SSD: Samsung 970 PRO 1TB

HDD: Seagate FireCuda 2 TB ST2000DX002

RAM: Corsair Dominator PRO 16 GB (2x 8GB) @3200 MHz

Cooler: Corsair H115i Pro

PSU: Cooler Master V1200
Cinebench R20

Our CPU benchmark tests begin with Cinebench and we're showcasing R20 since that was used to test a lot of older gen processors. In the single-threaded benchmark, we see that the Ryzen 7 5700G scores 588 points which makes it the first sub-600 scorer in the Ryzen 5000 family. In the multithreaded run, it scores 5500 which is way below the Ryzen 7 5800X's score of 5994. The Ryzen 7 5700G with its 65W TDP is nowhere close to matching the Ryzen 7 5800X despite having the same number of cores. It's higher than the Intel Core i5-11600K but that's a 6 Core / 12 Thread processor and the 5700G has two additional cores so it's not as impressive.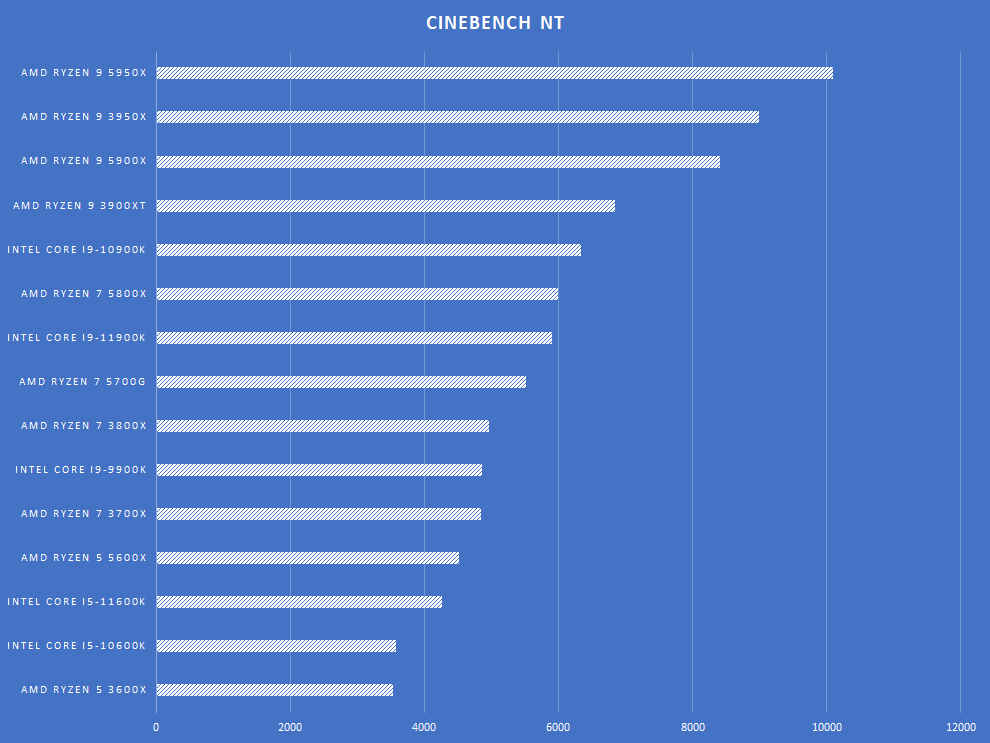 POV-Ray

POV-Ray is a ray-tracing software that can render scenes with multiple light sources interacting with varying textures mapped onto complex geometry. It's a good benchmark for showcasing the 3D content creation prowess of hardware such as CPUs and GPUs. Here we see the AMD Ryzen 7 5700G perform quite similar to the older Ryzen 5 3600X. The 3600X was a 95W TDP processor, so coming close to its score with a 65W processor is noteworthy but it does fall way behind the 5600X.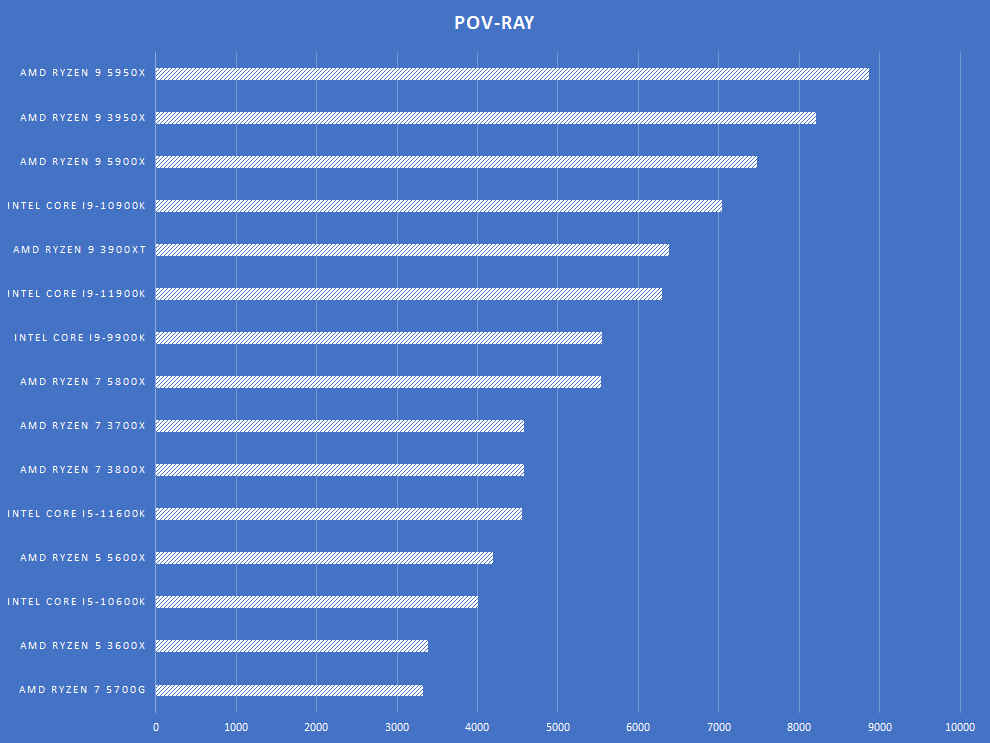 Handbrake

Our Handbrake run basically consists of transcoding a 4K video clip from one CODEC to another without changing the resolution. Handbrake is quick to incorporate new CPU encoding engines and is favoured among the 'creator community'. The AMD Ryzen 5 5700G somewhat equals the Ryzen 7 3800X which is also an 8-Core processor, however, it is from the previous generation and uses the older Zen 2 microarchitecture.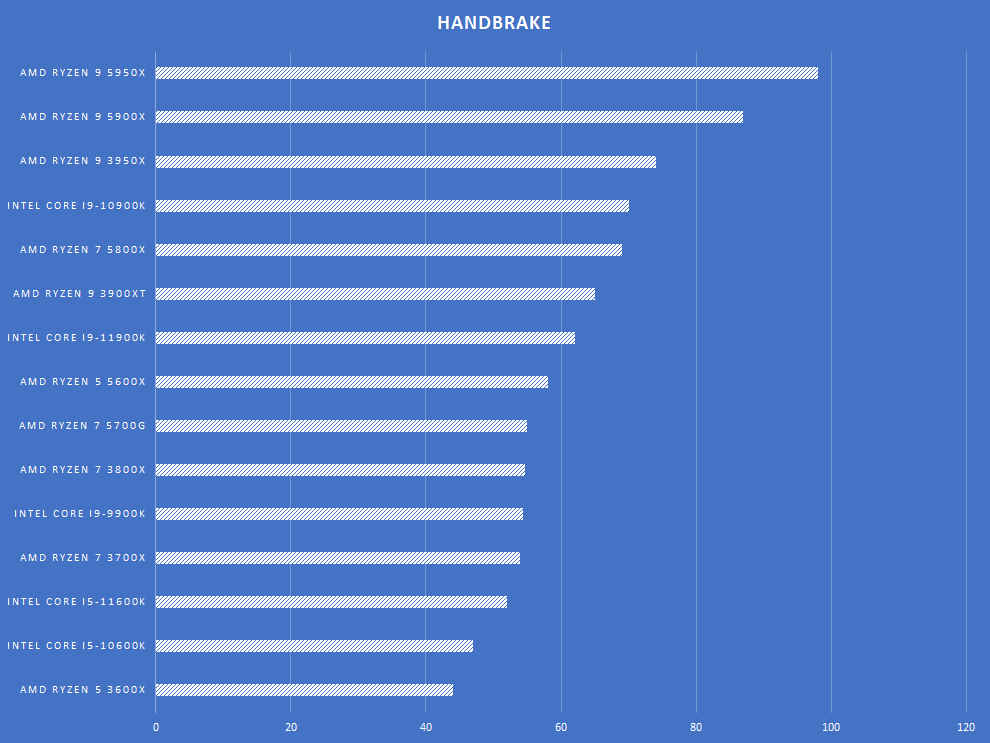 Blender

Blender is a fairly well known open-source rendering software. In this benchmark, we're looking at the time taken for a run to finish rendering. So the lower the score in this test, the better the CPU. The AMD Ryzen 7 5700G with its 8 cores finally chugs ahead of the 5600X in this benchmark and even equals the 10900K.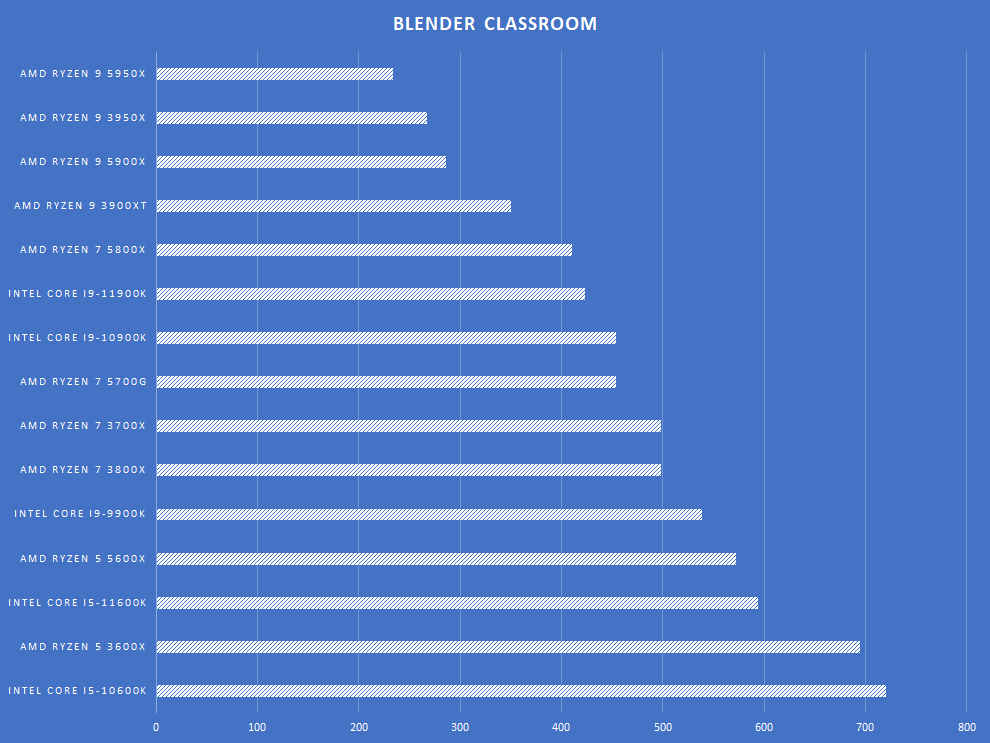 7-Zip

7-Zip isn't as CPU intensive but it is quick to adopt the latest CPU features that would aid in improving its compression/decompression rate. Here we see the higher core count, as well as the higher IPC, help out the AMD Ryzen 7 5700G in coming close to its 8-Core X-counterpart, the 5800X.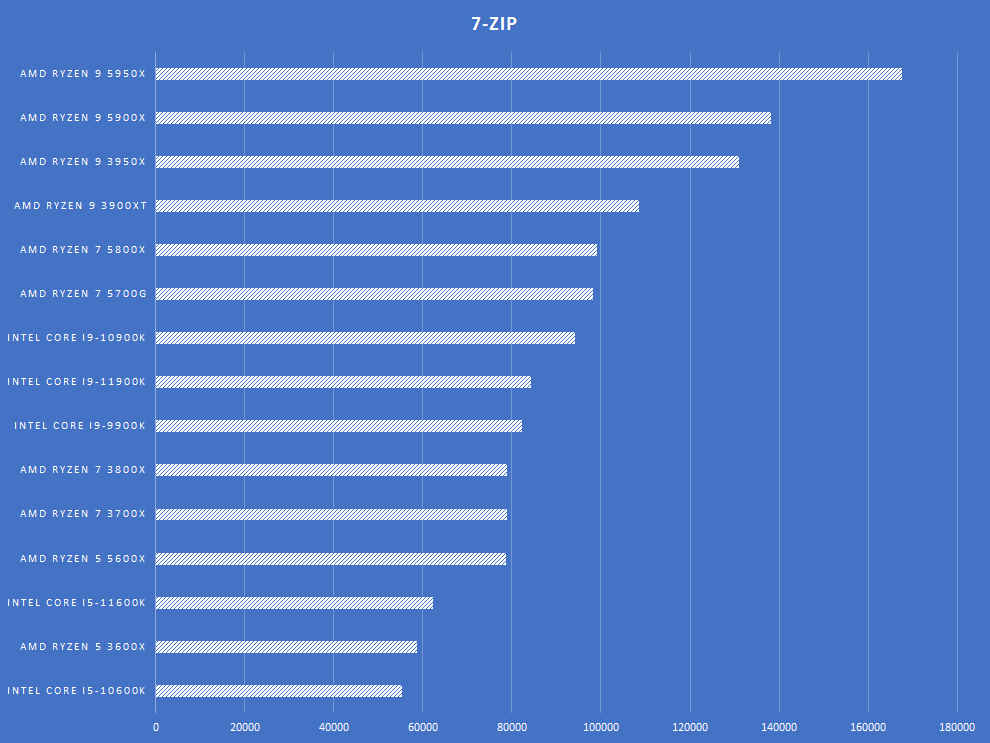 Mozilla Kraken

Mozilla Kraken is a JavaScript benchmark to measure browser performance. It includes several common JavaScript libraries used to test common use cases such as searching, audio processing, image filtering, JSON data parsing and cryptographic routines. We see the AMD Ryzen 7 5700G stand in file with the rest of the Zen 3 processors in this benchmark.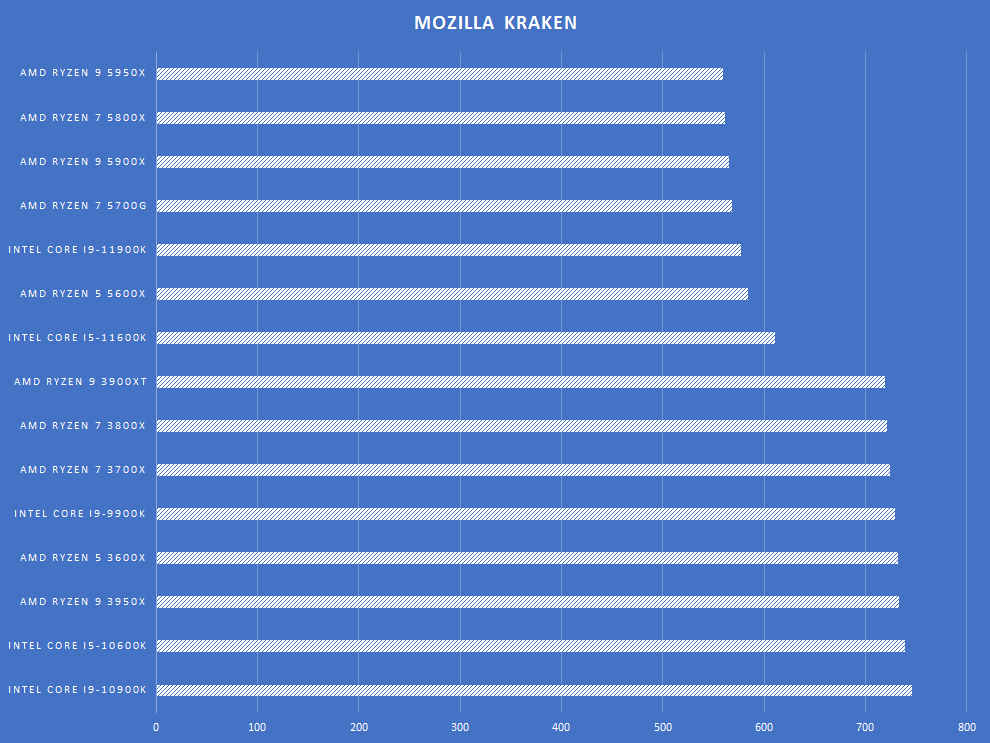 Gaming with Discrete Graphics Card

Since we're dealing with an APU here. We've broken the gaming benchmarks into two sections. One dealing with a discrete GPU installed and the other leveraging the integrated Radeon Graphics. First, we ran the benchmarks for the discrete graphics to see if the CPU takes a hit on account of including an IGP and we can see that the AMD Ryzen 7 5700G does indeed lose out on 13-15 per cent performance compared to the 5600X or the 5800X.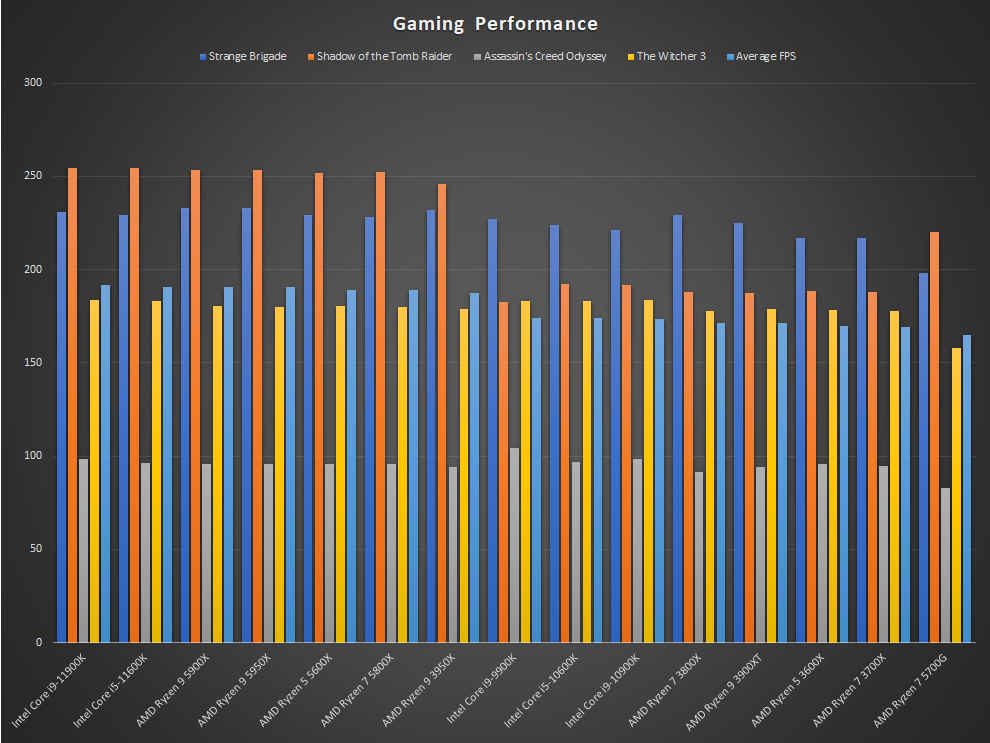 Gaming on Integrated Graphics

The AMD Ryzen 7 5700G features 8 Radeon Vega Compute Units with a total of 512 Unified Shaders and is clocked at 2 GHz. The IGP uses the system memory so if you're getting an APU, it's best to opt for more memory just in case. The good aspect about these new APUs is that they support AMD's new Fidelity Super Resolution (FSR) feature that helps get higher frame rates so we're going to see how much of a difference that brings to the table. We first ran 3DMark Time Spy on the new AMD Ryzen 7 5700G to compare it with the older gen Ryzen 5 3400G, Ryzen 3 3200G and Intel's 10th and 11th Gen processors. We even threw in an NVIDIA GTX 1650 to add some perspective. The performance of the IGP in the 5700G is about 42.5 per cent of what the GTX 1650 is capable of. Compared to the 3400G, it is about 22 per cent better. But, these are synthetic benchmarks and actual game benchmarks portray a different picture.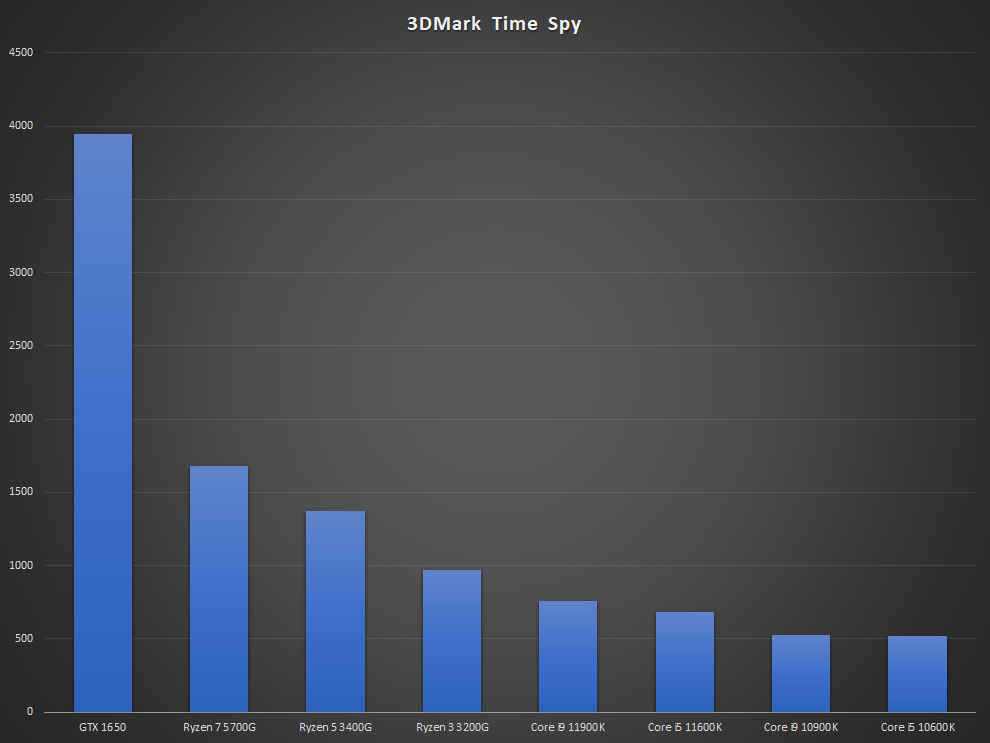 In competitive games such as CS:GO, Dota 2 and Fortnite, the AMD Ryzen 7 5700G scored 220, 64 and 91 FPS, respectively. Whereas games such as Shadow of the Tomb Raider and The Witcher 3 were a little taxing bring the frame rate down to 44 and 34 FPS, respectively. All tests were done at 1080p at low settings.
FSR

Finally, we switched on FSR to see how much of an improvement could we get on the new APU. Not a lot of titles are supported at the moment so we tested them on some of the titles AMD had shared with us previously. The performance increment varies from one game to another but the improvement is quite noticeable and makes for a much better gaming experience. In some titles, the improvement could be nearly 2x as was the case in The Riftbreaker whereas, in Godfall, the bump was 19 per cent.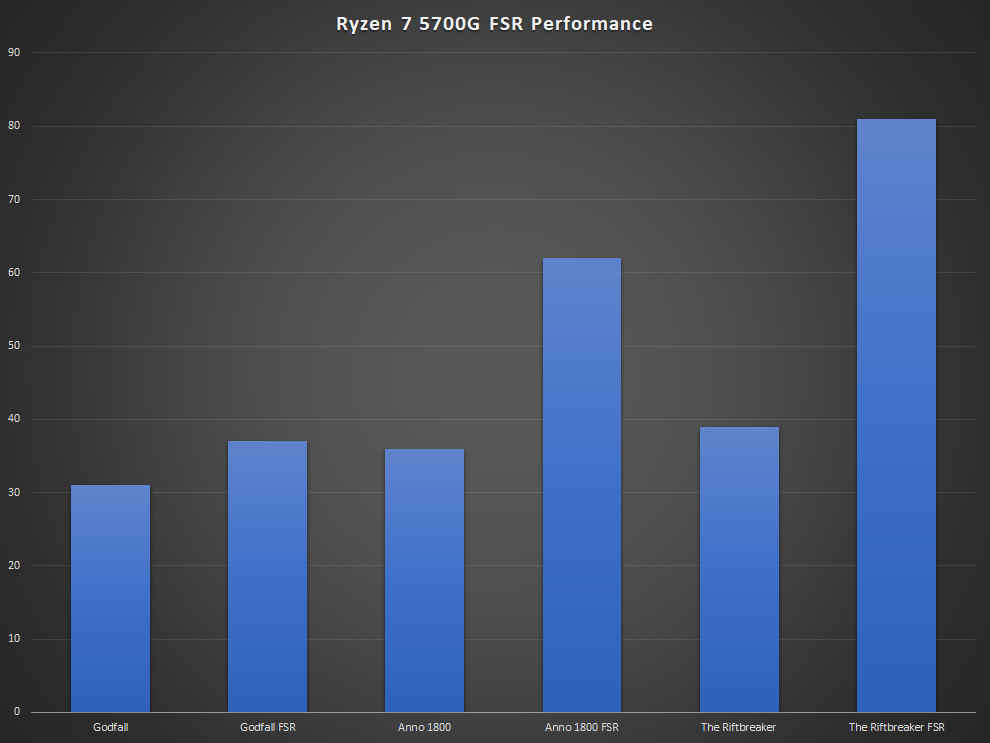 Verdict
With the introduction of these new Cezanne APUs, DIY PC builders certainly have more processors to pick from but the decision isn't as simple as is the case with Intel. When you switch from a K or a non-K processor to an F processor from Intel, you don't lose out on performance in all other aspects. That is not the case with AMD as the APUs are rated for 65W and don't perform as well as their X counterparts. Moreover, the lower L3 Cache also reduces performance compared to other Zen 3 processors. On the bright side, the IGP continues to be ahead of both Intel and older gen AMD processors, and with the introduction of FSR, these APUs do not require a discrete graphics card in some competitive video games. This would have been a much sweeter deal had AMD launched entry-level Ryzen 5000 APUs but for now, these will do.