Apple iPhone 7 Plus detailed review
Every new iPhone built by Apple brings with itself an air of excitement. The iPhone 7 Plus here, Apple's flagbearer, is the biggest, best smartphone Apple has built till date. The iPhone 7 Plus looks the way you would expect a flagship smartphone to look like, and has a typical air of refinement that we have come to expect of iPhones. With all of this in sight, what the iPhone 7 Plus is aiming for is the title of the best smartphone in the world right now. Do we get there? Well, quite so. Here's why.
The dual-camera setup

The iPhone 7 Plus brings with itself two, 12-megapixel main cameras that work in tandem and separately to present 2x optical zoom, along with improving image details and noise. The 12-megapixel primary image sensor that accompanies the 28mm, f/1.8 wide angle lens is a 1/3-inch type CMOS sensor, and the 12-megapixel image sensor accompanying the 56mm, f/2.8 telephoto lens is a 1/3.6-inch type sensor.

Daylight, wide angle
Typically, these are smaller sensors than the ones used by the likes of Samsung Galaxy S7 Edge (1/2.5-inch type), Google Pixel XL (1/2.3-inch type) and LG G5 (1/2.6-inch type), which on paper may mean that low light performance would suffer. However, Apple has always aced noise cancellation, keeping an optimum balance of light, colours, noise and sharpness in the photographs that it shoots.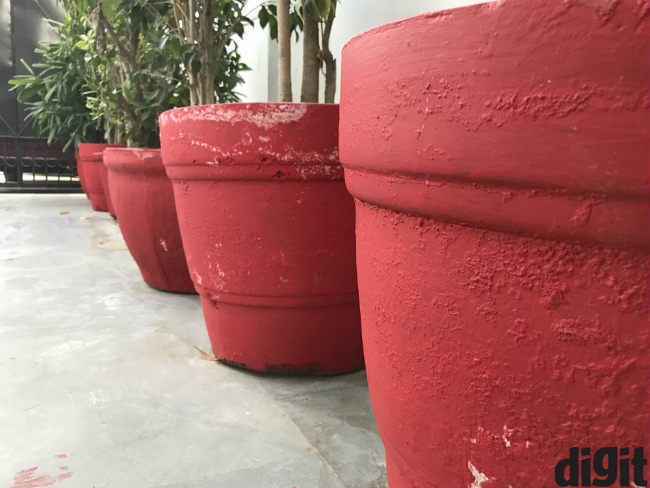 Overcast, closeup, wide angle
In real life, the iPhone 7 Plus shoots delightful photographs with very good colour accuracy and white balance. Colours remain close to that of the source, and the saturation level is marginally tuned to the warm side to make photos look more pleasant. Details are crisp, and subjects retain a crisp level of sharpness that puts this camera notably ahead of the present crop of smartphones we have tested till date.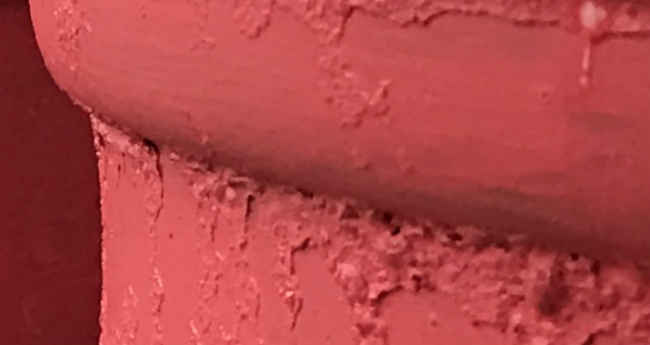 100% crop
The iPhone 7 Plus also handles warm colour temperature ambience like dusk, night and more with a deft touch. It adjusts well to the ambience, and even in low light conditions, photographs are relatively free of noise. The iPhone does a great job of suppressing image noise, and keeps the frame brightly lit. colours stay accurate, and the saturation levels are well optimised to give photographs a warm, true-to-source look.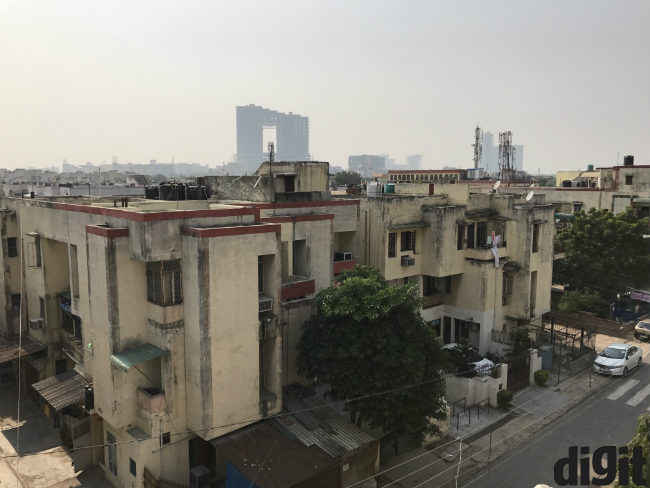 Daylight, telephoto
Moving on to the dual-camera setup, the second camera shoots at 2x optical zoom from the wide angle camera. The f/2.8 lens can question the iPhone's low light performance, and admittedly, photographs shot at telephoto are darker than what photographs from competing smartphones can shoot. This, coupled with the smaller sensor, does compromise a bit on low light performance, but here again, the iPhone 7 Plus does a great job of optimising itself in terms of details, colour and image noise. The noise reduction algorithm does well to adjust the smartphone's camera to the ambience, and takes light data from the other sensor to keep image noise low.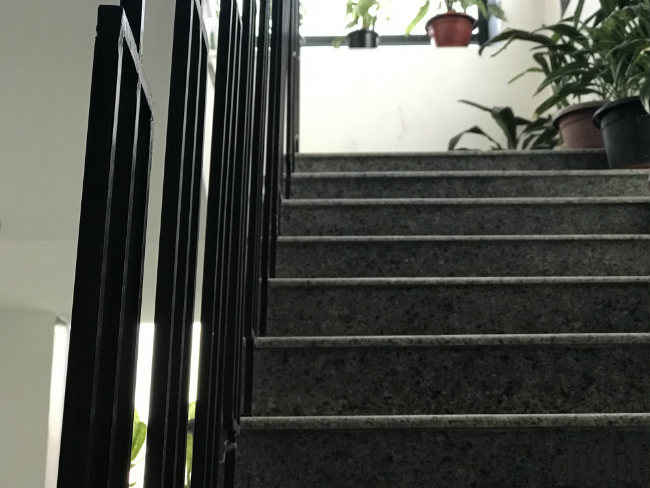 Diffused sunlight, telephoto
The bokeh mode has not hit the iPhones yet, but at f/1.8, the iPhone 7 Plus produces smooth, gently blurred backgrounds, with a round aperture that is finely reproduced by the camera. Photographs actually look impressive, as the bokeh appears close to what larger image lenses would produce in bigger, dedicated cameras. However, with the bokeh mode in sight, we expect a better bokeh performance, and hope that the algorithms keep the originality of blurred backgrounds intact.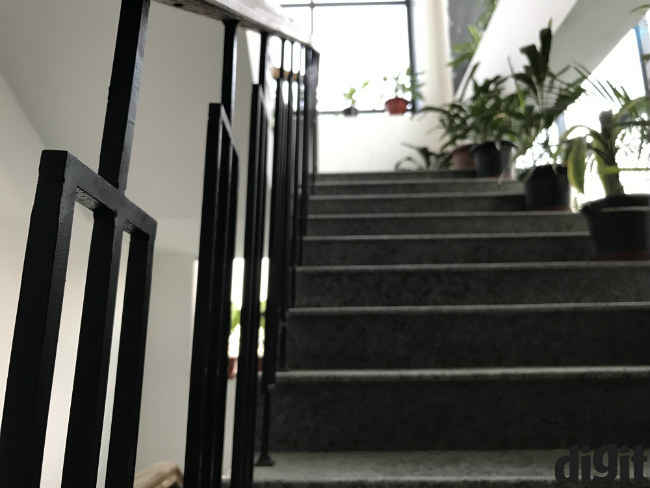 Diffused sunlight, wide angle
The iPhone 7 Plus is adept at recording smooth 4K videos at 30fps, although the level of noise is higher than what it produces in photographs. Slow motion videos are also produced really well, and the maximum you can go up to is 120fps at 1080p. The front camera, as in most iPhones, does a fair job of crisp selfies. It also retains Auto HDR and Retina Flash, making it one of the most impressive front camera units in the market.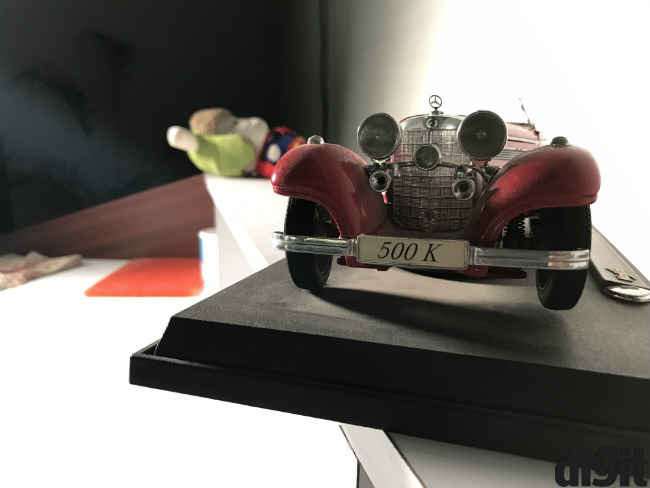 Indoor, indirect light, wide angle
All of this makes the Apple iPhone 7 Plus one of the most impressive smartphone cameras out there. It actually contends for the title of the best smartphone camera you can buy right now, and once the bokeh mode hits the phones, it may even clinch it.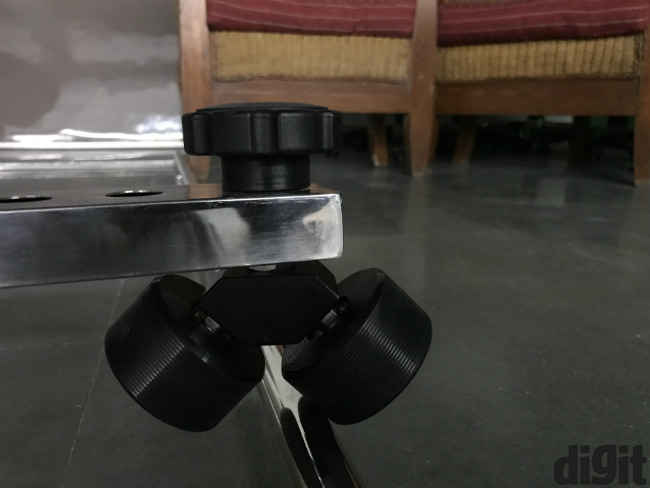 Indoor, low light, wide angle
But, the advent of Google's Pixel phones may seem ominous for Apple's dual camera flagship.
Performance

The Apple A10 Fusion SoC is a quad-core unit, paired with 3GB of RAM – the highest ever on an iPhone. This is a clear intent from Apple to put more focus on flawless performance and higher multitasking capabilities, as even till mid-2015, its flagship had only 1GB of RAM.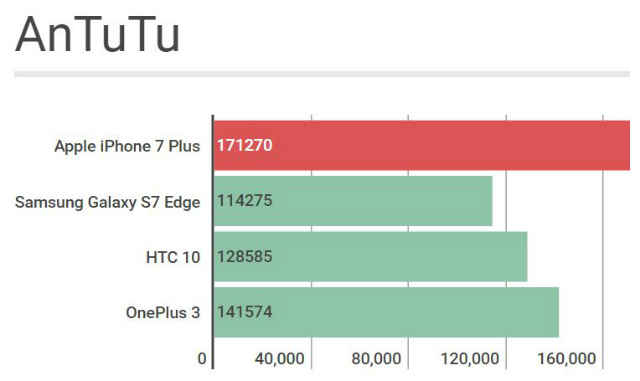 What you get here is smooth, flawless performance undeterred by even the heaviest of tasks. The iPhone 7 Plus is a blazing fast smartphone that breezes through every possible daily task at hand, and aces multitasking. Switching between apps is seamless, even when you are switching between apps like Google Snapseed, Email, Facebook, Asphalt 8 and Google Maps. The iPhone 7 Plus retains its composure in terms of performance, along with giving you faster boot times, noticeably faster app load times, and an overall refined iOS experience. Despite all of this, the highest gaming temperature that I recorded was 39.3 degrees Celsius, and a 10-minute 4K video recording gave me a temperature of 41 degree Celsius. Both come by under stress tests, which are not ideal everyday situations, and hence, the overall heat management is fairly efficient.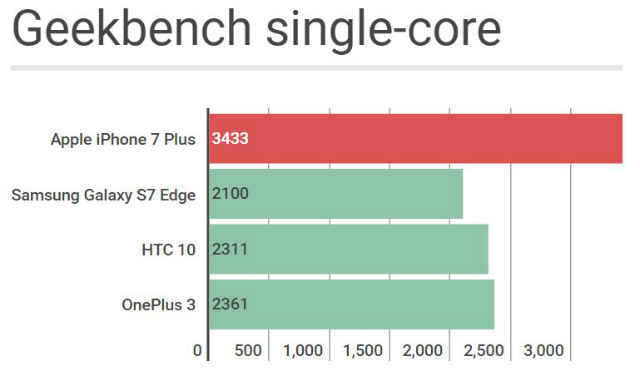 As benchmarks would suggest, the iPhone 7 Plus is as good and fast as smartphones get. 3D Touch adds to the intuitive performance, and actually makes the most of iOS 10's features. Apple wants you to use 3D Touch on its lockscreen widgets, and the higher amount of RAM and bigger display make it a wholesome, synchronised experience. For instance, you can easily hard press on a notification to respond to it directly from the lockscreen, without the need to open the app or unlocking the screen. However, for iMessages and text messages, no security authentication is required, and although you cannot access device contacts through this, anyone with access to your phone can reply to a message without your knowledge. This seems to be an inadvertent flaw on iOS 10, something that Apple may want to look into. Other apps like WhatsApp and Messenger require Touch ID or passcode to reply.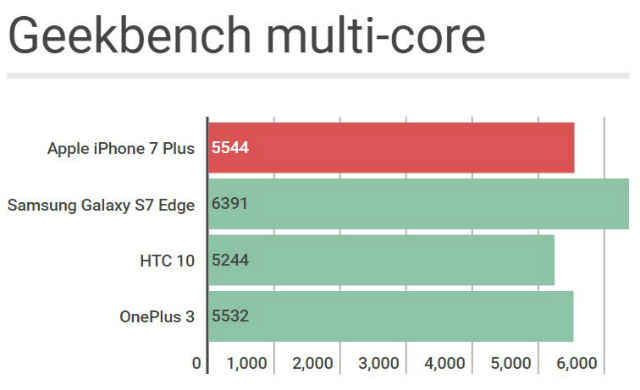 Calling and network performance is supreme on the iPhone 7 Plus, and it retains signal well even in areas with low connectivity. The in-ear audio quality is excellent, and you can even get to hear caller voices loud and clear in crowded places.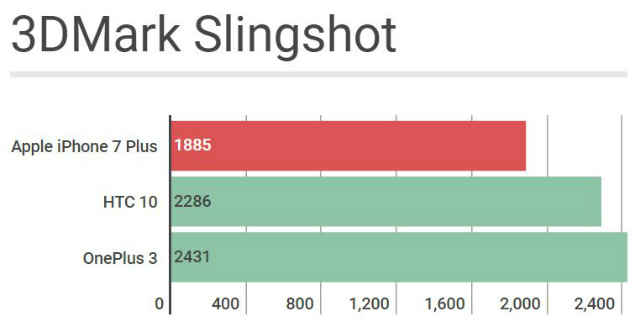 To sum up, the Apple iPhone 7 Plus is the ace. It can run any app smoothly, the extra gigabyte of RAM gives it an edge in terms of heavy performance, and multitasking is possibly the best in class. Calling, network and location services are precise, too, making this one of the best smartphones in the market right now.
Audio port, stereo speakers

As you would also know by now, the iPhone 7 and 7 Plus do not have the good old 3.5mm audio port any longer. Instead, Apple packs a Lightning-to-3.5mm adapter, and hopes that audio companies will soon have lightning port versions of the iconic headphones. We do not know if that will materialise soon or not, but in all fairness, I did not really miss the audio port. Even with the LeEco Le 2, I only missed it a couple of times, when my Bluetooth headphones were out of charge and the phone itself was charging, but such occasions are certainly not regular. Apple claims to have used the extra space from removing the headphone jack, for the two cameras and the taptic engine of the Home button, and I do not mind it being absent.
While the lack of the 3.5mm jack is not a deal breaker, the presence of stereo speakers is a pleasant audio enhancement that you notice only after you start viewing movies and videos extensively here. Even in graphic and audio-intensive games like Shadow Bug, the stereo speaker setup of the iPhone 7 Plus sounds bright and well-detailed for a pair of phone speakers. The iPhone 7 Plus uses the earpiece output as the left channel and the bottom right speaker grille as the right channel, and the audio is immersive in the same way that the Sony Xperia Z5's speakers were. To sum it all up, the iPhone 7 Plus' native speakers are among the best smartphone speakers out there, topped only by the HTC 10 and the Sony Xperia Z5.
iOS 10

Apple's latest operating system was built keeping the iPhone 7 and 7 Plus in mind, and it really shows. The larger notification tabs are easier on the eye here, 3D Touch is well integrated into the ecosystem and now gets more features within compatible apps, Siri is smarter, and Apple's integration of its software with the custom-built hardware makes the overall ecosystem an excitingly smooth one to use.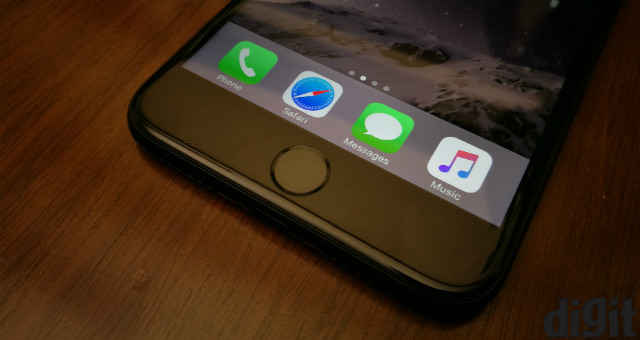 The Home button is not a physical button any longer, as you would already know. The static touch panel, powered by a taptic engine, simulates the experience of a tap. It takes a while to get used to, and what you get is nowhere near a physical click. You can adjust the feedback to what suits you best – I choose the intensity of tap to '1'. It is also important to note that with 'Raise to Wake' active, the iPhone 7 Plus is even easier to use and unlock. Touch ID works more accurately, although this is just the first days of the iPhone, and we would like to see how well it works in the long run.
For more details on how iOS 10 works and its key features, click here.
Display

The 5.5-inch, 1080×1920-pixel Retina display has a smoother touch feedback than before, and the fluidity of the touch response really sets it apart from a lot of other flagship smartphones. The colour balance is pleasant, and the slight warmth makes the screen pleasant to look at. The iPhone 7 Plus now produces higher contrast, brighter whites and deeper blacks than its previous editions, all of which combine to make it look incredibly crisp.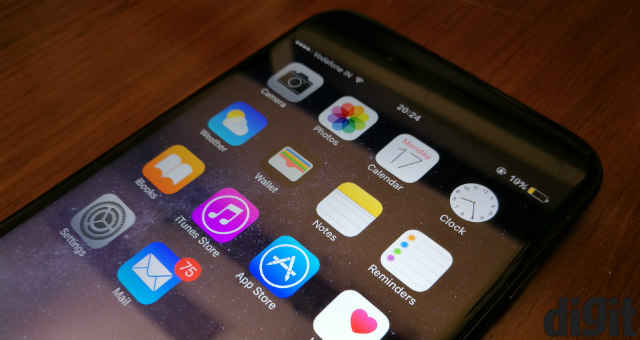 The display measures 701 lux in brightness, which is good but lower than a Google Pixel XL or OnePlus 3. However, sunlight visibility is great, and legibility remains intact, thanks to Apple's auto-brightness algorithms. The right balance of contrast and sharpness, along with warm colour balance, makes the Retina display really pleasant to look at. The fluid touch response adds to it, and 3D Touch adds to its intuitiveness. On an overall note, the iPhone 7 Plus has one of the most well-balanced smartphone displays out there. High resolution videos look crisp and sharp, and the colour tone makes video streaming an enjoyable affair.
However, it may be important to note that Apple's Sapphire Glass screen protection can be questioned. Our unit of the Apple iPhone 7 Plus picked up an abysmally large number of scratches, somehow. This may not be a regular occurrence, but you should ideally be more careful about the display.
You should, anyway, seeing that it is…considerably expensive.
Build and Design

I could simply redirect you to the iPhone 6s review, as the iPhone 7 Plus does not get a radical makeover. The notable points of difference are the dual-camera bump (which is a bit too large), the missing headphone jack and the rearranged antenna bands. The Apple iPhone 7 Plus is distinctly well-built, and the premium metal leaves you with a lasting impression.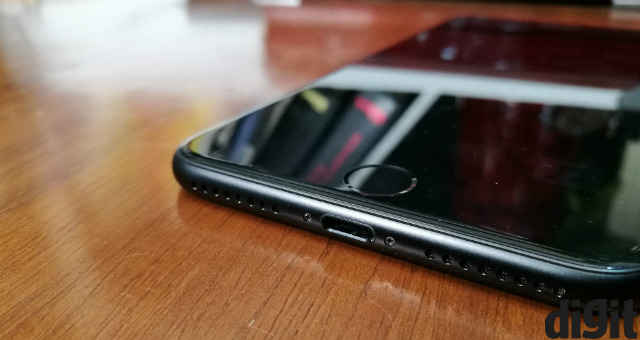 However, it is not the most compact smartphone out there, even considering 5.5-inch devices in the market. The new iPhone still retains large bezels, along with comparatively lesser screen-to-body ratio. While it is indeed sleek to hold, it loses out on grip, making it a rather slippery device to hold. The iPhone 7 Plus also feels a bit too large, particularly when you hold it up when on calls. Smartphones like the Samsung Galaxy Note 7 have presented much smaller bodies with the same screen size, and maybe it is about time Apple looks into the ergonomics.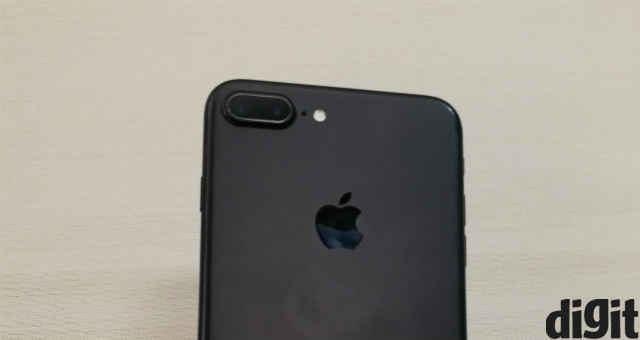 Having been used to much smaller smartphones, the iPhone 7 Plus feels a bit too large for my preference. It feels sturdy, and premium in hand, but does not present an extraordinary design in any manner. It is this, that makes the iPhone 7 Plus feel like an incremental upgrade over the iPhone 6s.
Battery life

On an average, a full charge of the 2900mAh battery pack lasts for about 20 hours, with over two hours of gaming, two hours of music streaming, an hour of video streaming, over 30 calls, extensive messaging and over 20 minutes of navigation. The iPhone 7 Plus lasts significantly longer, and certainly more than 24 hours, with lighter usage.
As with every iPhone, the iPhone 7 Plus charges really fast, and the battery charges fully in just about 40 minutes. The iPhone 7 Plus is a decent improvement over the questioned battery performance of iPhones, although the iPhone 6s Plus delivers similar results in battery life. You will mostly end up keeping Bluetooth switched on because of the lack of a headphone jack, which eats more into battery life of the iPhone 7 Plus.
Bottomline

The Apple iPhone 7 Plus is the ace. It has an excellent camera, offers the best performance that a smartphone can right now, and even delivers decent battery life. It still looks mostly like an old iPhone, the new Home button can take a while to get used to, and the smartphone is not the most ergonomic.
Despite all of this, if you have the money and big screen smartphones is your thing, the iPhone 7 Plus is a compelling purchase. It offers a great, premium experience, and very few smartphones will come close to the overall experience of using the iPhone 7 Plus. You should upgrade to it only if the improved camera is something you really wish to have, as the iPhone 6s still offers decent performance in terms of what is required.