Asus TUF Gaming FX705DT detailed review
In a May 2018 PC sales report, International Data Corporation (IDC) wrote that it expected to see stronger traction around gaming devices in the coming year. Asus seems to be one of the most active manufacturers working towards making that prediction come true for India. Earlier this year, Asus launched the TUF Gaming FX505DY, an AMD Ryzen-powered equivalent to the long-standing Intel-powered FX505 in a bid to reach out to gamers on a budget.
Now, however, Asus is announcing two new models in the TUF Gaming range: the Asus FX505DT and Asus FX705DT. Both are essentially more sophisticated versions of the FX505DY with upgraded internals. While the former retains its 15-inch display, the latter gets a 17-inch unit. And the larger one is exactly what we have with us today. According to Asus, the FX705DT is priced at Rs 82,990. Let's see how the Asus FX705DT fared in our review.
Build and Design
The Asus FX705DT is greatly similar to the smaller FX505DY in a number of ways, including build and design. According to Asus, the laptop is available in either a Gold Steel metal body or a Stealth Black plastic one. The top cover sports Asus TUF Gaming's signature "Radiating-X" design, which gives the laptop a healthy dollop of character. "The sand-blasted or brushed finish with metallic or plastic cover makes the model look both badass and luxurious," writes Asus confidently in its review guide. Like its brethren, its body is rigorously tested for durability and is certified to MIL-STD-810G standards.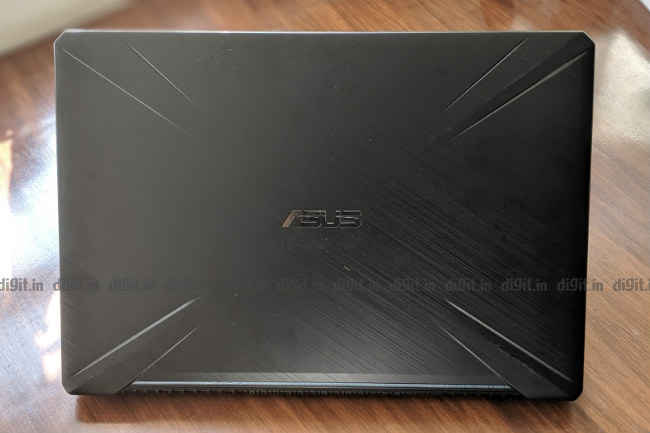 Top cover looks hard-wearing
Our review unit came clad in black plastic panels for the top cover and base panel. To my pleasant surprise, the 17-inch body of the Asus FX705DT was not significantly larger or bulkier than that of the 15-inch FX505DY despite weighing 2.7 kilogrammes. Transporting it from one room to another was easier than I'd anticipated. The laptop provided me with ample grip around the sides and edges. The materials on the body too looked strong and hard-wearing. What I liked in particular about the FX705DT was the compact size of its power brick. Asus has trimmed the dimensions of its 150W AC power brick significantly and the difference can be felt while carrying it around. The FX705DT is still a pretty large laptop, mind you. It's not for the frequent traveller.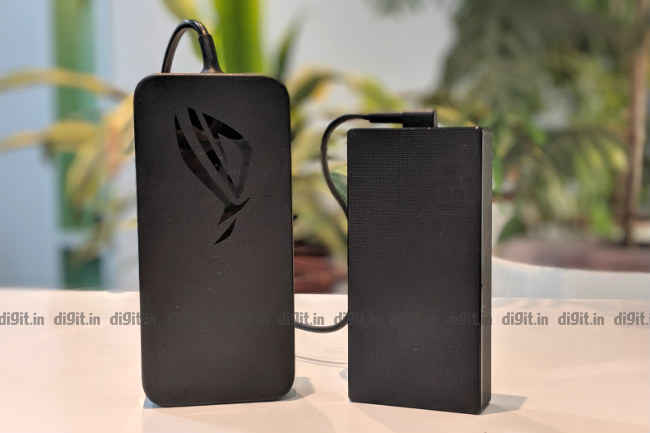 Honey, I shrunk the power brick!
Pushing the display open requires the use of more than just one finger. Once it's opened, you see a large screen with fairly slim bezels on either side of the screen. According to Asus, the vertical bezels measure 7.18 millimetres in width. The area around the keyboard has a brushed metal finish in black. Opening and closing the display reveals a fair bit of flex, which is a bit disappointing to note. Some flex is also observed on the base panel, especially while typing. On the whole, the build quality of the Asus FX705DT is acceptable but not remarkable.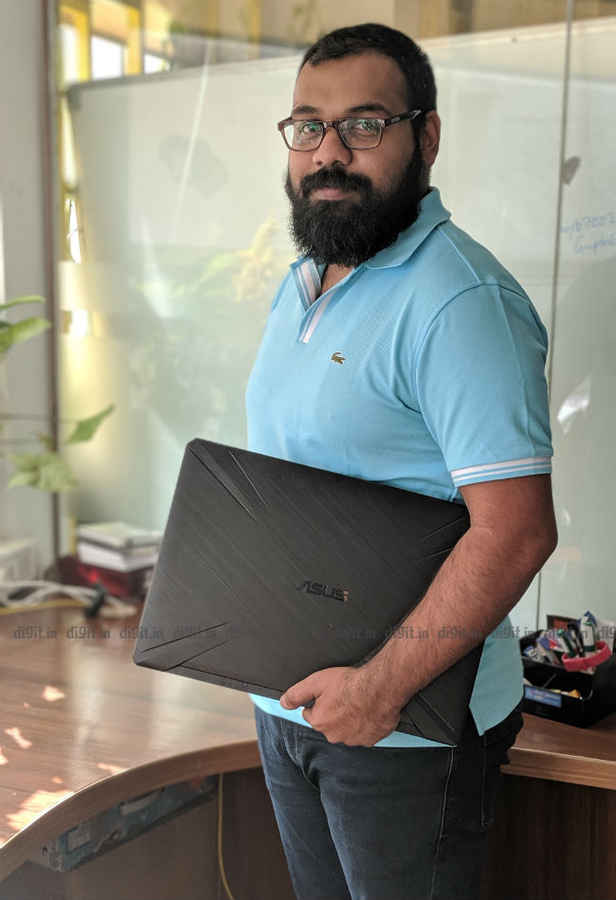 Enough surface area on the 17-incher to cover a belly
Display, Audio, and IO
The display on the Asus FX705DT measures 17.3 inches diagonally. The IPS LCD panel has a Full HD resolution and an anti-glare matte finish. Sadly, its refresh rate is stuck at 60Hz. This may disappoint some users but Asus had to cut costs somewhere to keep the laptop affordable. Interestingly, the Asus FX505DT being launched along with the Asus FX705DT comes with a 120Hz panel. At 250 nits of maximum brightness, the display is bright enough for most spots. As long as there's no extremely bright direct light on the display, you won't have a  reason to complain.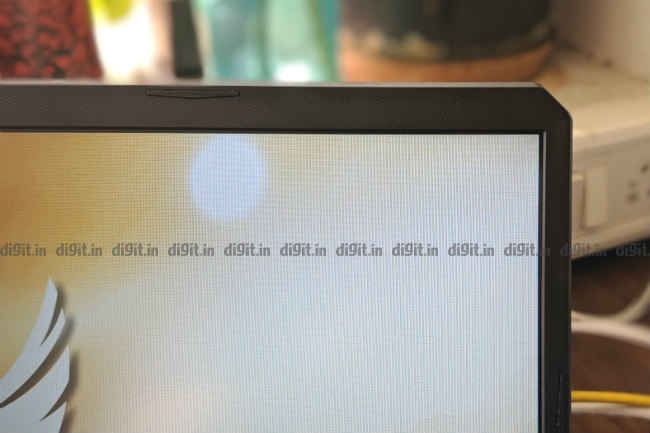 Bezels on either side appear slim enough
The colours on the display of the review unit were true and balanced without appearing overly saturated at any point. If anything, they appeared just a tad bit washed out at times. According to our test kit, the display is capable of reproducing 96 percent of the colours in the sRGB colour space and 74 percent of the colours in the Adobe RGB colour space, which is quite decent. Traces of light bleed from the backlighting are seen around the corners of the display but it's nothing that can distract you while playing a video or game.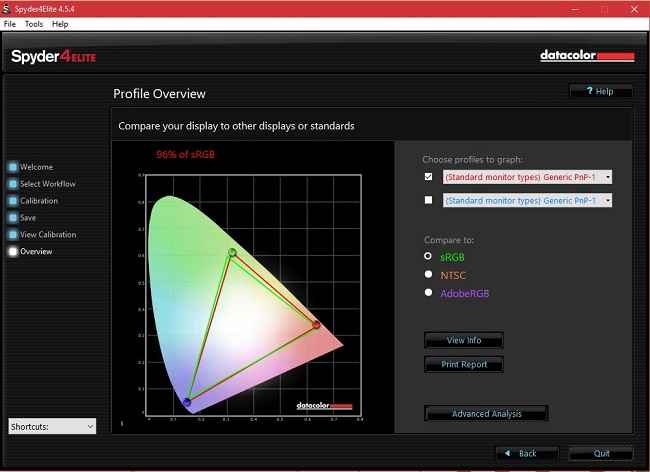 96 percent sRGB
Sound through the two side-firing speakers of the laptop is underwhelming and disappointing. With the review unit placed on top of a stable tabletop surface in a quiet conference room (approximately 25 x 11 feet in size), songs like Starboy by The Weeknd sounded bland and unexciting. Vocals were loud but even shrill at times. Lows and mids sounded muffled and sometimes tinny. The overall sound output was rather jarring on the ears. Asus seems to have nailed audio on the VivoBook S14 S406UA but goofed up with TUF Gaming series. Though the speakers are loud, they're best reserved for vocals only. You're better off getting a good pair of headphones for gaming and movie playback.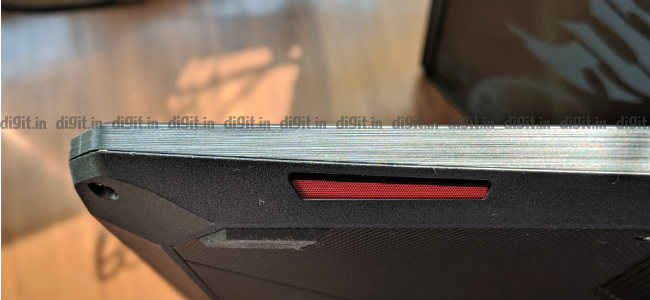 Speakers get red accents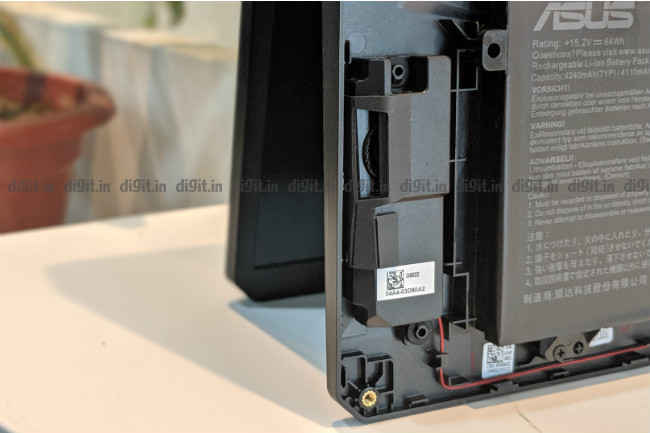 Speaker drivers have ample space inside but still aren't very good
Like its relatives, the Asus FX705DT has all its ports on the left side of its body, leaving the right side clear for the right-handed gamer's mouse (and a Kensington security cable). And so, on the left side, we see a round-pin power port, a LAN port, a full-size HDMI port, a USB-A 2.0 port, two USB-A 3.1 ports, and a 3.5mm audio jack for headsets. Gone completely missing from a laptop of this price are an SD Card slot and a USB-C port. Owners of a DSLR will have to invest in a multi-card reader. This is one oversight Asus could have avoided.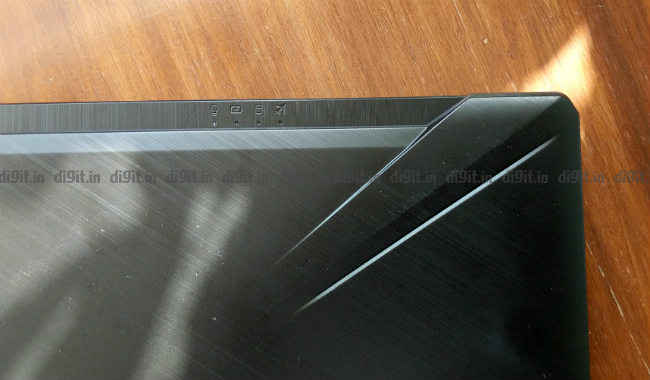 Dedicated indicator for flight mode: cute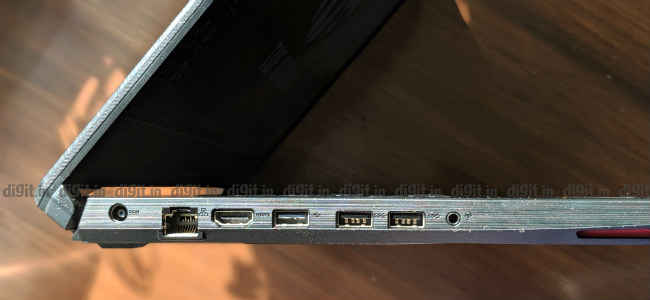 All ports are on, well… the port side
Keyboard and Touchpad
The keyboard on the Asus FX705DT is quite comfortable for both gaming and regular typing. According to Asus, each keycap has a short dimple (0.25 millimetres in height) to find the centre easily. Rated for 20 million strokes, the keys have a travel distance of 1.8 millimetres and need only 62 gram-force from the user's fingers to reach the actuation point, thanks to the company's Overstroke technology. The keyboard comes with an integrated numpad but lacks dedicated keys for Home, End, Page Up, and Page Down functions.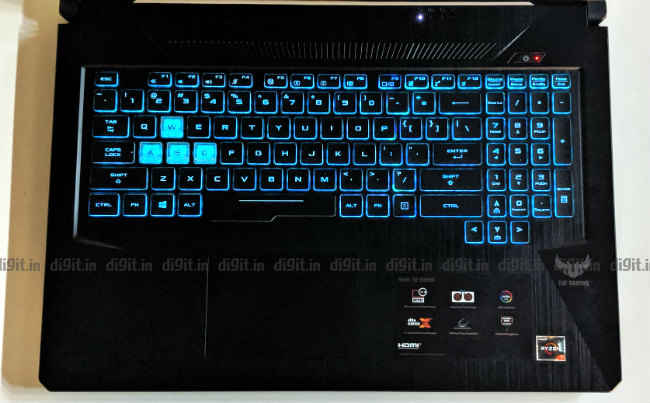 Multi-colour backlighting but only single zone
Unlike the Asus FX505DY, whose keyboard has single-colour backlighting, the Asus FX705DT comes with an RGB backlit keyboard. The colours of the keyboard backlight can be changed one at a time (as it's a single-zone backlight) in the AURA Sync section of the inbuilt Armoury Crate app. The bundled app includes lighting patterns, like "static", "breathing", "strobing", "rainbow", etc. The WASD keys are coloured differently for easy spotting. The W key too, has a small bump on it for easier gaming. Whether it was gaming or typing long emails, the keyboard on the review unit felt pretty much at home. Strangely, this was not the case on the Asus FX505DY, which has an identical keyboard setup.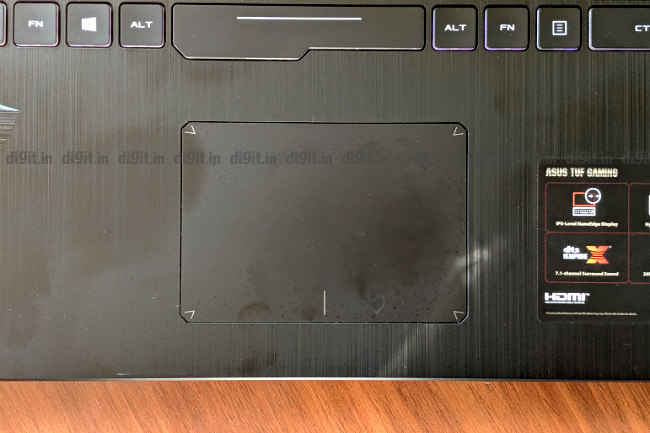 Our review unit's touchpad had unnecessary play
The touchpad on the Asus FX705DT is a precision unit. This means the laptop accepts multi-finger taps and swipes on Windows 10. The left- and right-mouse buttons inside the touchpad too, are fairly easy to click. The only disappointment on the review unit was the unexpected play under the touchpad's surface. I could feel the entire touchpad move inward by about a whole millimetre without registering any inputs.
Performance
The Asus FX705DT is powered by an AMD Ryzen 7 3750H processor with Radeon RX Vega 10 graphics. Additionally, it's accompanied by an NVIDIA GeForce GTX 1650 graphics card with 4GB of GDDR5 video RAM. This combination isn't something we've seen on a laptop so far in 2019. The RAM on board is 8GB single-channel but it can be expanded up to 32GB. The motherboard inside has two slots, one of which is already occupied. Strangely, Window 10 on our review unit reported only 5.94GB out of 8GB was usable RAM. Storage comes courtesy of a 512GB PCIe NVMe solid-state drive.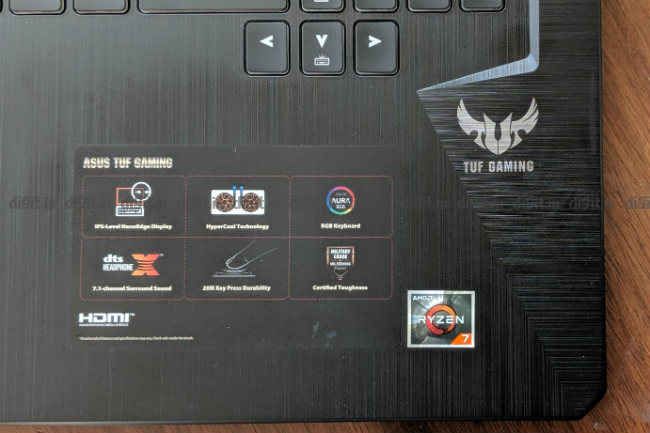 Ryzen 7 + GTX 1650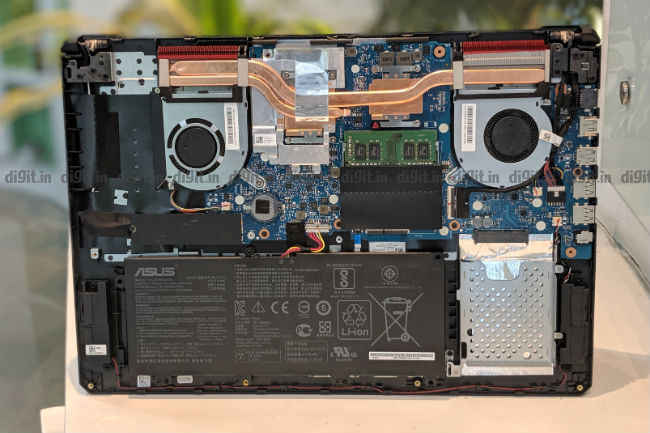 It's easy to get the base panel's cover off with a screwdriver set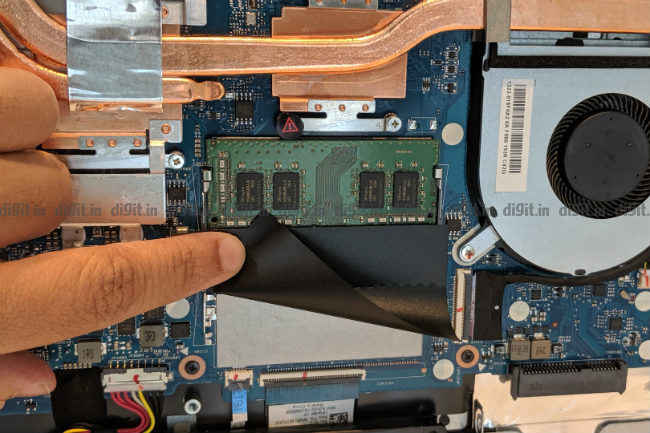 Single-channel 8GB RAM with space for another chip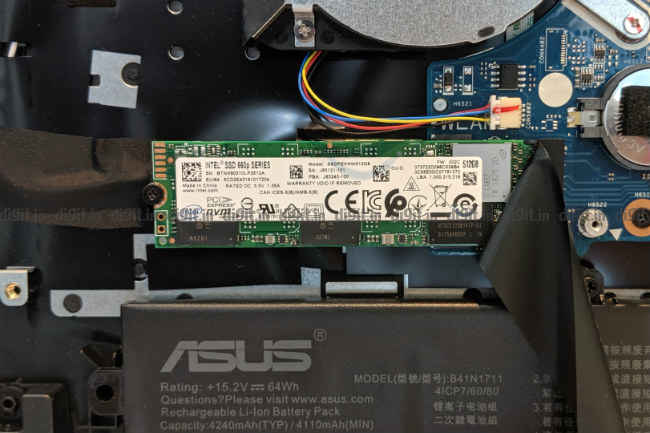 512GB PCIe NVMe SSD sits above WLAN card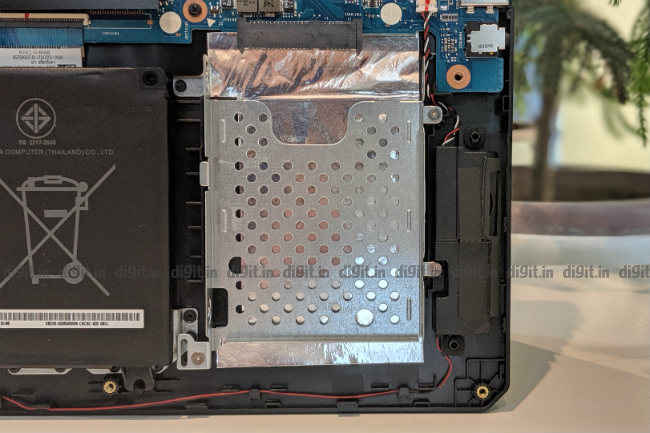 There's a caddy waiting for you to pop in a 2.5-inch hard drive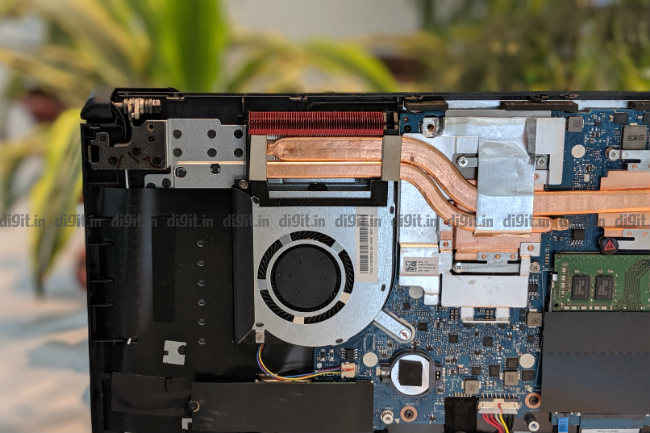 Since it's a 17-incher, there's enough space around the motherboard
On our CPU benchmark tests, the Asus FX705DT performed well but didn't blow our minds. The laptop scored 3550 on PCMark 8's Conventional Creative test, which is only 8 points ahead of the Asus FX505DY's score. For your reference, the Asus FX505DY is powered by an AMD Ryzen 5 processor with the same amount of RAM and a 1TB hard drive. In WinRAR's benchmarking tool, the Asus FX705DT outpaced the Asus FX505DY by over 2,000 KB/s, which is partly thanks to its swift solid-state drive.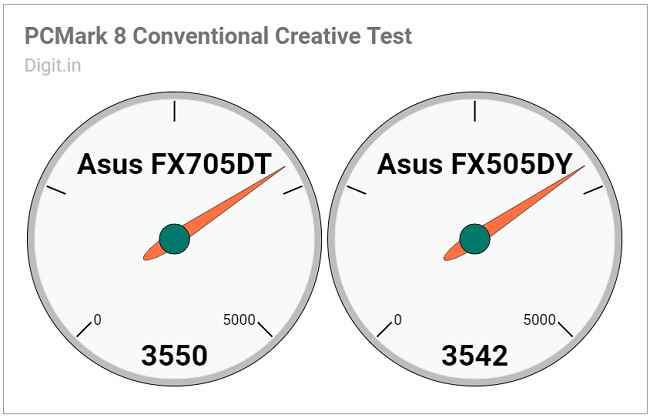 In everyday use scenarios, the review unit performed expectedly well. The gaming laptop had no problems keeping up with medium-weight applications, like Chrome, File Explorer, WhatsApp for PC, Word, and Excel. Even with multiple game launchers (Steam, Epic, and Origin) downloading content simultaneously, the laptop was comfortable running multiple instances of Chrome across multiple desktops. Continuing to work when Lightroom was extracting about 500 photos didn't ruffle the Asus FX7505DT. If anything, there was that rare stutter in animation but it wasn't easy to notice. To sum it up, the Asus FX705DT should be able to take on most computing tasks the average consumer asks it to perform. Photo and video editing should happen without any trouble.
Gaming
The NVIDIA GeForce GTX 1650-powered Asus FX705DT is a competent machine for anyone looking to play popular titles on Medium-to-High graphics settings. On our GPU benchmark tests, the review unit fared better than expected. On 3DMark's Fire Strike, Sky Diver, and Time Spy, the laptop bagged 7626, 19089, and 3297 points respectively. The Asus FX505DY was behind all of them by at least 1500 points. The laptop bagged admirable scores even on Unigine's GPU benchmarking tools.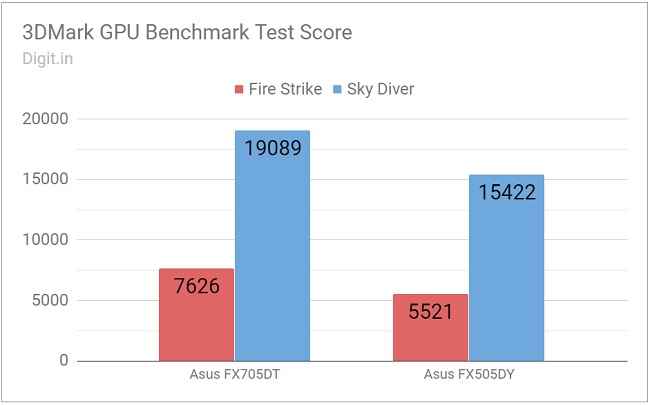 We recorded the highest frame rates on the Asus FX705DT when we played Doom and Crysis 3. With graphics set to High (i.e., one level above Medium in any game), Doom and Crysis 3 ran at a median frame rate of 96 and 110 frames per second respectively. Both figures climbed to 104 and 118 respectively when the graphics was turned down to Medium. Actual gameplay of both games was smooth and stutter-free.
Battlefield V, Shadow of the Tomb Raider, and Hellblade: Senua's Sacrifice ran at nearly 60 frames per second. On High graphics settings, the three games ran at a median frame rate of 48, 40, and 54 frames per second respectively. When the setting was lowered to Medium, the median frame rate jumped to 51, 42, and 58 respectively. Gameplay on all three games was fairly smooth and free of any lags. In both settings, there was that occasional stutter in animation but it wasn't a big bother.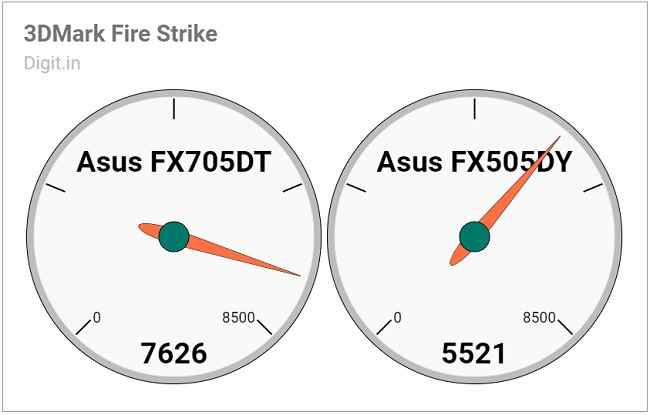 Apex Legends, though fully playable, ran a bit jerkily in both High and Medium settings. In High, the median frame rate hovered around 66 frames per second. Bringing it down to Medium bumped the median frame rate to about 68 frames per second. While there was no visible lag while playing Apex Legends, there were signs of screen tearing in action sequences. If you don't have any dreams of gaming in Ultra graphics settings, you should be able to play most popular titles comfortably at around 50 frames per second in Medium or even High on the Asus FX705DT.
Battery
On our standard battery benchmark test, the Asus FX705DT lasted 4 hours, 45 minutes. In comparison, the cheaper Asus FX505DY lasted 3 hours, 30 minutes on the same test. In everyday use scenarios, the review unit lasted no longer than three and a half hours on battery. With the screen brightness set to 70 percent, Wi-Fi and Bluetooth enabled, the laptop went from 100 to 10 percent in three hours straight. During the tests, I was writing, browsing on the web, playing music through the earphones, and installing some lightweight applications. In summary, the Asus FX705DT is not the model to look at if you want over four hours of battery life.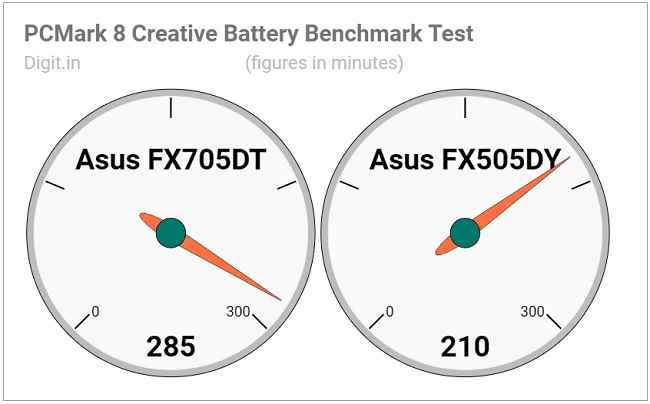 Bottom Line
The Asus TUF Gaming FX705DT is a good choice if gaming is pretty much all you're looking to do with it. If you're into photography and video editing, the missing SD Card slot and USB-C port may disappoint you. If you're expecting portability, the size and the short battery life may not please you. However, if you're looking for a mid-range laptop that can replace your aging gaming machine, the Asus TUF Gaming FX705DT does not disappoint in the least.