Asus VivoBook 14 (X412FJ) detailed review
No sooner had I wrapped up the review of one VivoBook laptop than another came knocking on my door. I finished reviewing the Asus VivoBook S14 (S406UA) only a couple of weeks ago, and already I've got the VivoBook 14 (X412FJ) on my lap.  It's indicative, I'm sure, of just how frequently Asus launches new laptop models in India. It's yet another 14-inch VivoBook from Asus but the Taiwanese electronics manufacturer assures us that this is a brand new launch for India.
Our review unit, the VivoBook 14 (X412FJ), is powered by an Intel 8th Gen Core i5 CPU, 8GB of RAM, and an NVIDIA GeForce MX230 graphics card with 2GB of dedicated video RAM. In comparison, last year's Lenovo IdeaPad 530S employs an NVIDIA GeForce MX150 graphics card with similar specs. The VivoBook 14 looks as big as an average 14-incher and weighs 1.5 kilogrammes. Let's see how it did in our review.
Build and Design
There's nothing particularly great about the VivoBook 14's build and design. The laptop is as interesting to look at as an empty glass of masala tea. On the outside, the VivoBook 14 uses only matte plastic for its top cover and base panel and that shows through when you tap the surface of the laptop with your knuckles. Still, it feels a lot more solid than the VivoBook S14 (S406UA). Gripping the lid firmly while opening it reveals signs of flex across the entire width of the display, which is a disappointing eyesore. On the plus side, not too much flex is observed on the keyboard island even when the keys are tapped hard.
Opening the display reveals a 14-inch LCD screen with a matte finish and fairly slim bezels all around (5.7mm on the sides, 8.8mm at the top, and 11.4mm at the bottom). Asus claims the laptop manages an 87-percent screen-to-body ratio. The colour of the keyboard area and keys matches that of the laptop's lid. On the review unit, it was plain silver. In fact, only the screen's bezels are in matte black; everything else is monotone. The use of sharply coloured accents or shades on the inside and outside would have benefited the laptop's overall appearance greatly. The area around the keyboard gets a dotted finish, giving the laptop an iota of character. The VivoBook 14 is otherwise quite boring to look at.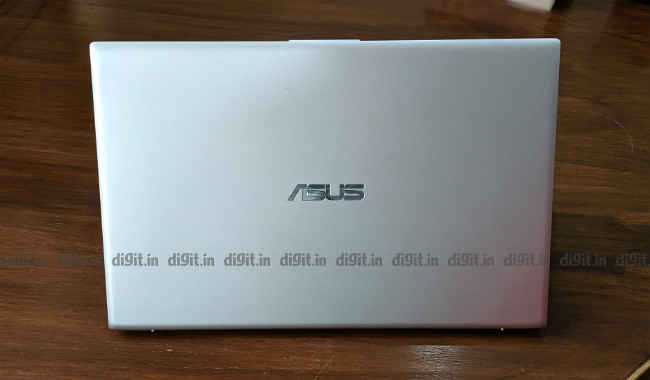 Display, Audio, and IO
The Asus VivoBook 14 has, as you can imagine, a 14-inch LCD panel, which has a Full HD resolution and a 178-degree claimed horizontal maximum viewing angle. The colours on the display look mostly washed out and whitish whether you're browsing on the web, watching a video, or playing a game. Going by our test kit, the display is capable of reproducing 59 percent of the colours in the sRGB colour space and 43 percent of the colours in the Adobe RGB colour space. The VivoBook loses many points for not being able to produce over 90 percent of the colours in either colour space, which is something any average laptop should. In comparison, the VivoBook S14's display manages 93 percent sRGB and 72 percent Adobe RGB colours. At 199 LUX, max brightness is sufficient for indoor and outdoor use. The screen's matte finish helps reduce glare too.
Sound from the two down-firing SonicMaster speakers on the VivoBook 14 is underwhelming at best. Songs like Starboy by The Weeknd and Here Comes the Hotstepper by Ini Kamoze sound blunt and flat at max volume. While mids and highs sound fairly accurate, lows don't make it to the ears at all. The speakers are also not too loud. While they're loud enough for music and video calls in a quiet office cubicle, they're no good for open spaces with noisy colleagues. You're better off getting yourself a good pair of headphones or a portable Bluetooth speaker along with this 14-incher.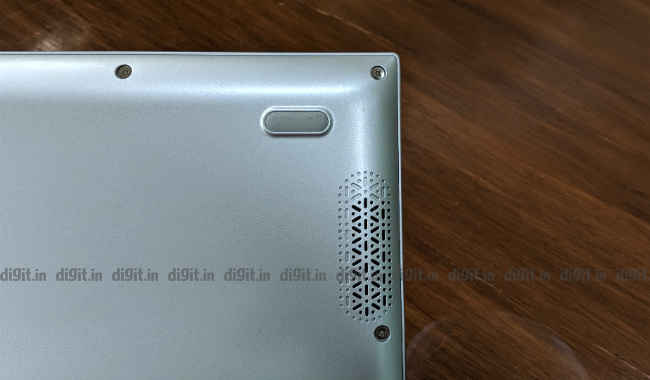 The Asus VivoBook 14 is not shy to offer connectivity. On the left side of its body, there's a round-pin power port for charging, a full-size HDMI port, a USB-A 3.1 port, a USB-C 3.1 port, and a 3.5mm audio jack for headsets. On the right side, we see a USB-A 2.0 port and a microSD card slot. We also see a Kensington lock slot and a couple of LED indicators for power and battery status. Another USB-A 3.1 port would not have gone amiss on the VivoBook 14 but most mainstream laptop users shouldn't have a reason to complain with the two that it has. The VivoBook 14 comes with a fingerprint scanner on the top right corner of its touchpad. The scanner works surprisingly accurately and takes less than a second to authenticate through Windows Hello.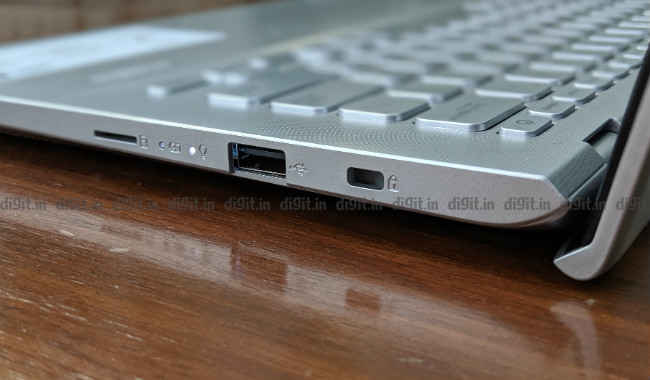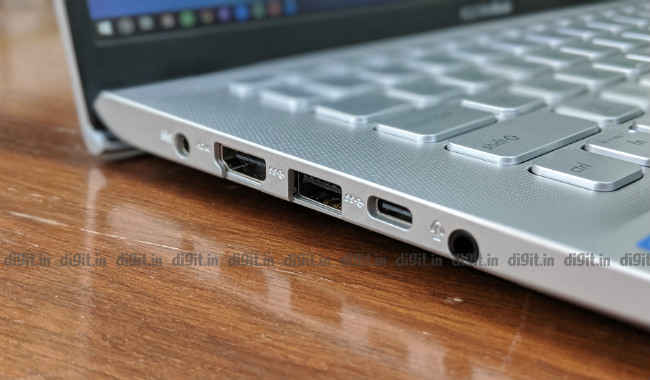 Keyboard and Touchpad
The VivoBook 14's keyboard is one of the laptop's most finely engineered components with a couple of unflattering qualities. But we'll get to that in a moment; let's talk about what's good first. With a profile of 1.3 millimetres, the keys have just the right amount of travel and resistance. The keycaps are well spaced and well sized. Typing, for the most part, is an absolute treat on the VivoBook 14. On the review unit, I found myself making very few mistakes or mistypes while writing my reviews and articles. When tapped on, the keys on the VivoBook 14's keyboard land with a definite thud that feels reassuring and final. What helps the typing experience is Asus' ErgoLift hinge technology, which gives the keyboard a 2-degree tilt. This laptop is highly recommended for users who do a lot of typing day in, day out.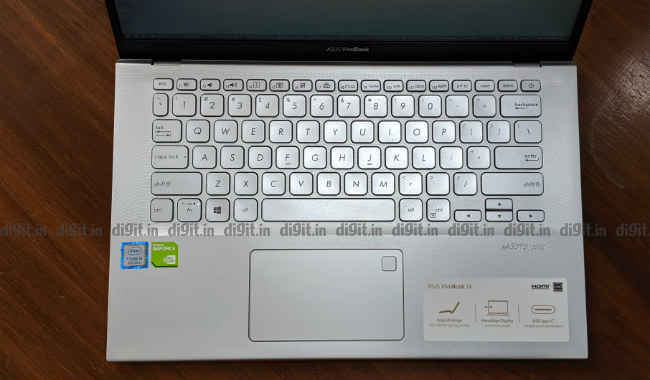 The keyboard design on the VivoBook 14 is nearly perfect barring two significant flaws. There are no dedicated keys for Page Up, Page Down, Home, and End functions on the keyboard, which means users who type a lot will be forced to rely on key combinations for those functions. It's a mild productivity-killer for writers like me. The Delete key is placed adjacent to the power button, which could lead to unintended sleeps and hibernate. The review unit came in the Transparent Silver colour option, whose keyboard had white keycaps with transparent letters and characters. The colour of the keyboard backlight too was—you guessed it—bright white. So, when the backlight was disabled, the keys were easily identifiable. However, when the white backlight shone through the transparent characters on the white keycaps, they all looked like one big blob of white light. The chances are that you won't face this problem if you buy the VivoBook 14 in any other colour.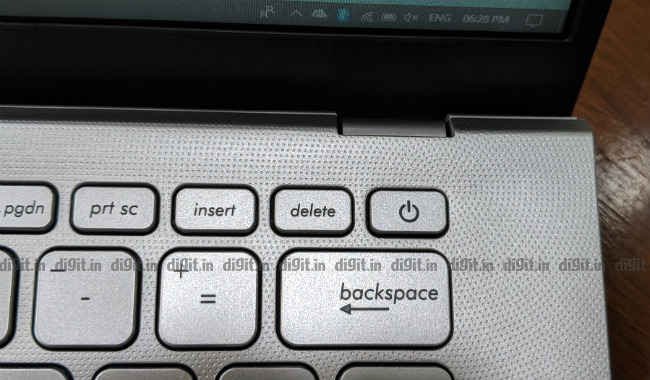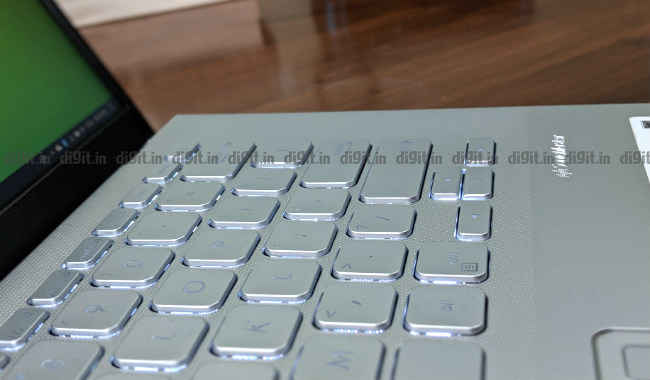 The touchpad on the VivoBook 14 is a regular-size precision unit. This means that it supports multi-finger taps and swipes natively if you've not strayed away from the bundled Windows 10 operating system. You needn't install any third-party drivers or utilities to get the most of your touchpad. The buttons under the touchpad's surface are fairly easy to click and the touchpad works well for pointer movement and file dragging. The VivoBook 14 scores top marks in the input devices department.
Performance and Gaming
The unit we received for review was powered by an Intel Core i5-8265U (clocked at 1.60GHz), 8GB of RAM, and an NVIDIA GeForce MX230 graphics card with 2GB of dedicated GDDR5 video RAM. Storage was handled by an Intel 660P Series PCIe NVMe solid-state drive with a capacity of 512GB. According to the review guide supplied by Asus, some variants of the VivoBook 14 will feature a 1TB hard drive spinning at 5,400 rpm instead of the solid-state drive. In comparison, the Lenovo IdeaPad 530S shares the same CPU, SSD and RAM capacity but has the older NVIDIA GeForce MX150 graphics card with 2GB of dedicated video RAM.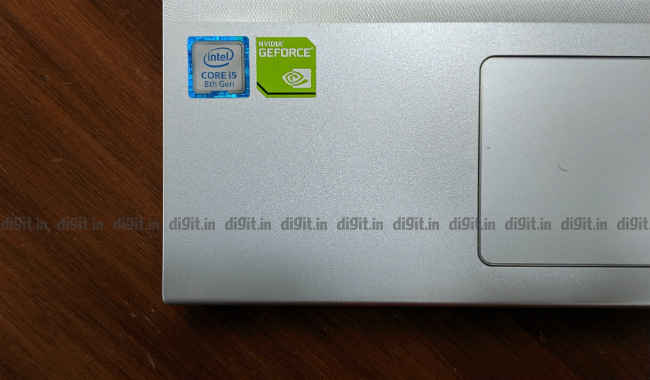 Categorised as a mainstream laptop in our books, the review unit scored quite well on CPU and GPU benchmark tests. On PCMark 8's Accelerated Creative Test, the VivoBook 14 scored 3758 points. In comparison, the Lenovo IdeaPad 530S scored 4351 on the same test. On 3DMark's Cloud Gate and Sky Diver, the VivoBook 14 scored 10065 and 6296 respectively. In comparison, the Lenovo IdeaPad 530S scored 9950 and 9113 on the same two tests respectively. The VivoBook 14's higher score on 3DMark's Cloud Gate could suggest better DirectX 10 and DirectX 11 performance.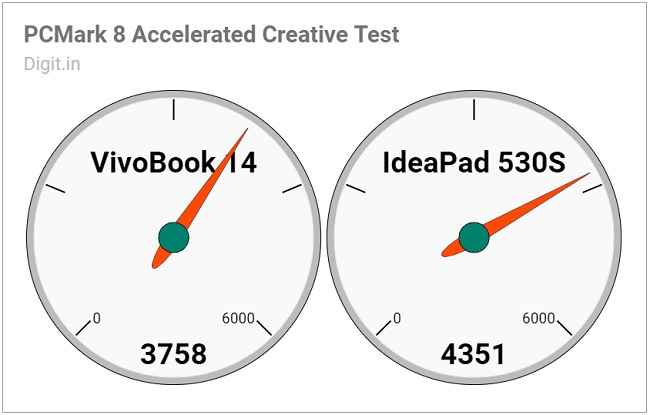 In everyday use scenarios, the VivoBook 14 review unit's performance was up to the mark. I was able to multitask on everyday applications with ease. The applications open across multiple virtual desktops were numerous instances of Chrome, OneNote, Word, Excel, Steam, File Explorer, and WhatsApp for PC. The laptop was able to handle browsing, background file transfers, and background downloads simultaneously without breaking a sweat. According to CrystalDiskMark, the Intel solid-state drive chip inside scored 1709.2 MB/s and 986.1 MB/s on sequential read and write tests respectively. In comparison, the Lenovo IdeaPad 530S scored 3246.5 MB/s and 1912.9 MB/s on the same two tests respectively.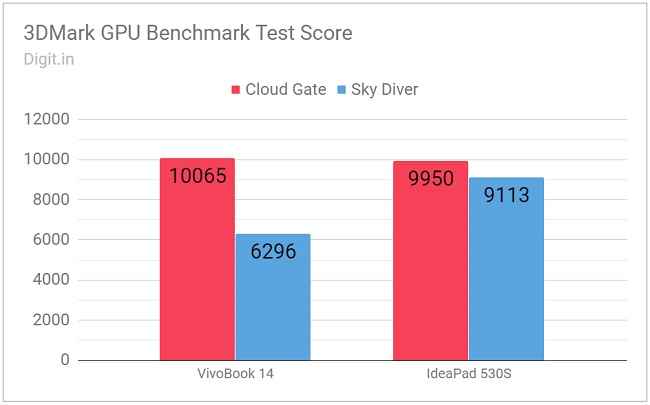 Gaming on the review unit happened in an understandably strained manner. Doom ran on the review unit on Full HD resolution in Ultra (highest graphics setting possible) at an average frame rate of 14 frames per second. Bringing the setting down to Medium (two notches below) almost doubled the average frame rate. Metro: Last Light, on the other hand, ran on Full HD resolution in Very High (highest graphics setting possible) at an average frame rate of 21 frames per second. Turning it down to Medium (two notches below) made the average frame rate climb to 46 frames per second.
Playing either game in Ultra/Very High nearly killed the laptop. Stutters and lags were easily visible. Medium worked out better for both games, which means that it's what you should go with if you're planning to play games on the VivoBook 14. Sadly, screen tearing was prevalent while playing both games in any setting, even with vertical sync set to "Adaptive". In summary, the VivoBook 14 isn't too great for playing new and popular titles but is not shabby either. If your colleagues have been talking about a popular but slightly dated game (like Metro 2033) at work and you want to play it, the VivoBook 14 should be up to the task. The same goes for lightweight image- and video-editing tasks.
Battery
The VivoBook 14 ships with a dual-cell 37Whr lithium-ion polymer battery. On our standard battery benchmark test, the review unit scored an abysmally low 2 hours, 25 minutes. In comparison, the Lenovo IdeaPad 530S lasted only 22 minutes longer on the same test. In everyday use scenarios, the VivoBook 14 review unit did pretty well. With Wi-Fi and Bluetooth enabled, the screen set to 70 percent brightness, the laptop's battery charge halved in two and a half hours. During that time, I ran multiple instances of Chrome, worked with locally stored files, and played music for about twenty minutes at max volume through the speakers. Charging from 11 percent to 100 took nearly two and a half hours. Despite its pitiably low benchmark test score, the VivoBook 14 lasts somewhere between four and five hours on a single charge, which is decent but nothing to write home about.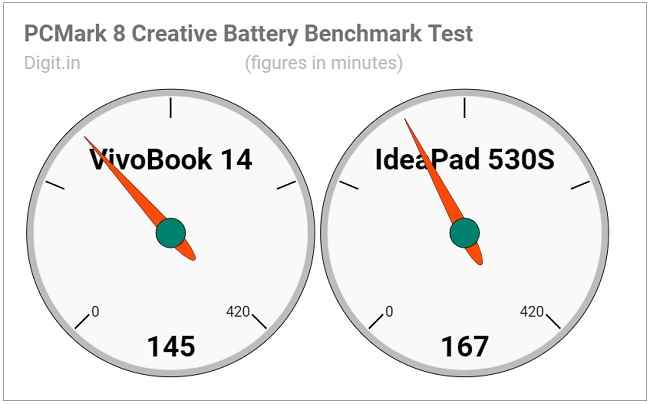 Bottom Line
The Asus VivoBook 14 is an ideal candidate if you're looking for a lightweight mainstream laptop that can help you with everyday computing tasks, including writing, web browsing, number crunching, and light image editing. It can even take on a few popular game titles if it's not asked to run them at the highest graphics setting available. What's more, its comfortable keyboard and touchpad combo add to the overall pleasant computing experience.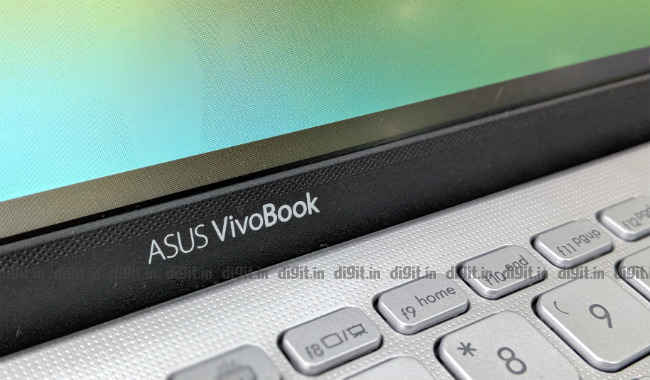 Where does the VivoBook 14 fall short then? Its audio setup isn't great for music and movie playback, especially when you need to entertain a small crowd around you. Its display is not very rich in colour either. Also, the laptop looks awfully plain and unexciting for a VivoBook, especially in Transparent White. It could have also come with a longer battery life. Notwithstanding its imperfections, the Asus VivoBook 14 (X412FJ) is a fine workhorse for the modern-day laptop user.
Note: Asus did not reveal the price of the Asus VivoBook 14 before the launch. Please read about the launch and the price of the laptop here.

Asus VivoBook 14 Pricing is as follows: 

– Asus VivoBook 14 with Intel Core i3-7020U processor = Rs 33,990 

– Asus VivoBook 14 with 8th generation Intel Core i5-8265U = Rs 54,990

– Asus VivoBook 14 with 2GB NVIDIA GeForce MX230 = Rs 59,990.