Asus ZenFone Live ZB501KL detailed review
When Facebook first announced its livestreaming aspirations, many hailed the move as revolutionary. It's true, livestreaming on the Internet is without a doubt the fastest way to get information to the world, and livestreaming on Facebook or YouTube can give television a run for its money. And that's what Taiwanese OEM Asus is betting on. The company's new phone, the Asus Zenfone Live is the "world's first livestreaming smartphone".
Now, before we get to the Asus Zenfone Live review, there's one important question to answer: 
Why/How is this a livestreaming phone?
The "livestream" part of the Asus Zenfone Live starts and ends at one app inside the phone. It's called Asus BeautyLive and it does what many beautification apps have done before. As the name suggests, the app beautifies your face when you're going live. It has a simple interface, with a slider that lets you choose beautification levels between one and 10. The BeautyLive feature is also available for videos shot with the front camera.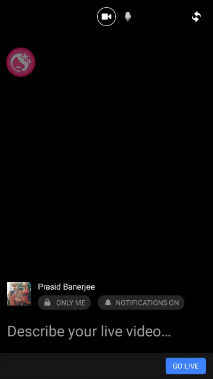 To launch a beautified video, you simply open this app, choose the level of beautification and tap on the Facebook or YouTube options to go live. Tapping on these options will actually open the respective app, and the rest of the livestreaming process is as it usually is. Asus is launching with these two apps right now, but plans to add support for Instagram and Periscope as well.
Beautification on this app is the same as any other beautification app. There have been apps like this before, albeit not for live video. It aims to brighten photos and make skin tones look better.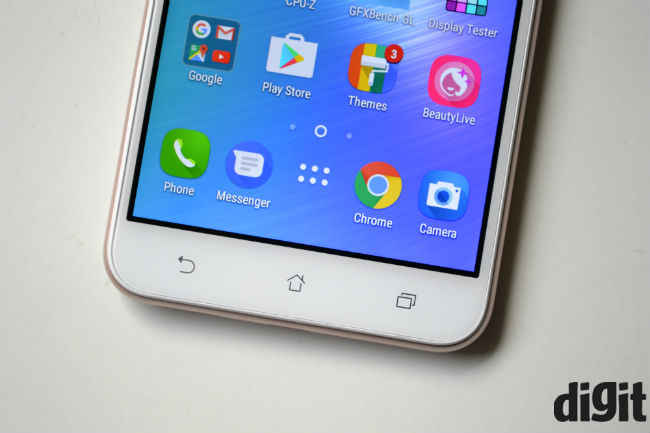 Does it help?
In a word, the answer would be no. Asus' algorithm(s) softens skin tones to hide blemishes and somewhat brightens the background. There's a slider allowing you to choose between 1-10 levels of beautification. With each, the overall brightness is increased by a little and skin tones are softened more. But, in doing so the phone loses almost every detail on your face, making it look quite unnatural.
That, to be honest is disappointing. For the sole gimmick the phone offers, I expected much more. Asus' BeautyLive app is essentially a beautification app that doesn't work very well. Except the fact that this connects to Facebook and other apps, there's really nothing new or innovative here. On the other hand, live videos are often done through the rear camera, whereas Asus' app extends to selfies only, which means its usefulness is limited to start with.
Camera
Asus has fitted a 5MP camera on the front for selfies and videos. The pixel size is fairly large here, but image quality is nothing special. In fact, with Oppo, Vivo and other companies putting dual-cameras

on the front, this doesn't impress at all. Of course, the Zenfone Live is much cheaper, but even the Nubia M2 Lite (which is in the ballpark of this price) has a better camera. Asus has added a "soft-light"

flash on the front for good measure, but as with any flash, it doesn't make a big difference.
Images appear smudged and unnatural even with the beautification levels set to 0. Pushing them up to 10 will remove pretty much all the details. Colours reproduction is limited too, meaning the overall impact of selfies is nothing out of the ordinary. Once again, you would expect the front camera to be more advanced on such a smartphone.
The same is true for the 13MP rear camera. It can take usable shots in good light, but falters often. There's too much noise and detail loss in low light, and colours look bleak almost always. We saw coarse grains even when clicking in well lit conditions, and contrast levels are lower than ideal. The rear camera is reasonably useful when shooting with enough time on your hands, but it often loses focus, even when you're tapping to focus.
Build and Design
The Asus Zenfone Live has a plastic body, but it's well designed and light. The power on/off button and volume rocker are on the right side, while there are capacitive buttons for home, back and recents, below the display. It's a traditional candy bar design, but one that impresses nevertheless. The Zenfone Live is easy to use with one hand and doesn't feel uncomfortable in your pocket. It's would even qualify as attractive.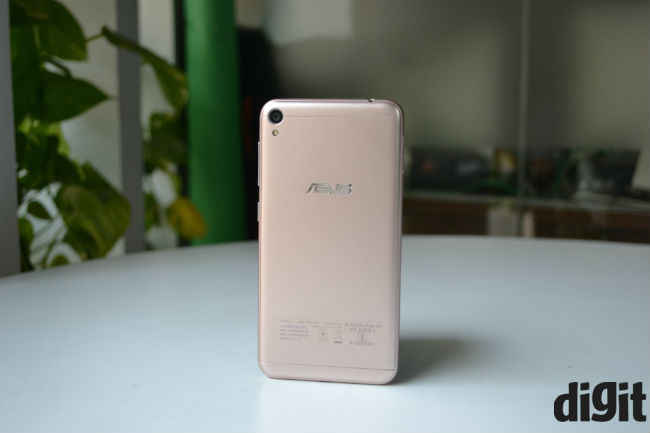 On the other hand, we found a couple of issues with build quality. Firstly, the body has a slight amount of flex, if you try to press down on it. More important, the SIM slot (at least on our review unit) wouldn't eject. Inserting the pin unlocked the SIM tray, but it sat there wobbling, instead of jutting out as it should.

 
Performance 

Now, here's where things fall apart completely. You would expect a phone meant for livestreaming to support the best LTE standards possible and provide the fastest user experience it can. The last thing I want when going live is for a phone to lag or Facebook's already heavy app to feel heavier. But that's exactly what happens on the Asus Zenfone Live.
The Zenfone Live runs on the Snapdragon 400, which Qualcomm classifies as a chipset for wearables now. The two-year-old chipset supports up to Cat 4 (downlink) speeds, which means it's not really up to modern standards. Not that you'll feel the difference in practical terms.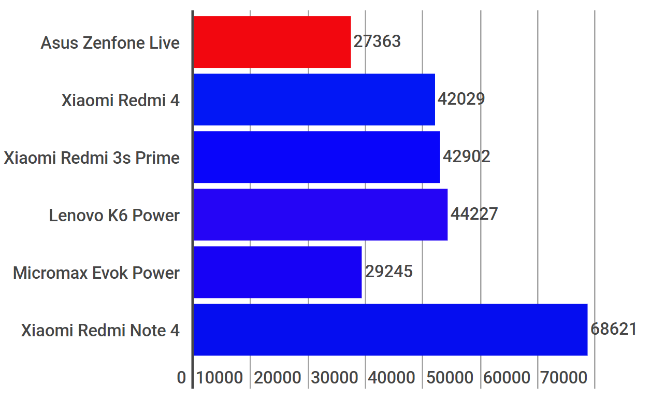 AnTuTu Benchmark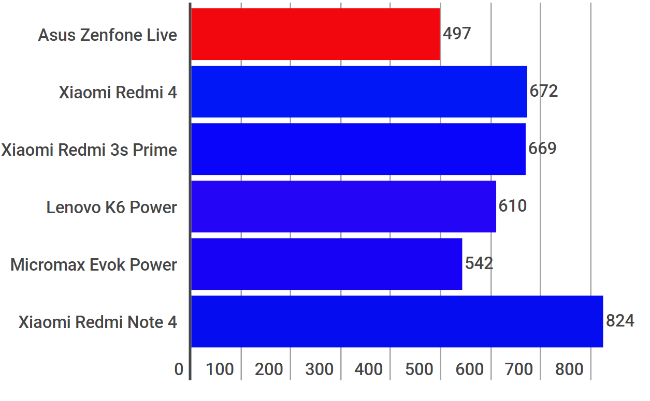 Geekbench 4 Single Core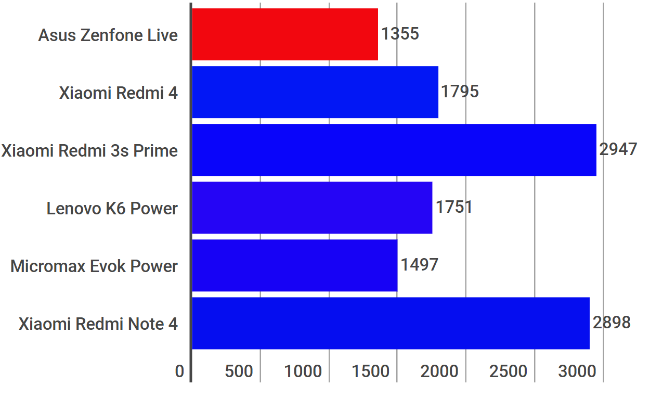 Geekbench 4 Multi Core
Where you will feel is though is regular usage. The Asus Zenfone Live is stuttery and shows lags quite easily. It has only 2GB of RAM, which again puts it behind phones in this price range. Multitasking is not its strong suit of course, but whether it's gaming or using the phone for simple tasks, it doesn't feel as fluid and fast as smartphones today do. There are no heating issues, but the phone feels slow when browsing on Google Chrome, scrolling through your Facebook News Feed or launching apps one after the other.
Display 

A lot of things about the Zenfone Live feel two-year-old, including the display. On the one hand, colours and sharpness are adequate, but poor viewing angles make it tough to use. I often stream movies on my phone, propping it up against something. That's difficult to do here, since colours look off quite easily.
Up front, the screen looks decent and colours are well balanced, much like other Asus smartphones. Personally, I would have preferred deeper blacks, but colour tones look natural and appreciable. The display is also dim, meaning sunlight visibility is sub-optimal.
Battery
On paper, the Zenfone Live's battery isn't very big, and you wouldn't expect much here. However, the phone will last you for about a work day on regular usage. With an hour or so of streaming on Amazon Prime, some social networking, lots of IMs and about five calls, the phone lasted about 10-12 hours on full charge. It lasts just under 8 hours on the PC Mark battery test, putting it around the industry standards today.
Bottomline
To sum up, the Asus Zenfone Live fails to achieve the goals Asus had in mind. Its BeautyLive app is nothing out of the ordinary and there are many smartphones with better front cameras available. Similarly, the rear camera isn't great either. That, and the fact that the phone is noticeably slow, means the Xiaomi Redmi Note 4, Redmi 4, Lenovo K6 Power and most others are better smartphones than this, even for livestreaming video.
Moreover, the Zenfone Live has only 16GB storage, which is always a deal-breaker in our books. It also doesn't have a fingerprint sensor and nothing that makes it worth considering against competitors.