Bang & Olufsen has always stood out from the crowd in the audio segment due to its impeccable focus on design and performance. The Bang & Olufsen Beolit 20 is the latest variant of the brand's portable speaker series, succeeding the Beolit 17. As always, the speaker is made from premium materials and focuses on high-quality sound. Priced at Rs 45,000 in India, it is certainly a luxury product that won't necessarily appeal to the masses. However, if you're looking for a blend of style and performance to bring into your home, the Beolit 20 certainly seems promising on paper. Let's delve into the full review of the Bang & Olufsen Beolit 20 to find out if this portable speaker from the Danish brand is worth your hard-earned money.
Build and design
The Bang & Olufsen Beolit 20 is a premium speaker available in two elegant colour variants – Grey Mist and Black Anthracite. We received the former for review and were extremely pleased with its grey and gold colour palette. The speaker resembles a lunchbox or a picnic basket, in some way, mostly due to its leather handle, however, an extremely classy lunchbox at that. The company has utilised premium materials to construct the speaker including anodised aluminium, polymer, and vegetable-tanned leather for the handle.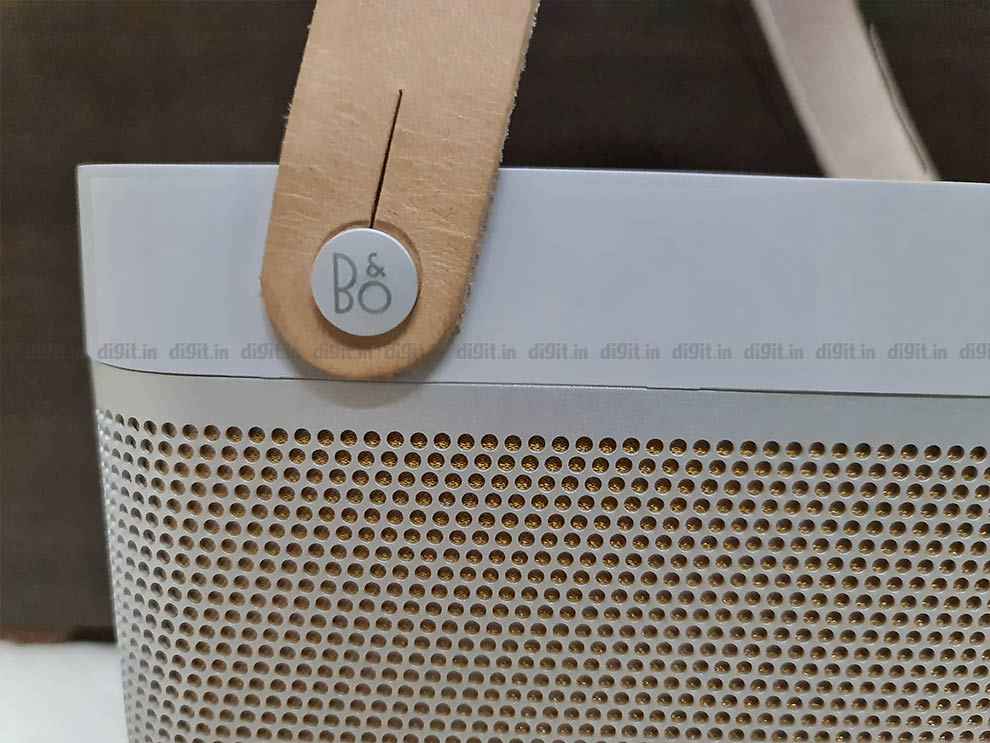 The speaker measures 5.3 x 9.1 x 7.5 inches (HWD) and weighs a whopping 2.7kgs. When you think of portable speakers, you don't really imagine lugging around an almost 3kg speaker. It is definitely on the heavier side when it comes to portable speakers, but we wouldn't imagine anyone wanting to bring this exorbitant speaker to too many places. Additionally, the speaker doesn't come with an IP rating, which is why we would advise users against bringing this speaker with you on trips, or outdoor events. It is slightly disappointing to see that the company hasn't added any water resistance to a speaker at this price though. However, its aluminium body is pretty rugged and it should easily survive tumbles.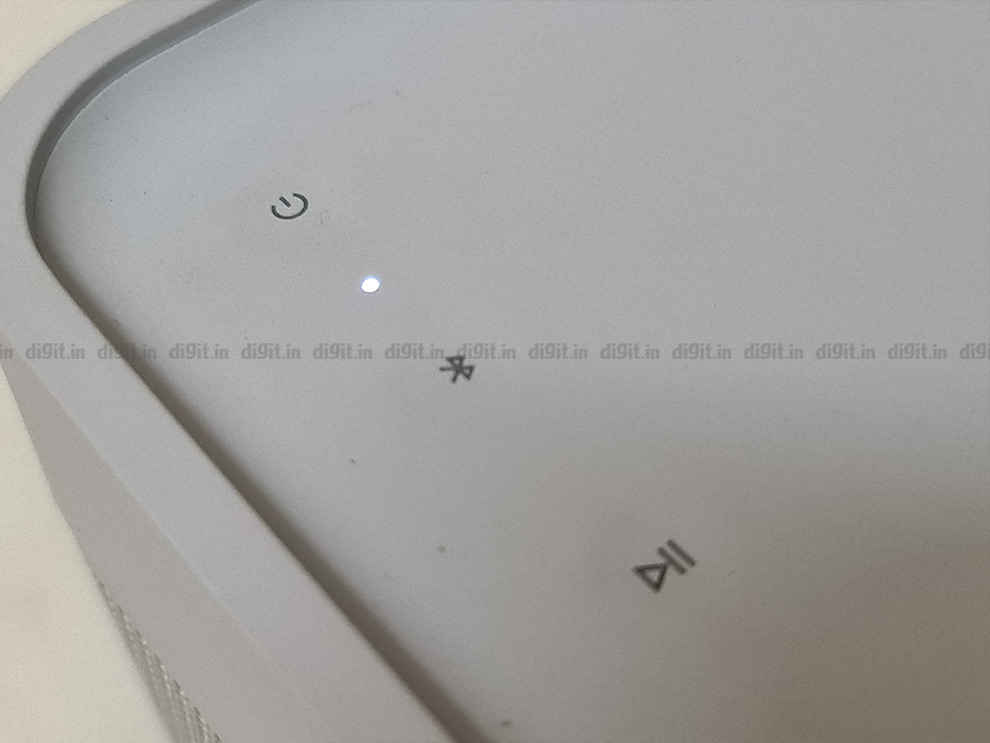 The Beolit 20's leather strap allows you to carry around the speaker and looks fantastic, adding to the overall aesthetic. The mid-section of the speaker has a wraparound aluminium grille, behind which you have a 5.5-inch woofer, three 1.5-inch full-range drivers and two 4-inch passive bass radiators. These conjointly deliver a frequency range of 37Hz to 27kHz. The speaker is powered by the slightly dated Bluetooth v4.2 and supports SBC and AAC codecs, but there's no aptX support, unfortunately.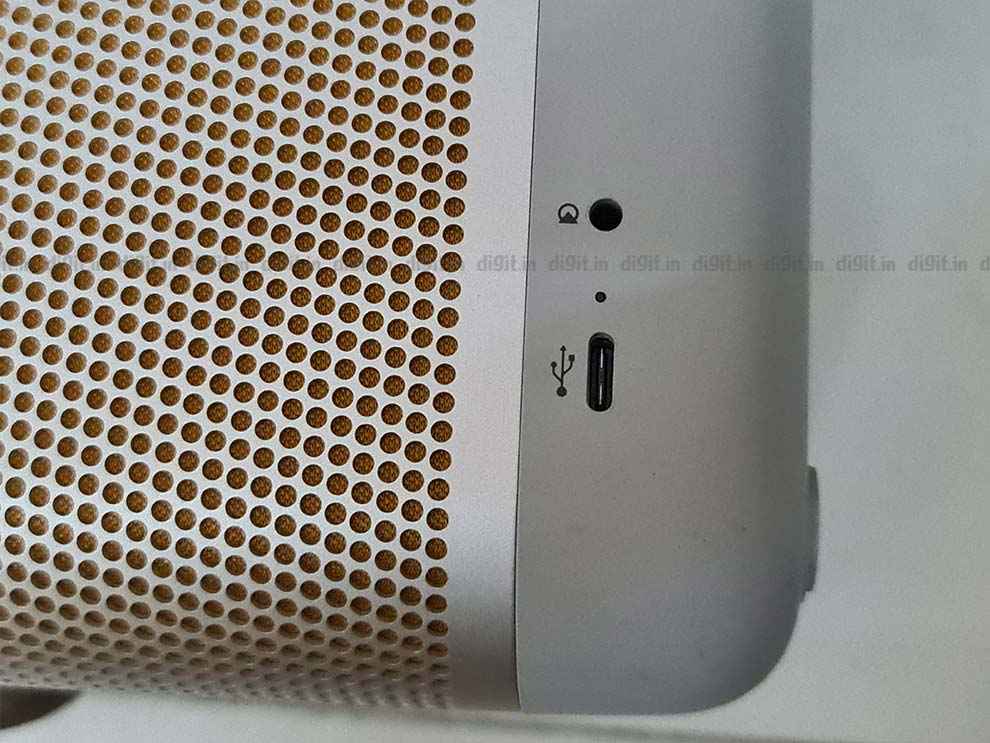 The top portion of the speaker is slightly recessed, like a tray and houses the controls on the left side for power, Bluetooth, pause/play and volume. The buttons aren't backlit, but it's not a big deal. The tray is also a Qi wireless charger, so you can simply plonk down your compatible devices in the centre of the 'tray' to wirelessly charge them! There is also a USB-C port for charging and a 3.5mm port for connecting to devices passively at the back of the device. 
Features
The most interesting feature of the B&O Beolit 20 is one we've already touched upon in the previous section – Qi wireless charging. The device can power any Qi wireless charging compatible device, and we used it to charge our smartphone and true wireless earphones quite a lot. It isn't fast charging, by any means, but it is useful when needed in a pinch. The addition of wireless charging is supported by the gains made in the speaker's battery life when compared to its predecessor.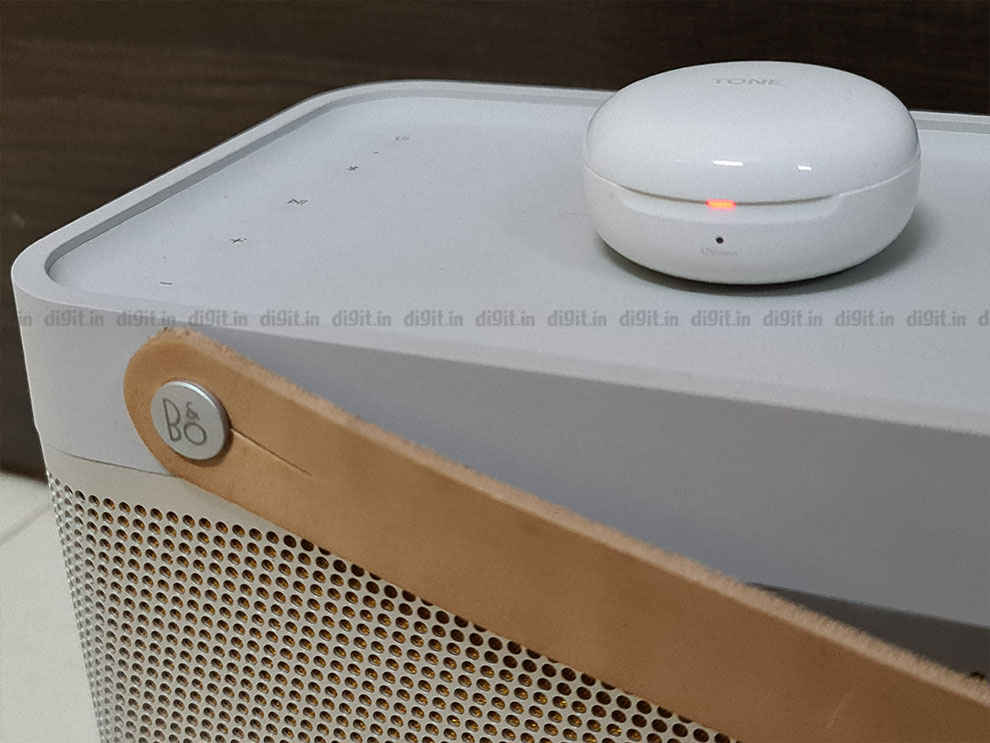 The speaker comes with a battery life of 8 hours over the 6 hours of its predecessor, which is a pretty decent jump. In our tests, the speaker was able to power through a little lower than 6 hours of playtime at around 60 per cent volume. The Beolit 20 also supports stereo pairing, where it can be paired with another Beolit 20 or even a Beolit 17. There's no Wi-Fi connectivity, which is slightly disappointing since speaker's in a similar price range usually have that support.
The speaker can also connect to the Bang & Olufsen app for iOS and Android that gives users access to many more features such as track playback, track navigation, EQ presents, and even a custom EQ. The custom EQ, unfortunately, doesn't have bands like most EQs do, which makes it slightly less precise when tweaking up the sound signature. You can also use the app to connect the speaker to another one to get a stereo setup. Additionally, you can also disable wireless charging to preserve the battery.
Now, while these seem like a decent set of features, the speaker is slightly lacking feature-wise for this price. You only get Bluetooth v4.2 connectivity, no IP rating, and no Wi-Fi support. Additionally, there are no smart features on the device, and you cannot even connect to your voice assistant, which is a shame since it puts a cap on its abilities. Abilities most speakers have in this price range. In fact, it is a pretty basic feature that even budget speakers have incorporated these days.
Performance
While we do have a bone to pick with Bang & Olufsen regarding the lack of features on the Beolit 20, the sound quality an area where we have very few complaints. While the app allows you to select EQ presets or even use the customisable EQ, we did most of our testing in its default state to relay what you'll get when you purchase the device out of the box. You can, of course, customise the EQ, which will change the sound signature as per your preference.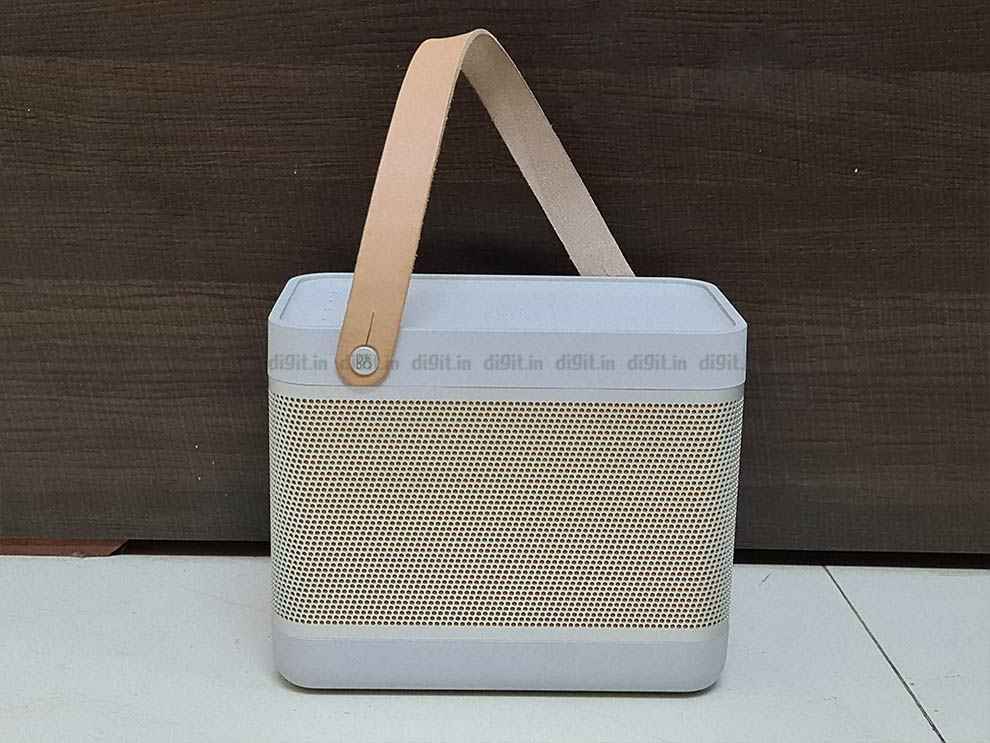 By default, the Beolit 20 comes with powerful and impressive sound quality. It delivers solid low-frequency thump and doesn't distort at high volumes as well, which can be seen in tracks such as Centuries by Fall Out Boy. The vocals have a smooth, musical quality to them with good clarity and dynamism for the most part. However, there is slight sibilance in the vocals at times. In vocal-centric tracks such as Hello by Adele, her voice soars beautifully and never gets veiled in the mix. Even bass-heavy tracks reproduce vocals well without veiling their details. Overall, you get full-bodied lows, rich vocals, and detailed highs that make most tracks sound great. The speaker doesn't have a flat response, but it definitely delivers a rich and powerful sonic experience. 
This speaker is also really loud, which is what you'd expect when you look at its size. It can easily fill large rooms with its sound, and can even work well outdoors. The soundstage is decently wide but the separation is pretty good, for the most part. If you enjoy speakers with a rich, warm sound profile, the Beolit 20 has exactly that, done to near perfection. 
Verdict
If design and performance are of utmost importance to you, the Bang & Olufsen Beolit 20 portable speaker is an excellent option with great sound, good battery life, and Qi wireless charging support. However, if connectivity options such as Wi-Fi and smart features such as voice assistant support is important to you, it's best to look away since you won't find them here.