Canon has announced today two new DSLRs, the Canon EOS 700D (Canon Rebel T5i) and the Canon EOS 100D (Canon Rebel SL1), with the former being an upgrade to the 650D and the latter being the world's lightest and smallest DSLR.
At the heart of the Canon 700D is an 18 megapixel APS-C (1.6x crop) sensor paired with a single Digic 5 image processing chip. It comes with the same 9-point AF system with all cross type points. In fact, the 700D retains almost all the specs of the 650D, at least on paper. It even retains the hybrid AF system to allow auto-focusing during video using the new STM standard lenses Canon has been producing. The burst mode on the 700D is also the same as on the 650D, a decent 5 frames per second. The 700D won't by any means qualify as a sports camera, but with a pretty decent all cross type AF system, 18 megapixels of imaging real-estate and a full HD video recording, it could be the camera for beginners and amateur-enthusiasts. What helps is the addition of a new STM lens, the 18-55mm f/3.5-5.6 and the entire kit getting an introductory price of $749.99 for body only, $899.99 for the 18-55mm f/3.5-5.6 kit option and $1,099.99 for the 18-135mm f/3.5-5.6 kit which should be available sometime in April. Interestingly, these prices are lower than what the 650D was introduced at, so this should help Canon sell more units.

The Canon EOS 700D
The second camera, which Canon is heralding as quite a technological achievement, is the EOS 100D or the Rebel SL1, which happens to be the world's thinnest and lightest DSLR as of yet. If a comparison was to be drawn, the 100D is essentially an EOS M in a more functional body. It has an 18 megapixel sensor with the Hybrid AF system, the 3-inch touchscreen and the 1080p video at 30fps. The new EOS Rebel SL1 Digital SLR Camera is scheduled to be available in April for an estimated retail price of $649.99 (Rs. 35,370 approx.) for the body alone or $799.99 (Rs. 43,500 approx.) bundled with the new EF-S 18-55mm f/3.5-5.6 IS STM kit lens.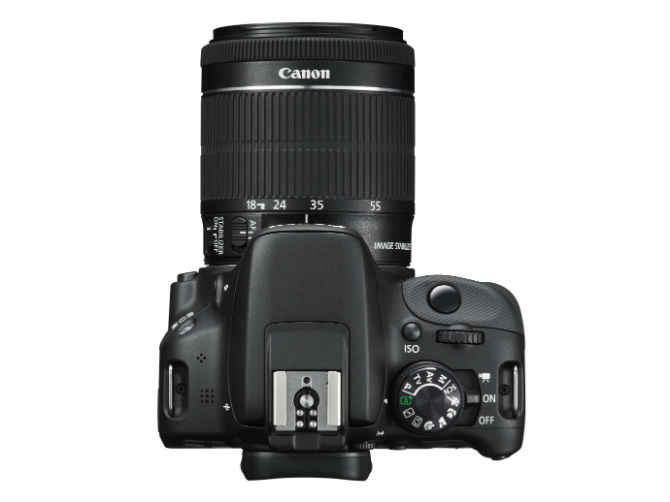 The Canon EOS 100D
Currently, both the cameras have only received US pricing and availability, but if the trend of releases is anything to go with, these cameras should also be released in India within a week of their US release.