Dyson recently introduced its latest V12 Detect Slim cord-free vacuum cleaner in India that's priced a little above the last generation V11 Absolute Pro flagship and is positioned as the company's most intelligent compact vacuum cleaner. With the new iteration, Dyson focuses on making the cleaner easier to operate and adds a few exciting innovations like a laser sensor to detect fine dirt particles and a piezo sensor that analyses and counts the dust particles as they are being pulled in real-time.
So, do all these tidbits add up to make a meaningful difference? Let's answer that and more in our Dyson V12 Detect Slim Review.
Price and availability 
In India, the V12 Detect Slim has an MRP of INR 58,900 and it's available for INR 55, 900 on Dyson's official website. 
Dyson V12 Design and attachments 
The focus of this generation has been on making the v12 handier. It is noticeably slimmer and lighter than the last-gen V11 Absolute Pro. The main body weighs just 1.5 kgs and even with the wand and cleaning heads attached, the weight remains under 2.5 kgs  –  and what this essentially means is that the V12 is quite comfortable to hold and operate for long durations of time. 
The main cleaner body is still shaped like a Sci-Fi blaster but the trigger has been replaced by a one-touch button, which is again more convenient. 
There is a round LCD display on the back with a lone button to switch performance modes. The display primarily relays data from the piezo-electric sensor, charging notifications and the battery countdown. 
The bin has a 0.35 L capacity and you can conveniently eject the collected dust using a clip at the bottom. There is a marker on the bin that lets you know when it's time to empty it and if the bin fills up when you are cleaning, you will get a notification prompt to empty it. You can also remove and wash the bin and Dyson recommends that you let it dry for at least 24 hours after rinsing. 
The cleaner also has a sealed 5-layer filtration system to capture dust particles before the air is expelled from the rear.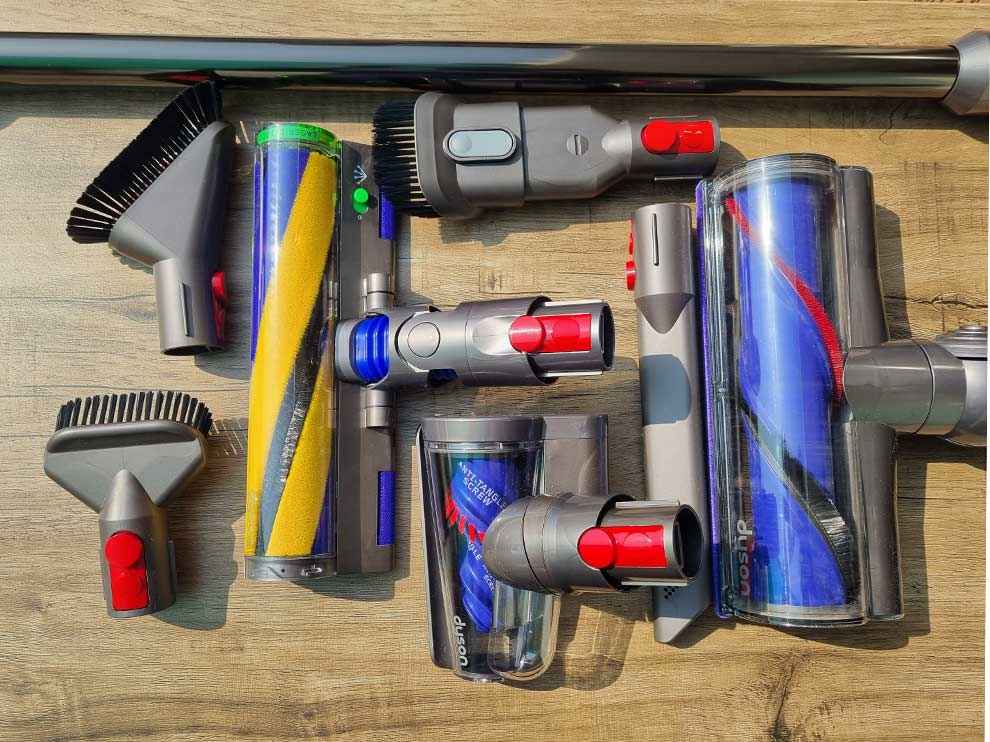 Here are all the attachments that come bundled in the box: 
Fluffy cleaning head with laser (Motorized) – Suitable for hard floors

Direct drive cleaner head (motorized)  –  For hard floors, carpets, and ground-in dirt. 

Hair screw tool (motorized) – Effectively picks up hair, good for cleaning car seats, mattresses, car upholstery. 

Combi tool – has soft nylon bristles; can quickly switch between dusting and cleaning. Good for dusting walls and ledges. 

Crevice tool – to clean hard to reach crevices

Soft dusting brush – suitable for dusting furniture and tabletops. 

Stubborn dust brush – stiff nylon bristles; helps dislodge dirt from carpets, floor mats and car interiors.  

706 mm wand

Wall dock, wand clip and charging adapter
Up-top adaptor, extension-hose and mattress tool are a few notable omissions 
Dyson V12 Performance
Suction power is what must be high on your priority list while buying a vacuum cleaner. We all justly expect a premium vacuum cleaner to be an absolute beast that can shake up and gobble up all the dirt that has been lying dormant for ages.  
As we have discussed in the last section, Dyson Vacuum cleaner has evolved to be slimmer and more manageable. And yes, these refinements do come at the expense of some suction power – but thankfully, not much has been compromised. 
The Hyperdymium motor on the V12 Detect Slim has 11 'Root Cyclone' chambers as compared to the 14 chambers in the V11 Absolute Pro, but these 11 manage 150 air watts of suction power which is significantly higher than what you'd get on most conventional vacuum cleaners. 
There are three power modes that you can switch between – Eco, Auto/ Med, and Boost.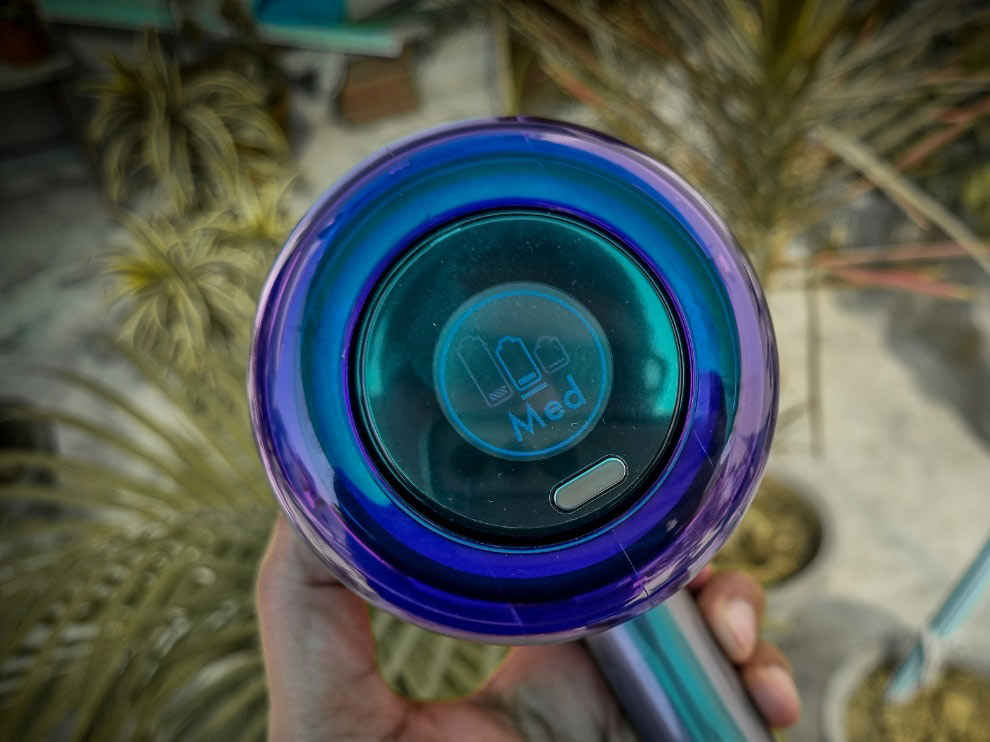 The maximum power is reserved for the Boost mode that's astonishingly powerful but also completely obliterates the battery, and thus you won't be using it as often. In fact, it's extremely difficult to glide the sweeping head on a heavy rug with the mode turned on. The mode proved quite useful for intense sofa and bed cleaning. 
You will be mostly using the V12 Detect Slim in the Auto mode also does a really fine job. The V12 could pull out a surprising amount of dust from my carpet in the auto mode and a single sweep was usually enough during floor cleaning. 
The base Eco mode is no slouch either and is great for cleaning curtains, tabletops and for other light dusting. 
Among new innovations, the first is the fluffy cleaning head with a precisely angled class 1 laser light (certified to be safe to use). The first time I tried this head, it was in a sunlit room and the laser guidance was barely visible. And since I almost always get done with my cleaning in morning hours, we were willing to write this one off as a gimmick. However, that's definitely not the case!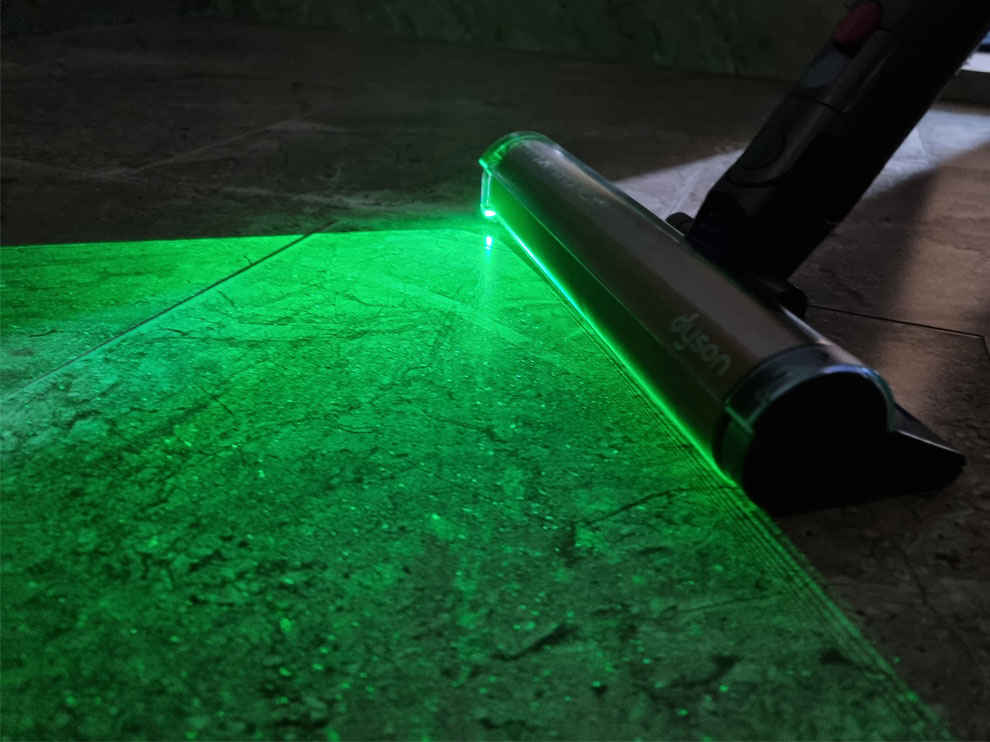 In a dark ambience or under artificial lighting, the laser detect sensor makes it incredibly easy to detect dust particles lying on your floor which are otherwise invisible to naked eyes. You get that instant gratification of these vanishing as you glide the fluffy clean head over. So much that it's easier to track your sweep strokes, especially when you clean the hard to reach areas, like the underside of a bed or sofa. 
In case you are worried, the laser doesn't take up much battery. In the auto-mode, you can continue cleaning the hard floor for around 50 minutes on a full charge. We noticed that the laser light automatically turns off in case you accidentally hit a hard object such as a castor wheel of a chair leg.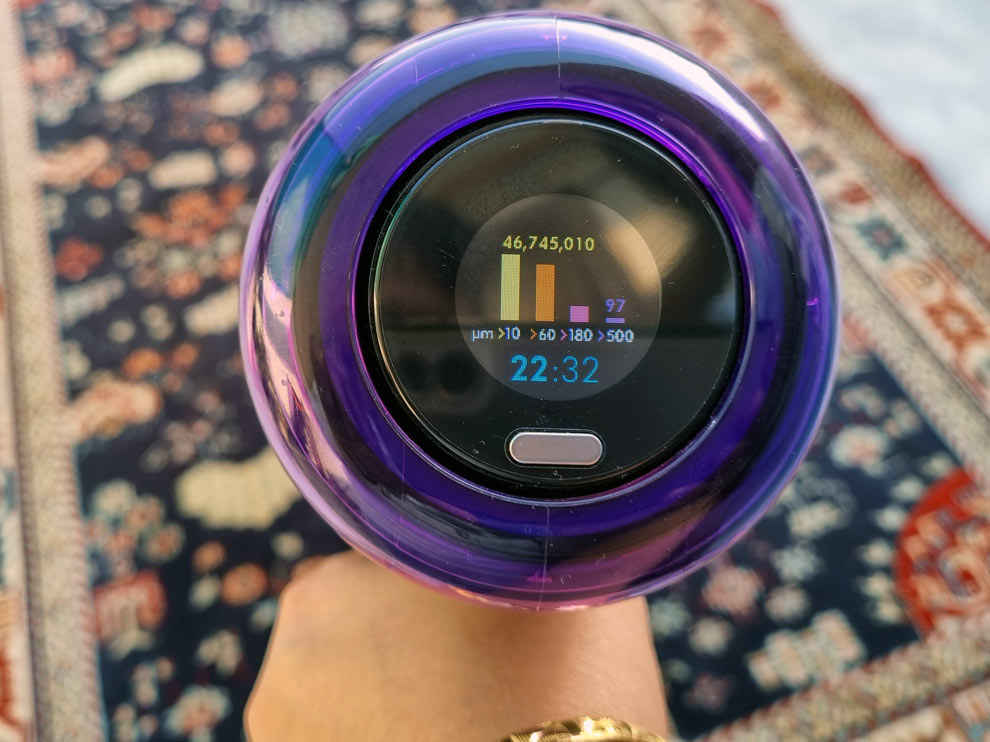 The piezo sensor can detect and quantify the dust particles that you pick. I am guessing that most users will overlook these stats, but they do give a user a means to objectively track exactly how much dust has been pulled in during a particular cleaning session. This gives you a clear cut way of knowing if your rug has been dirtier than usual. 
It would be cool if this data could be synced with a smart app and better analysed on an activity or cleaning session basis. Anyways, this sensor also helps the cleaner better optimize the auto mode. It analysis this data and automatically increases or decreases the suction power in the auto mode.  
The conical brush is also new and the shape of this motorized head has been optimized to push pet hair into the bin. Well, I don't live with a fluffy friend so it was hard to judge the efficacy of the hair removal, but its relatively compact size made it more suitable for cleaning car interiors. 
To sum it up, the Dyson V12 Detect Slim is a champion performer, and it better be for its high-end asking price. I mean it's not a magic wand that you can merely wave at your furniture to miraculously pull out all dust well-settled within wooden carvings, but it can very effectively suck in whatever the brush head attachments can reach to scrub and agitate. You will see the magic whenever a cleaning head can perfectly lock on a surface you are cleaning. This is easy to do for cushions, mattresses, rugs, and even floors, but not always so for more abstract surfaces like ceiling fans, ledges, or curtains. 
It must also be mentioned that this is not a wet cleaner and can not double as a blower.
ALSO CHECK: ONEPLUS Y1S EDGE 43-INCH FHD TV REVIEW – GOOD COLOURS, BUT NOT VALUE FOR MONEY
Dyson V12 Detect Slim Review: Battery Life
The V12 Slim Detect takes around 3 hours for a full charge (which is lesser than the 4 hours charge time that Dyson claims). You can monitor the battery percentage by pressing the button on the LCD display when the cleaner is plugged in. When the cleaner is running, you get the countdown for how long the battery will last just so you can plan your session accordingly.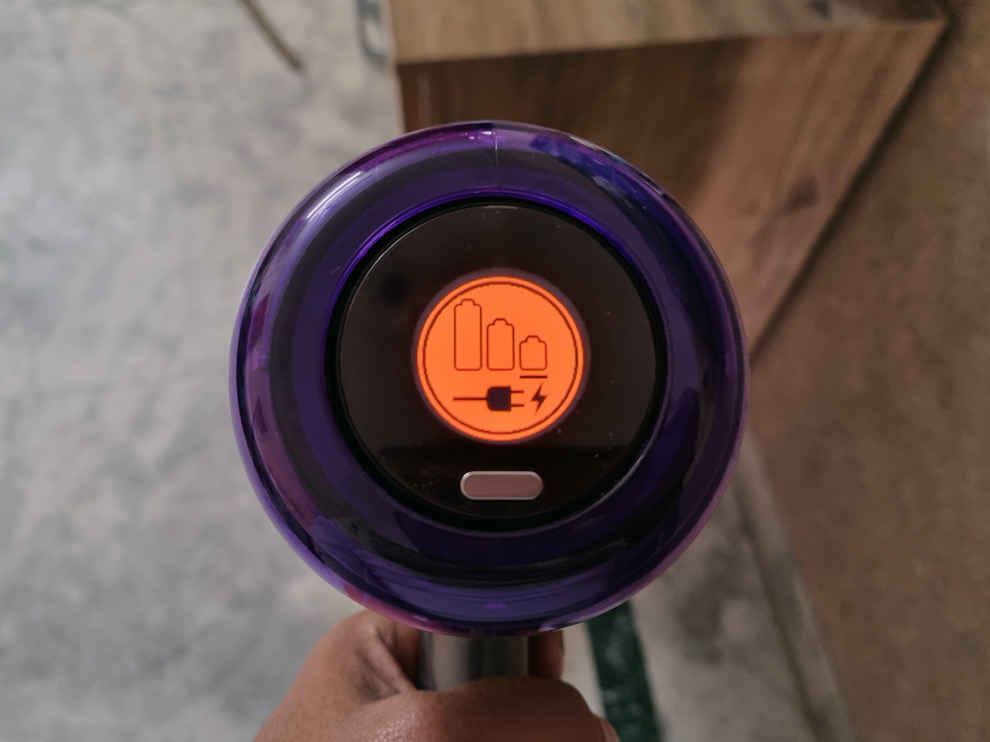 In the auto-mode, the battery on the V12 Detect can last from 25 minutes to 45 minutes. The mileage is longer when you are cleaning hard floors, tabletops and curtains. Demanding tasks like cleaning a rug can exhaust the battery in under 30 minutes. The boost mode can be sustained for just around 6 to 8 minutes. In the Eco mode where the suction is kept light, the runtime can last for more than an hour. 
During our review, there were instances when we ran out of charge in the middle of intense cleaning sessions a couple of times, but on most days a full charge was more than enough. The battery is also swappable but you will have to buy the replacement separately and currently, there is no word on the price and availability of the swappable battery for the Dyson V12 Detect Slim.   
Dyson bundles a charging dock station with the V12 Detect Slim where you can drop it after cleaning just so to conveniently ensure that it will be all juiced up and ready when you need it 
Dyson V12 Review: Verdict 
All said and done, the Dyson V12 Detect Slim is a premium product that is quite remarkable at cleaning different types of surfaces. It delivers powerful suction, is very convenient to hold and has an LCD display that keeps you informed about the dust collected and remaining runtime. The laser detect sensor and piezo sensors are cool additions that add value to this iteration.
If you are spending the premium price of  INR 55,990, you might obviously be considering robotic vacuum cleaners that require minimal cleaning effort and are usually deemed good for hard floor cleaning. The Dyson V12 Slim Detect on the other hand is a versatile tool that can be used for more targeted and intense cleaning across your entire home or your car and will be relatively more reliable when it comes to intense cleaning performance.