An article describing the launch of Fujifilm's new breed of high-definition digital cameras from the stables of JV series – the JV100 and the JV150 in the Indian market, starting at a very affordable price of Rs. 7,799.
Fujifilm HD digital camera – JV100
FUJIFILM India Pvt. Ltd., the wholly owned subsidiary of FUJIFILM Corporation, Japan, one of the world's largest digital photographic solutions companies, has reportedly introduced the HD compliant JV series cameras – JV100 and JV150 – in the Indian market. Avid photographers are invited to cherish their wonderful memories and unforgettable moments with the new breed of high-definition JV series digital cameras.
Speaking on the launch of their new JV series product, Mr. Kenichi Tanaka, Managing Director, FUJIFILM India, said, "High-definition JV series cameras are dedicated to photography enthusiasts. We hope that this series will prove to be really a boon for them and help them enjoy the beautiful moments forever. HD feature is our domain and with JV series we have tried to provide the top quality to our customers."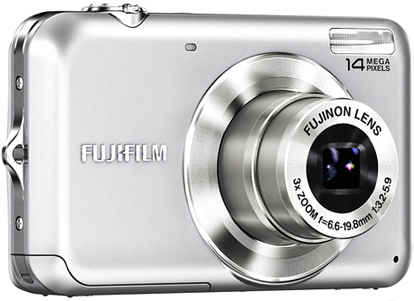 Fujifilm HD digital camera – JV150
The JV100 and JV150 are powered by 12MP and 14MP sensors respectively and further boosted by the Fujinon 3x optical zoom lenses. Fujinon Lens, is said to be a high precision optic lens from Fujifilm, which finds its critical usage across various industries like: satellites in outer space, TV/film, security and compact cameras.
The JV series is purportedly equipped with a maximum sensitivity of ISO3200 and therefore will probably take true life-like photos even under low-light conditions. The ultra high sensitivity feature is meant to avoid blurriness caused by the action of high-speed moving subjects and Digital Image Stabilizer enhances image clarity by reducing blurs caused from camera shake using high sensitivity and fast shutter speed. Thus, the JV series is designed to capture moments in motion with crisp and clear results.
The JV series cameras are also reportedly equipped with the 6 scene SR AUTO (Scene Recognition Auto) and Face Detection. The advanced Face Detection technology is designed to simultaneously recognize up to 10 faces in a photo. You are offered the privilege to share your group portraits using the Zoom Up function in playbacks, checking each detected face. Every priceless moment of your life can be captured, edited or cropped and saved as high clarity & high resolution images.
The JV series cameras are priced from Rs. 7,799 onwards.