Japanese engineering is second to none, most of the time. I own a 2020 Suzuki IGNIS and it is as refined and long-lasting as they come. Similarly, when Fujitsu sent over its "made-in-Japan" laptop, I was intrigued and excited, to say the least. The unit is a 2-in-1 convertible laptop featuring a touch-screen and a 360-degree hinge. 
Fujitsu plans to market its laptop based on its excellent build quality, built-in touch screen, high performance and a plethora of features. After using the device, I have to admit that the Fujitsu UH-X 2-in-1 Convertible ticks all the right boxes. However, some caveats become apparent in this otherwise all-rounder machine after using it for a longer duration. Here's everything you need to know about the Fujitsu UH-X 2-in-1 Convertible laptop. 
Fujitsu UH-X 2-in-1 Convertible Laptop: Specifications
Processor: 11th Gen Intel Core i7-1165G7 4-core/8-thread, 2.80Ghz base clock, 12MB Intel Smart Cache, 28W configurable TDP

Integrated GPU: Intel Iris Xe graphics processor

RAM: 16GB LPDDR4X RAM (2133MHz)

Storage: 1TB NVMe SSD

Display: 13.3-inch 1080p Anti-Glare touchscreen display with 400 nits of brightness

Weight: 997g

OS: Windows 10 Home
Fujitsu UH-X 2-in-1 Convertible Laptop: Performance
The Fujitsu UH-X 2-in-1 Convertible is a solid performer. It comes with a powerful 11th Gen Intel Core i7-1165G7 processor featuring 4-core and 8-threads. It is based on Intel's latest 10nm process and packs in more transistors than the previous gen. Consequently, you'll notice this upgrade when booting up the machine, closing or opening different apps, browser tabs etc. The laptop does not feel sluggish even if you've multiple tabs and windows opened simultaneously.
In order to get an in-depth look at the performance of the Intel Core i7-1165G7 chip in this laptop, I ran it through a couple of benchmarks and compared the resulting scores with some other similar laptops. On Cinebench R20, the Fujitsu UH-X 2-in-1 scored 1773, which is amongst the top-level scores this particular Intel chip can achieve. The score is pretty close to ASUS Expertbook B9400, which also uses the same chip.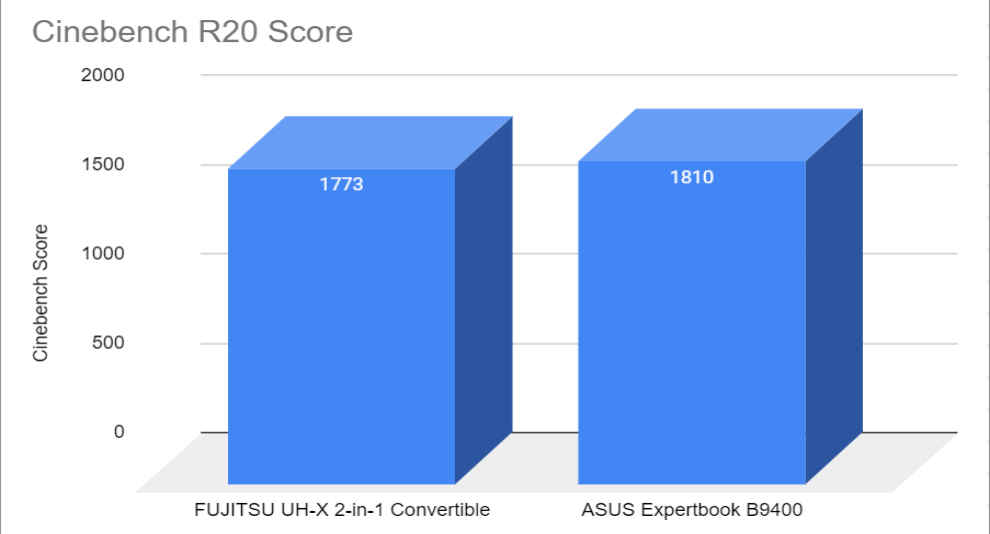 The difference in scores could be due to some thermal issues. The Magnesium Alloy chassis of UH-X 2-in-1 is great in terms of build quality, about which I'll talk later in the article, but doesn't seem to provide a great cooling performance. Mind you, the temperature remains stable under normal usage, but while benchmarking, it spiked to more than 95°C several times and touched almost 100°C in a few tests as well.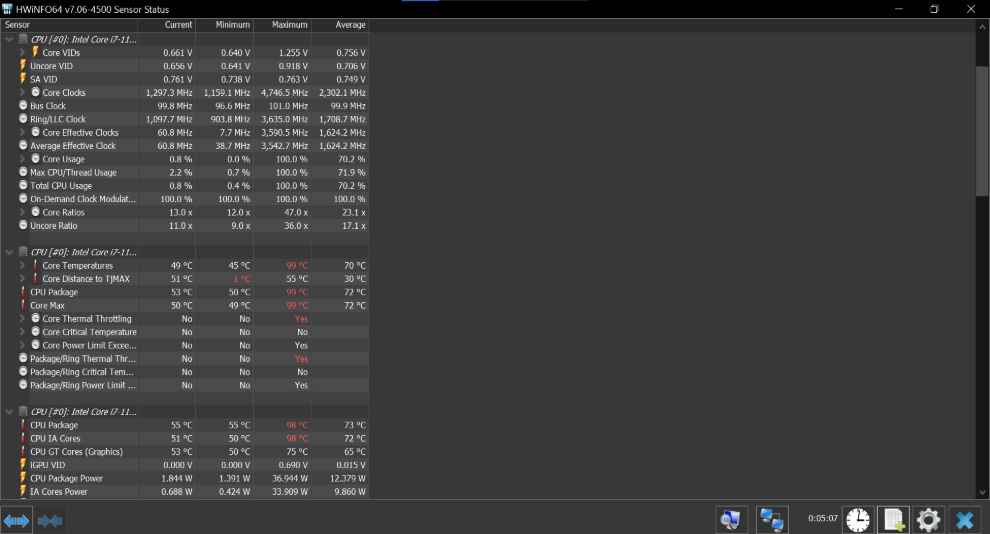 To its credit, the Fujitsu UH-X 2-in-1 laptop is dead silent. It has two vents, one at the far end of the keyboard and another one underneath the laptop. In a Cinebench R23 single-core test, the Intel Core i7-1165G7 scored one of the highest points. The testing software also indicated that the same Intel Chip occupies the top four spots in this category.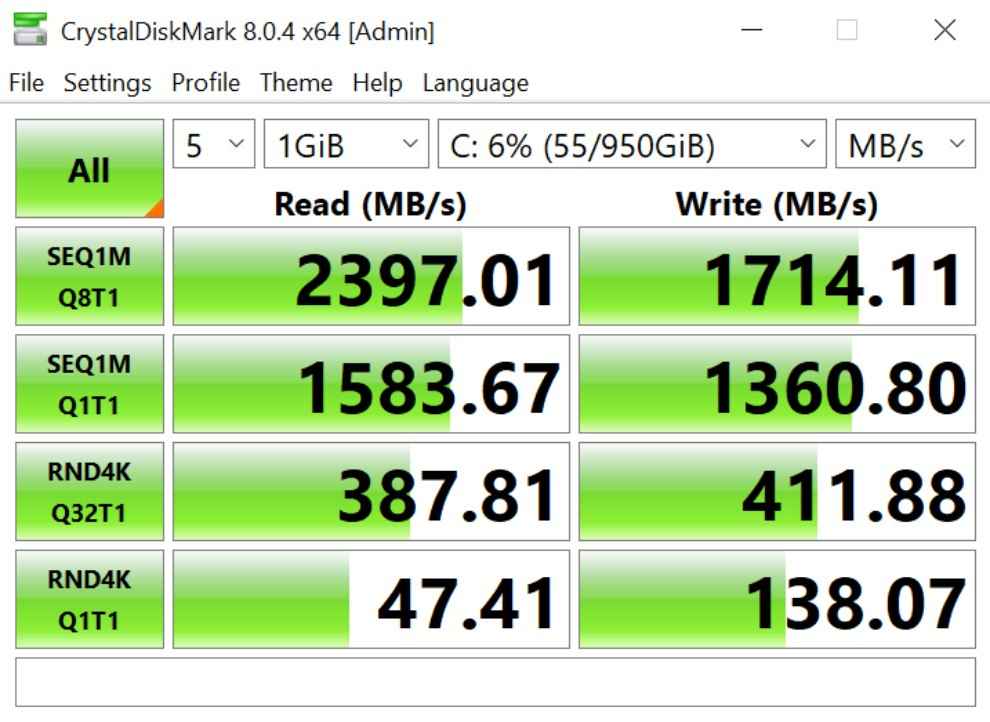 The multi-core performance of the Intel Core i7-1165G7 seems average as per its Cinebench R23 multi-core score. However, in everyday tasks, the UH-X 2-in-1 convertible laptop fared pretty well. I use Vectr for photo editing and the laptop handled it without any hiccups. Here, I'd also like to praise the built-in touch screen of the Fujitsu UH-X 2-in-1 laptop for its snappy response time. This specific Fujitsu UH-X 2-in-1 model came with a 1TB NVMe SSD, which seems decent. I tried to transfer a 35GB file from my smartphone to the laptop and it took 20 minutes to complete the whole process.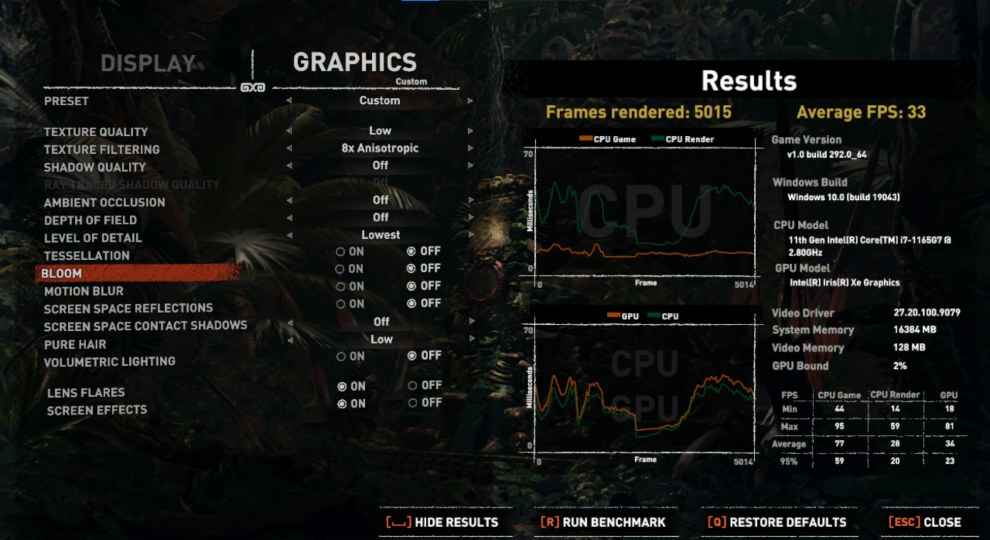 The Iris Xe graphics chip onboard is good enough for light gaming. I tested Shadow of the Tomb Raider at the lowest possible graphical preset and the laptop managed 33FPS on average.
I used PC Mark 10 to benchmark the laptop's performance in everyday office tasks like document editing, video conferencing etc. The Fujitsu UH-X 2-in-1 scored 4646, which is pretty decent. In this case, the Intel Core i7-1165G7 scored only a bit higher than the Intel Core i5-1135G7 powering an HP Pavilion Laptop 13. 
Fujitsu UH-X 2-in-1 Convertible: Battery Life
The tests helped me to form an overall picture of the Fujitsu UH-X 2-in-1 laptop. Its main aim seems to be to deliver optimal performance in day-to-day tasks by keeping an extensive focus on efficiency. To confirm my hypothesis, I did a battery test on the laptop focused on Microsoft Office, which I think this laptop will be mostly used for. For reference, the laptop has a 50Wh battery. After an overnight test, the test confirmed my theory by showing that the Fujitsu UH-X 2-in-1 has a battery life of 9h 58 mins.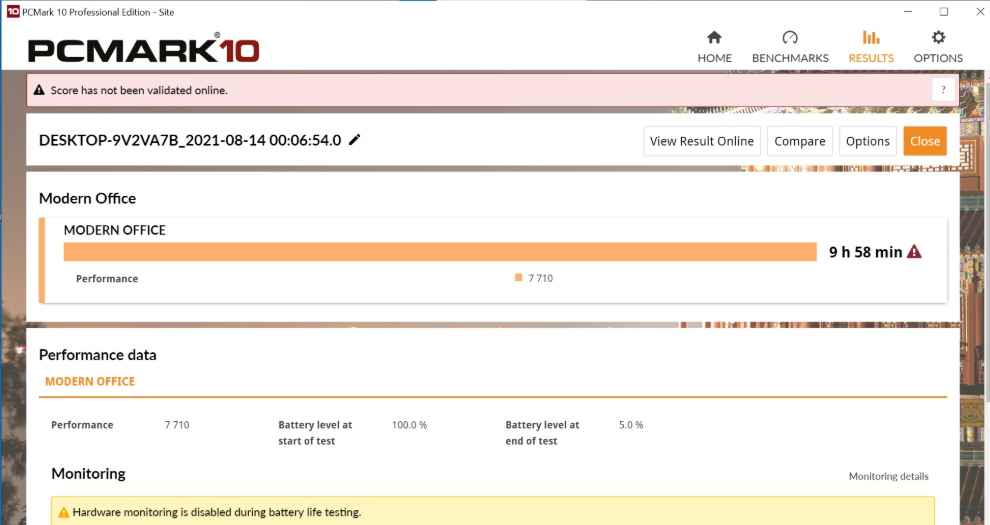 I started the benchmark with a completely charged laptop at 100% and the test automatically ended when the battery charge reached 5%.
Meaning the idle battery life of the laptop would be even higher. Still, with a continuous battery backup of almost 10 hours, the Fujitsu UH-X 2-in-1 convertible can take care of your everyday tasks with ease. The laptop has a conventional charging port and also a USB Type C port. It takes around 1.5 hours to completely charge from 16%. Furthermore, in case of emergencies, you can also use your smartphone to reverse charge your Fujitsu UH-X 2-in-1 convertible laptop. 
When left idle, the laptop drops battery percentage ever so slowly. At the time of writing this article, my battery is 18% and the laptop indicates that it can still run for 1hr and 21min. I am primarily using Google docs and playing some music. Your mileage may vary if you choose to play a video on YouTube or Stream a movie while using the laptop at the same state of charge.
Fujitsu UH-X 2-in-1 Convertible Display
The Fujitsu UH-X 2-in-1 convertible laptop comes with a 13.3 inch 60Hz FHD IPS Anti-Glare panel. Fujitsu claims a peak brightness of 400 nits for the laptop display. In our tests, the peak brightness of the laptop came out to somewhere around 350 nits. Most of the time I kept the laptop's screen brightness around 75%. The screen is readable under bright studio lights, and while I didn't test this laptop under the sun; with a good anti-glare panel, I don't think you'd face much trouble outdoors as long as you're not sitting directly under the sun.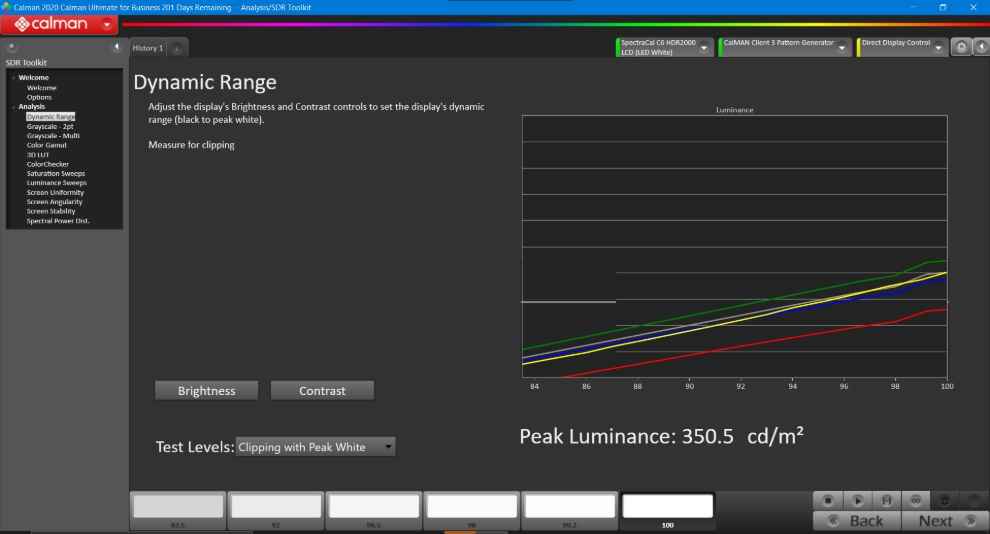 Fujitsu UH-X 2-in-1 Convertible laptop display tested on Calman Ultimate
The 13.3-inch display has a lot to like about. First of all, it rarely attracts any fingerprints. It has a matte finish which also makes using its touch screen a smooth experience. This combination of touch screen and matte display made me want to use the touch screen more and I am not an ardent fan of such 2-in-1 hybrid laptops in the first place. In other tests, we found that the laptop's screen covers 100% sRGB, 73.8% Adobe RGB and 73.4% DCI-P3 colour spaces.

Fujitsu UH-X 2-in-1 Convertible laptop display tested on Calman Ultimate
Additionally, during the ColorChecker analysis the Average DeltaE came out to be 3.6 and Max DeltaE was 9.6. It means that the screen is not highly colour accurate. 
The Fujitsu UH-X 2-in-1 comes with a 360-degree hinge, meaning you can use the laptop conventionally, upside down, as a drawing tablet, in portrait mode and in any other way that you want. The laptop's screen has excellent viewing angles which also helps in content consumption. The touch screen is snappy enough that it encourages you to extend your arm and reach it every time you need to scroll down a page or close a tab. 
Fujitsu UH-X 2-in-1 Keyboard, Trackpad, I/O, Speakers And Camera
According to Fujitsu, it has meticulously designed the physical features of their laptop like the keyboard, the trackpad and the I/O. It is correct to a certain degree as well. The keyboard on the UH-X 2-in-1 convertible laptop uses concave-shaped keys that have 19mm key pitch and 1.5mm stroke length. Meaning the keys offer a very satisfying press and are intuitively placed to offer a great typing experience.
My only issue with the keyboard is the placement of arrow keys. The four of them are placed adjacent to PageUp and PageDown keys and oftentimes, while editing a doc, I end up going to the end of the page when I just want to navigate to the next line.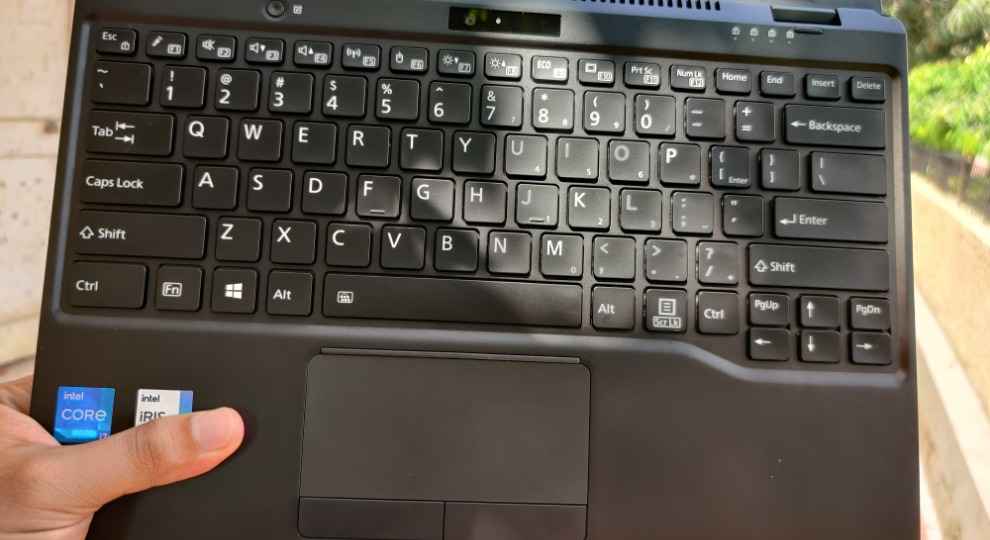 The trackpad comes with distinct left and right-click buttons, which is a win in my book. However, the trackpad itself is a bit smaller in size. During most of my time using the UH-X 2-in-1, I did not use an external mouse. Even during the morning rush when I have to resize and edit multiple photos, jump between several tabs, the trackpad felt sufficient.
In terms of I/O, the sheer choice of ports available on the Fujitsu UH-X 2-in-1 laptop is astounding. You get an ethernet port, a microSD card, two USB type A and two USB Type C ports, one HDMI and a 3.5mm jack. FUJITSU nailed the I/O placement and I highly doubt you'd require any additional USB dock on the laptop during your day to day usage.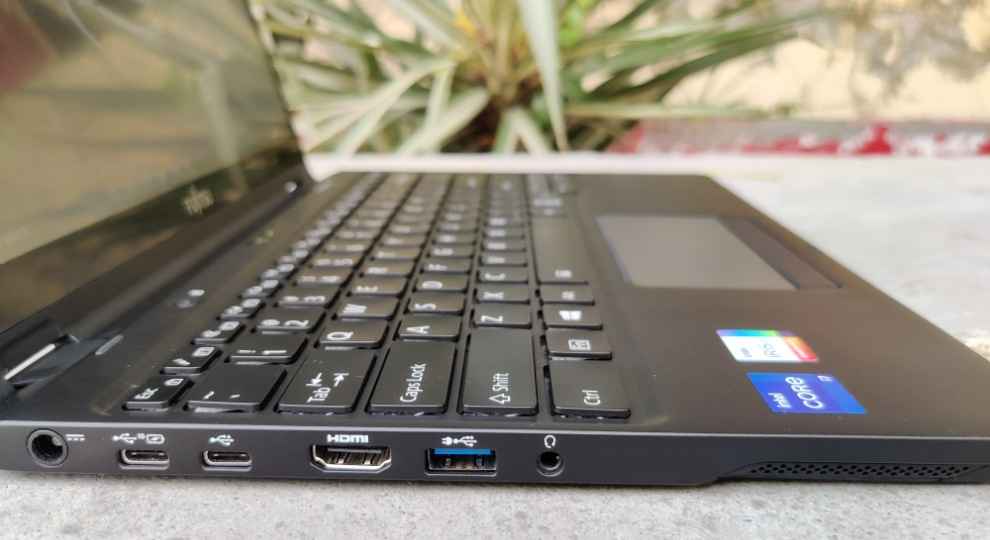 The speakers on the Fujitsu UH-X 2-in-1 are serviceable, at best. They aren't loud and you can also feel some vibrations on the palm rest area which can become annoying after 20 mins of listening to a playlist. Regardless, I'd suggest using good quality headphones with the Fijitsu UH-X 2-in-1 laptop.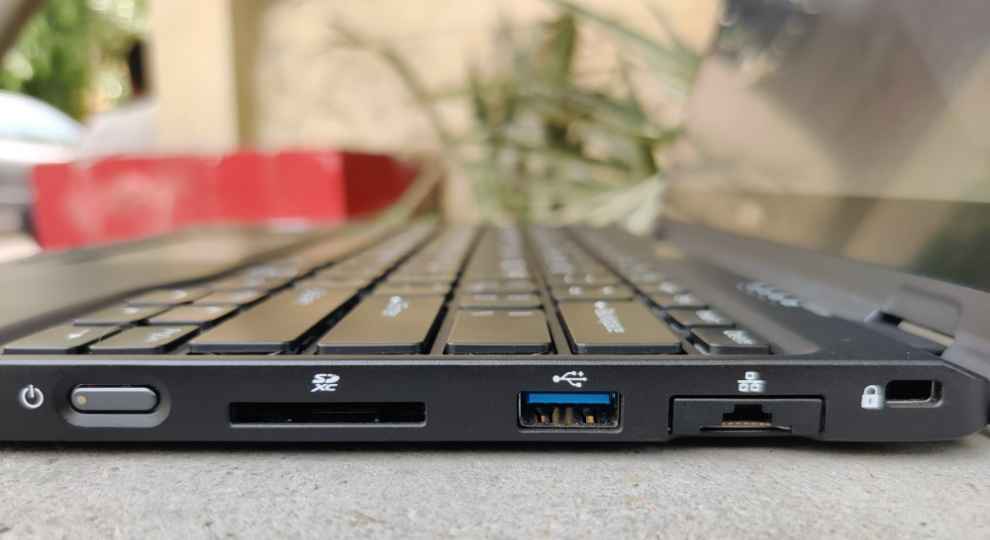 The laptop comes with a 2MP front camera with Windows Hello feature and a 5MP rear camera which according to Fujitsu makes media sharing easy as all your photos are on a single device. The "rear camera" is placed slightly above the function keys and can be used when you fold the screen all the way backwards. 
In my experience, the front 2MP camera is a breath of fresh air. It is great for video conferencing and the inbuilt mic works pretty well. The image from the 2MP lens looks clear and relatively less grainy as compared to webcams on laptops with a smaller camera lens. 
I also tried using the 5MP rear camera. It works as intended but I did not find a specific use case for it. For taking notes, my natural instinct was to use my smartphone. However, the rear camera works as intended, the quality is decent for a 5MP lens and it does not lag or stutter. 
Fujitsu UH-X 2-in-1 Convertible: Design And Build Quality
The build quality of Fujitsu UH-X 2-in-1 is top-notch. The laptop's chassis is made from Magnesium Alloy and has no flex at all. The deck area has a very grippy finish which improves the overall typing experience. The same grippy finish also continues over its lid and extends to other parts of the laptop as well. This along with the ultra-lightweight of 997g makes the Fujitsu UH-X 2-in-1 easy to hold and extremely portable. The laptop also has additional protection in the form of elastic resin on all four corners. I found it very useful because I am a clumsy person and tend to drop or scratch my devices a lot.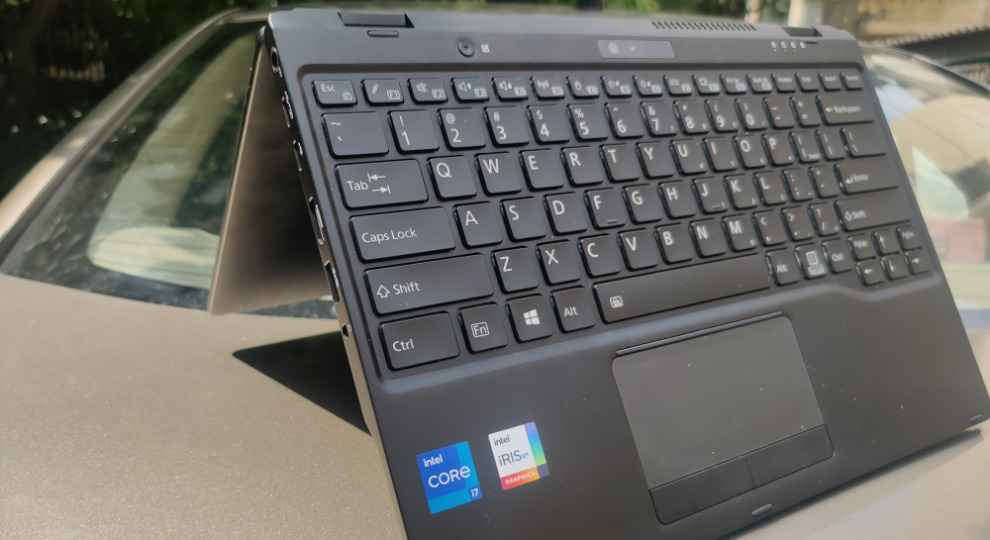 In terms of design, the Fujitsu UH-X 2-in-1 looks distinct from other laptops in its class. It is loos very stealthy, has an all-black matte finish on its entire body, is as slim as other laptops in this segment but feels way more sturdy. 
According to the official claim, the Fujitsu UH-X 2-in-1 can handle 35kgf single point pressure and 200kgf full surface pressure. The Fujitsu laptop can also survive a 76cm drop test, as per the official claims. I did not test these claims myself and looking at the overall build quality, I think I'd like to take Fujitsu's word for this.
One additional point I'd like to mention is that the 360-degree hinge of the laptop is very tight and you need two hands to open its lid. Fujitsu knows that the UH-X 2-in-1 laptop will be used in several different modes, therefore a sturdy and tight hinge seems necessary. 
Fujitsu UH-X 2-in-1 Convertible: Price
The Fujitsu UH-X 2-in-1 laptop is powered by an Intel Core i7-1165G7, 16GB LPDDR4X RAM, and 1TB SSD is available for purchase at a price point of 1,07,990.
Fujitsu UH-X 2-in-1 Convertible: Verdict
The Fujitsu UH-X 2-in-1 stands tall when compared to the competition in terms of build quality and overall features. The Fujitsu UH-X 2-in-1 does everything really well, besides a few caveats. However, I don't think the buyers in this category would mind these quirks as they are getting a no-nonsense laptop that does what it's supposed to very well.
With great battery life, a rich selection of I/O ports, and sturdy build quality, the Fujitsu UH-X 2-in-1 convertible laptop becomes a good proposition for business users. Sure it is not an editing powerhouse featuring an ultra-powerful CPU, but it is the business laptop that'll last you for years to come and be your money's worth. 
Some other options in this price range also include the Dell Inspiron 13, which is powered by an Intel Core i7-11370H CPU and an Nvidia Geforce MX450 GPU. Additionally, the ASUS Expertbook B940 powered by the Intel Evo platform can also be another viable option.