Content creation, gaming and game streaming are some of the most demanding use cases that can stress out even powerful PCs. If you feel that your rig is stuttering under such loads and warrants an upgrade now is an opportune time. 
Intel is back with Intel Gamer Days – a Festival of Deals and so much more! A global event that brings deals, drops, discounts, contests and giveaways from some of the biggest brands in the industry. The festival will continue for 11 days from August 25 to September 4 and brings something unique every day for PC enthusiasts, gamers, and content creators. Let's walk you through the details you need to make the most of Intel Gamer Days! 
What is Intel Gamer Days?
As we have mentioned above, Intel Gamer Days is an annual festival for gamers where more than 15 popular PC brands including Acer, ASUS ROG, MSI, Dell, HP, and Lenovo, and all major online and offline retail stores including Amazon, Croma, Flipkart, Reliance Digital, and Shopclues participate to bring exciting deals for consumers. That's not all there are numerous other enticements for tech geeks like game bundles, giveaways, and opportunities to interact with popular game streamers! 
This is the 5th year of Intel Gamer Days and this time the brand has really outdone itself and brought forth some crazy good deals and epic live streams. So if you are a pro-gamer, casual gamer, content creator/streamer or even a tech enthusiast, looking to upgrade your setup, then Intel has got you covered.
What offers to expect?
Intel Gamer Days cover gaming laptops, CPUs and GPUs for DIY enthusiasts, headphones, mice and other accessories. On the website, these offers are neatly organized under separate tabs so you can easily find what you are looking for. 
If you need to upgrade your laptop, click the 'Laptop Offers' tab, or if users are looking to build their own PCs, there is also a 'DIY Offers' section for desktop gaming fans, that features processor units, and then there are offers from the retail section where you can find special discounts, deals and offers on additional warranties or accessories from various retailers. 
If you are looking to upgrade your setup to Intel Core processor-powered gaming laptops or Intel Core Processor-powered desktops, don't miss out on these amazing offers. We'd also recommend that you follow the fest daily and don't miss out on the 'Deal of the day' section. 
Not just CPU performance, but also GPU! – Intel Arc 3
If you're a casual gamer and more focused on content creation, then check out some interesting deals available on Intel Arc Graphics. 
With all-new microarchitecture, Built-in AI engine, AV1 hardware Acceleration support, Direct X 12 Ultimate support and more- Intel Arc 3 graphics for laptops and desktops have a lot to offer. These graphics cards will help you boost your productivity, bolster your creativity and give your gaming experience a boost.
Now is literally the best time for you to take your gaming to the next level with Intel Core processor powered Gaming Laptops or Intel Core Processor powered Desktops! 
Upgrade to Windows 11
Intel 12th gen Core processor-powered gaming laptops have a new power-efficient hybrid architecture that allows them to simultaneously handle multiple applications like streaming, gaming, browsing chatting and even editing –  all without breaking a sweat!
The latest PCs with Intel 12th gen Core processors are powered by Windows 11! The latest Windows 11 software has a lot for gamers including Direct X12 Ultimate which enables immersive graphics at high frame rates, DirectStorage for faster load times and more detailed game worlds, and Auto HDR for vivid visuals. 
There's also some bundle fun to be had along with the hardware!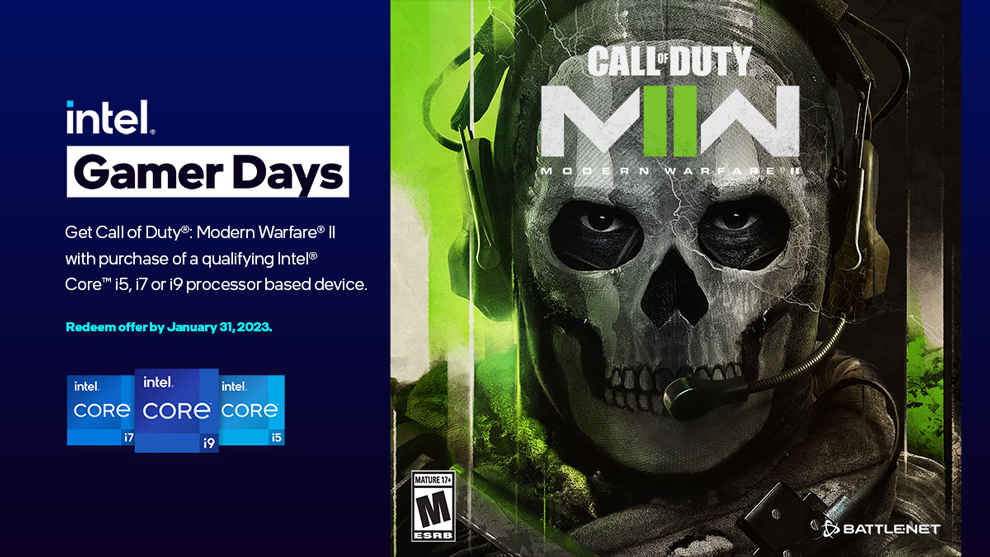 Here is something really exciting for the gaming buffs — Game Bundle offers on eligible Intel Gaming Devices!!
You can get Call of Duty: Modern Warfare II on qualifying Intel Core i5 devices. On eligible Intel Core i7 &  i9 powered devices, Call of Duty: Modern Warfare II and more! 
There are also additional game and creation software bundles to be won on the purchase of eligible Intel Arc-powered devices from participating brands.
More than a Festival of Deals  – Enjoy your fav streamers' Livestream galore and win goodies!
Obviously, this wouldn't be a festival without stars! The Intel Gamer Days are not just about deals – you are also in for some legit fun. 
Through the Intel Gamer Days festival, you can now catch your favourite streamers including Hydraflick, Xyaa, Khatarnak Ishan, Ankkita, GAWD and AlphaClasher streaming throughout the 11-day festival. These streamers will also bring some amazing giveaways for their audience.
Intel Gaming Alliance member Nischay Malhan streamed an opening act on the 26th of August, along with other Global streamers, participating in challenges to win prizes for his community.
And last but not least, there are also some fun contests on the Intel Gamer Days website for all you gamers out there. There are 3 different contests being run through the 11 days of Intel Gamer Days and participants stand a chance to win some Gaming gear, 12th Gen Intel Core Acer Predator Helios 300 gaming laptop and Intel Core i7 Desktop Processor.  Stay tuned to Intel India's Instagram page to participate! 
Don't Miss Out! 
Intel Gamers Day celebrates hardcore gamers and brings ample opportunity to upgrade your PC. Don't miss out on these amazing deals or you are going to surely regret it later. Intel Gamer Days continues from 25th August to 4th September. 
Go ahead and check out all the exciting Intel Gamers Day deals here and follow @intelindia on Instagram to stay updated about all things Intel Gamer Days
[Sponsored]