With the surge of people working from home during the pandemic, Active Noise Cancellation has never been more sought-after. Audio companies across the globe are working tirelessly to bring this nifty feature to their products at several price points. While we've already seen the implementation of this feature on entry-level true wireless earbuds, the feature is also making its way to entry-level Bluetooth cans. To this end, PlayGo's latest offering, the PlayGo BH47 is an Active Noise Cancelling pair of over-ear Bluetooth headphones priced at Rs 6,999. The headphones launched at the 7K price point but can now be purchased for as low as 4K on e-commerce websites such as Amazon, which is a steal deal, on paper at least. Let's find out more about the PlayGo BH47 headphones and if they make a splash in the entry-level wireless headphone market.
Build and comfort
The PlayGo BH47 finds the right balance between minimalism and flair. The cans come in an all-plastic build with a matte texture and silver highlights around the earcups. The "Play" logo also boasts of a silver sheen that stands out from the minimalistic black body. The headphones weigh approximately 260 grams and feel pretty lightweight when worn. The ear cushions feature soft, padded foam topped with faux-leather material.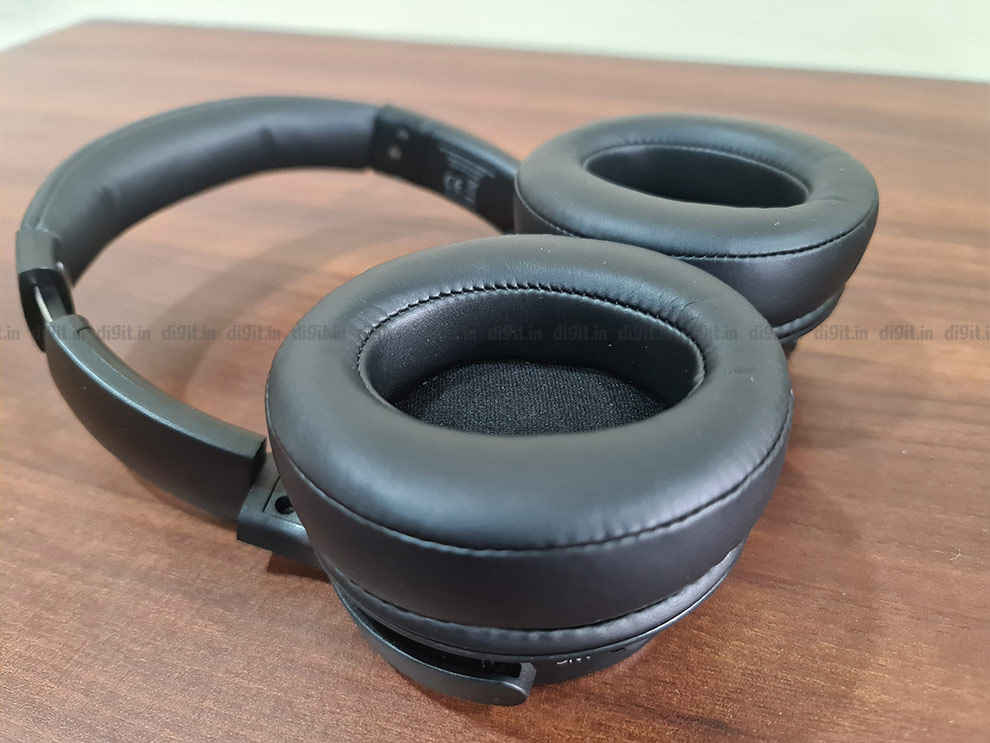 The generous foam padding ensures a comfortable fit and we had a great experience wearing these cans over long periods of time with minimal fatigue. Now, the ear cups do get hot around the ears after some time of listening and can be slightly uncomfortable if you have sweaty ears.  These headphones are circumaural or over-ear headphones that sit around your ears.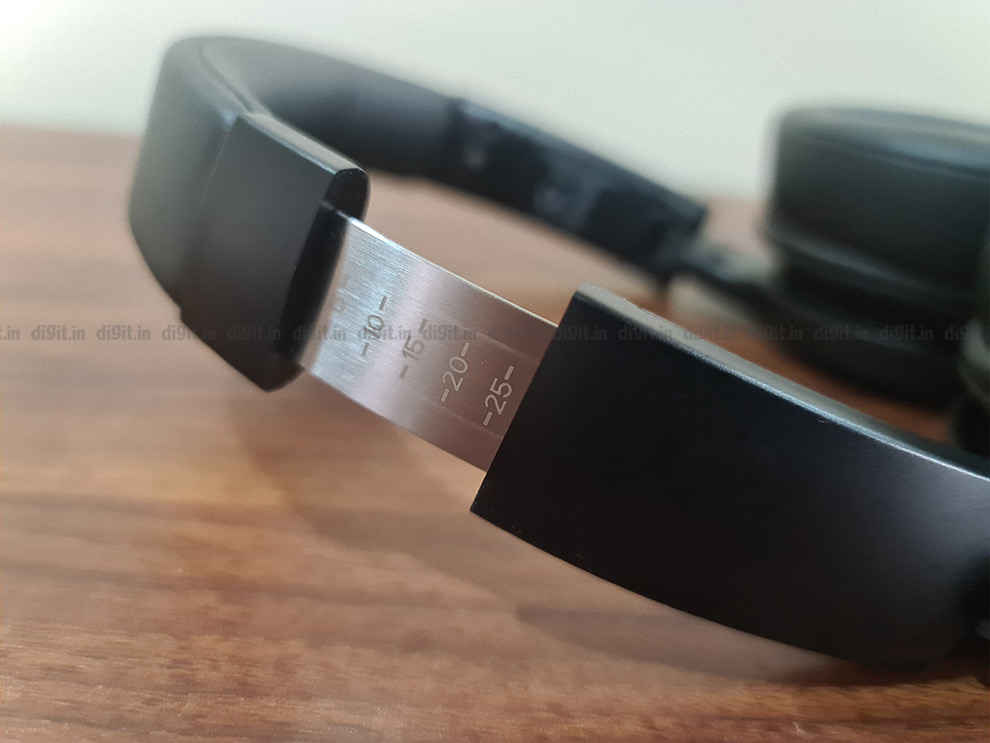 The cups swivel 90-degrees, allowing you to swivel it flat when it rests on your chest when not in use. The cups don't pivot inwards though so the cups can dig into your collarbone slightly when worn around your neck. The headphones also have metal-reinforced extendable arms to fit heads of various sizes. The extendable arms can be adjusted quite a lot but the mechanism that extends them feels a bit rickety and cheap.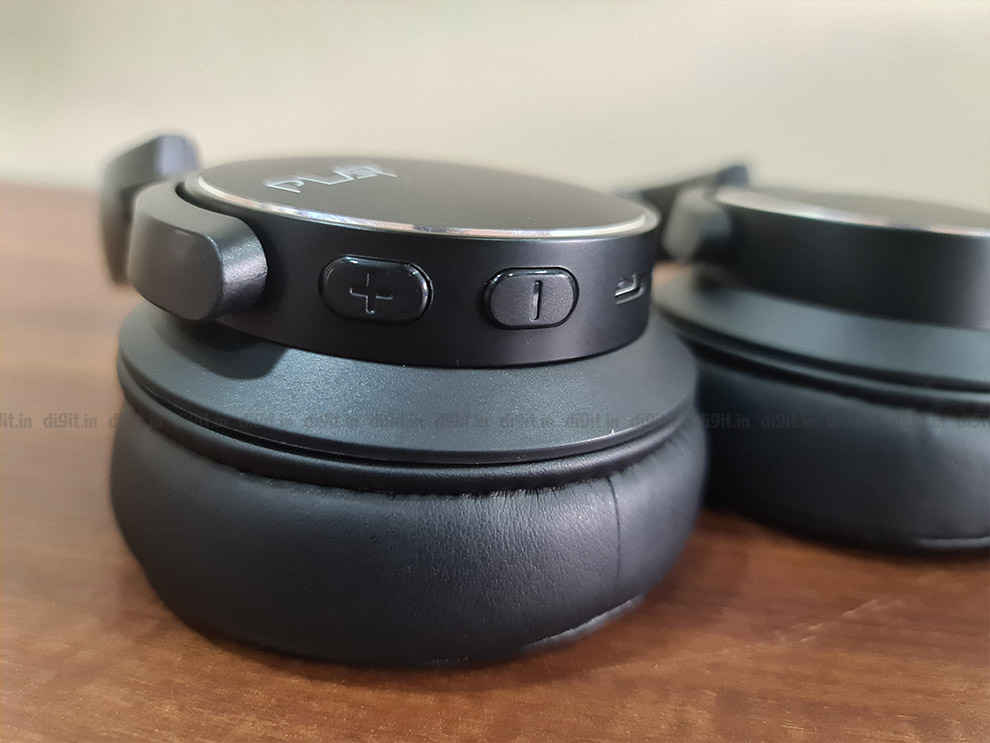 You can also fold the headphones up neatly and tuck in into the soft cloth carrying bag provided in the box. So, these headphones are sufficiently portable and can be carried out easily inside a backpack or medium-large sized handbag. Inside the headphone's retail box, you also get a micro-USB charging cable, an AUX cable with an L-shaped end, and some documentation.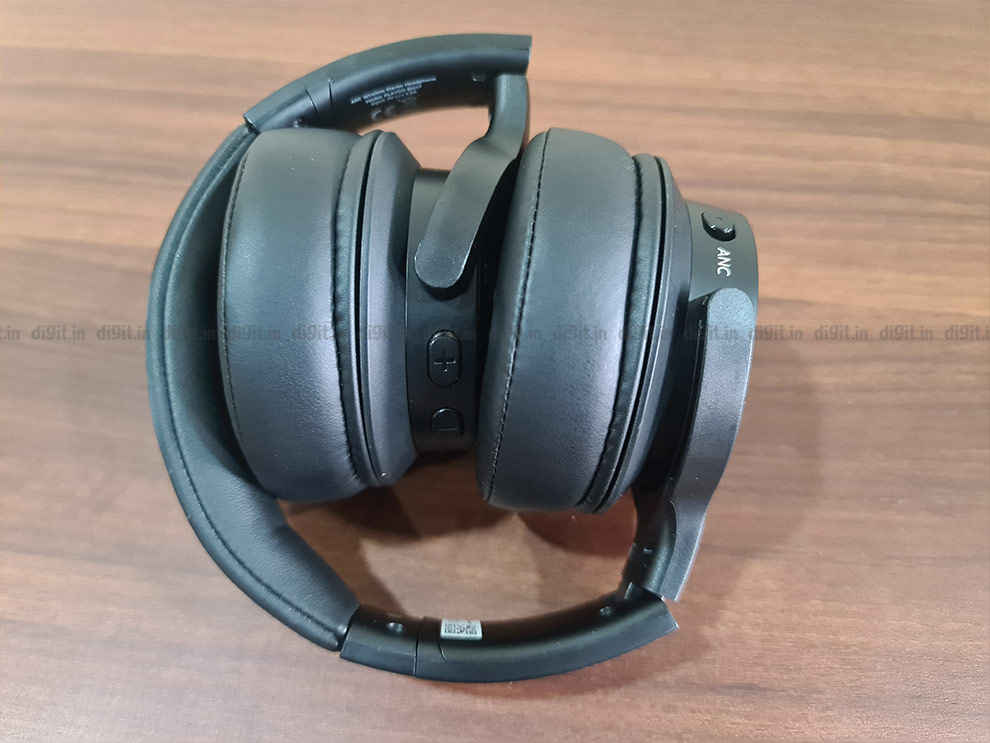 As for controls, you can get a multifunction button for pausing/playing music, answering calls, and waking the voice assistant. There are volume up and down buttons that can also switch tracks by long-pressing. Apart from these buttons, the right earcup also houses the micro-USB charging port. We wish the headphones had Type-C charging since micro-USB is awfully dated in 2021.
On the left, you have a toggleable Active Noise Cancellation switch and a 3.5mm audio port for passive listening via an AUX cable. The ANC switch lights up blue when turned on but the blue LED light doesn't turn off even when you power off the headphones, which is strange and unnecessarily wastes battery. The buttons on the cans work as expected but they feel plasticky and cheap. Overall though, the PlayGo BH47 provides decent build quality and good comfort for the price.
Features
Owing to the inexpensive price of the cans, the PlayGo BH47 isn't a feature-rich wireless headphone. It doesn't come with app support, touch controls, Ambient Sound, USB Type-C charging or an IP rating. However, it does possess one feature which is probably the most sought-after feature in audio products currently – Active Noise Cancellation. Priced under 7K, the PlayGo BH47 allow the price-conscious to also get a taste of ANC without breaking the bank.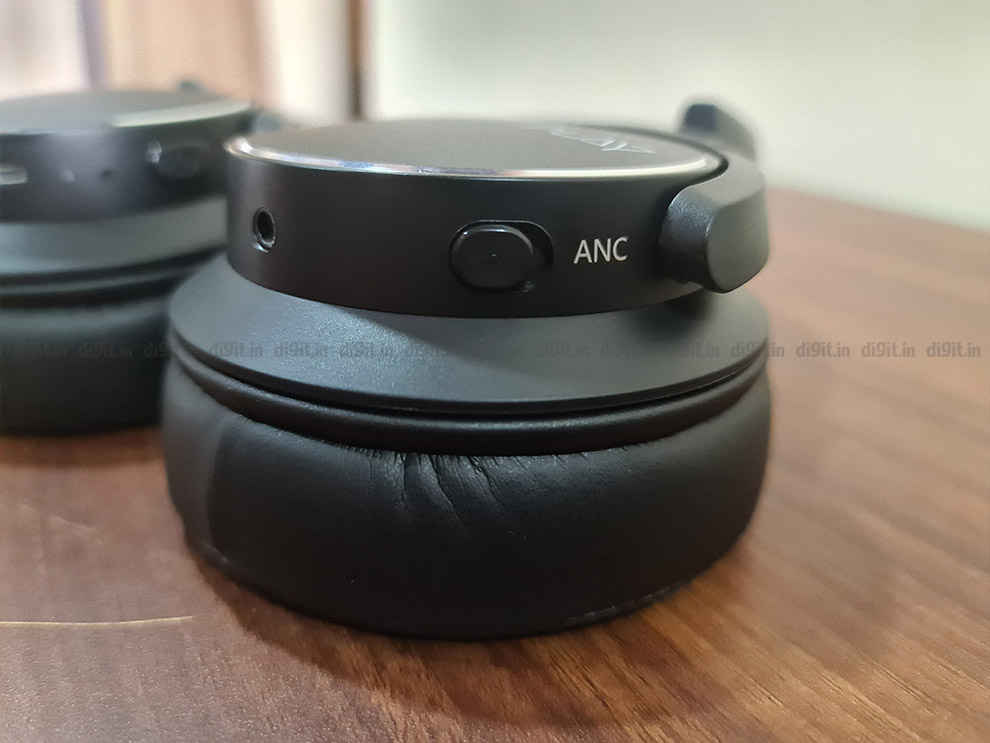 Active Noise Cancellation performance on these headphones is strictly mediocre. The PlayGo BH47 suppresses low-end, constant sounds to some degree. In a room with the AC on, turning on ANC on these headphones can make a palpable difference. It does a good job reducing the AC's drone. However, other sounds such as high-speed fans, typing on mechanical keyboards and human voices barely see any suppression and can be heard clear as day. Nevertheless, the quality is acceptable for the price.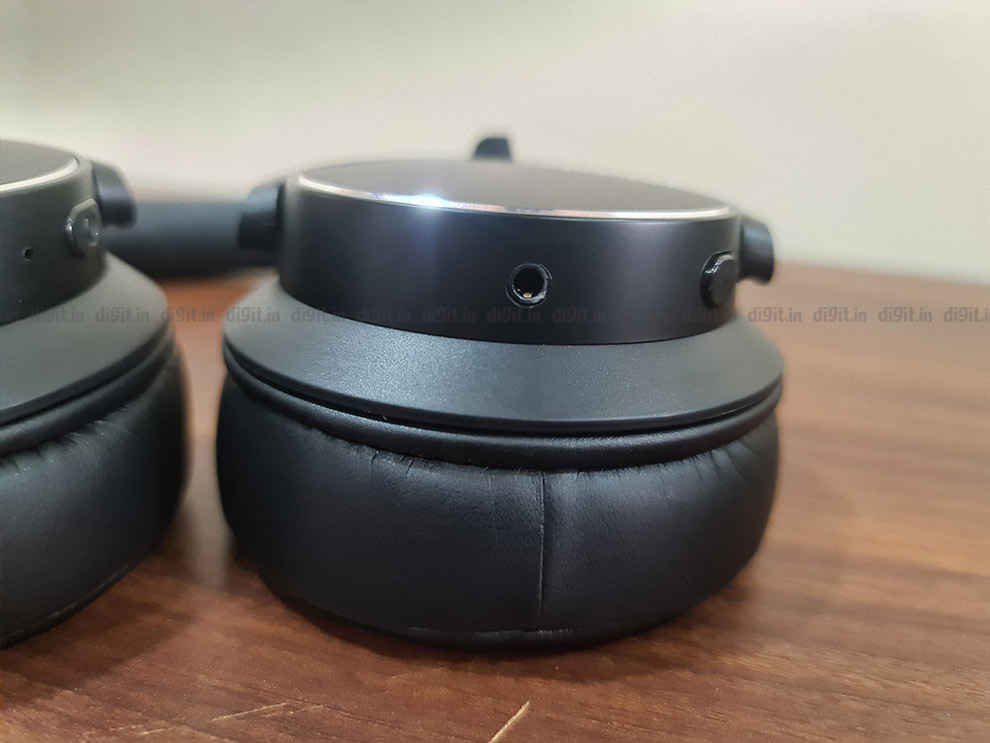 The earphones are powered by Bluetooth v5.0 and have AUX support for wired listening. The wireless connection is stable and the wireless transmission distance is pretty decent as well. However, you will experience slight latency when watching content on OTT platforms or playing games on your phone. One of the best features of these headphones is multipoint connectivity that allows users to connect to two separate source devices simultaneously. This is an excellent addition and is something we didn't expect to get at this price point, but hey, we're not complaining at all.
Performance
The PlayGo BH47 packs 40mm EBEL (Enhanced Bass, Extra Loud) drivers that provide a fairly balanced sound signature. The earphones only support the SBC codec. At this range, we're used to the sound signature being too bass-biased, so it was refreshing to see that PlayGo hasn't gone down that route, since it usually results in muddy and dark sound, which we're not fans of. Instead, you get a pretty balanced sound signature with a slight boost in bass response that gives it some energy and thump but doesn't turn things muddy.
Therefore, in tracks with a prominent bass presence such as Shivers by Ed Sheeran, the bass beats are punchy and dynamic but don't overpower the clarity of the vocals. Even in rock songs such as Sky Is A Neighborhood by Foo Fighters, the drums have a nice kick to them without garbling up lead instruments and vocal performances. The mid-range is also clear and detailed for the most part, however, the highs have a sudden drop-off and can sound slightly imprecise at times. Also, note that the bass response at higher volumes (past 80-90 percent) can get distorted which may sour the experience, so we advise you to keep the volume levels at 60-70 percent. This shouldn't be a problem, since the cans are loud enough even at those volume levels.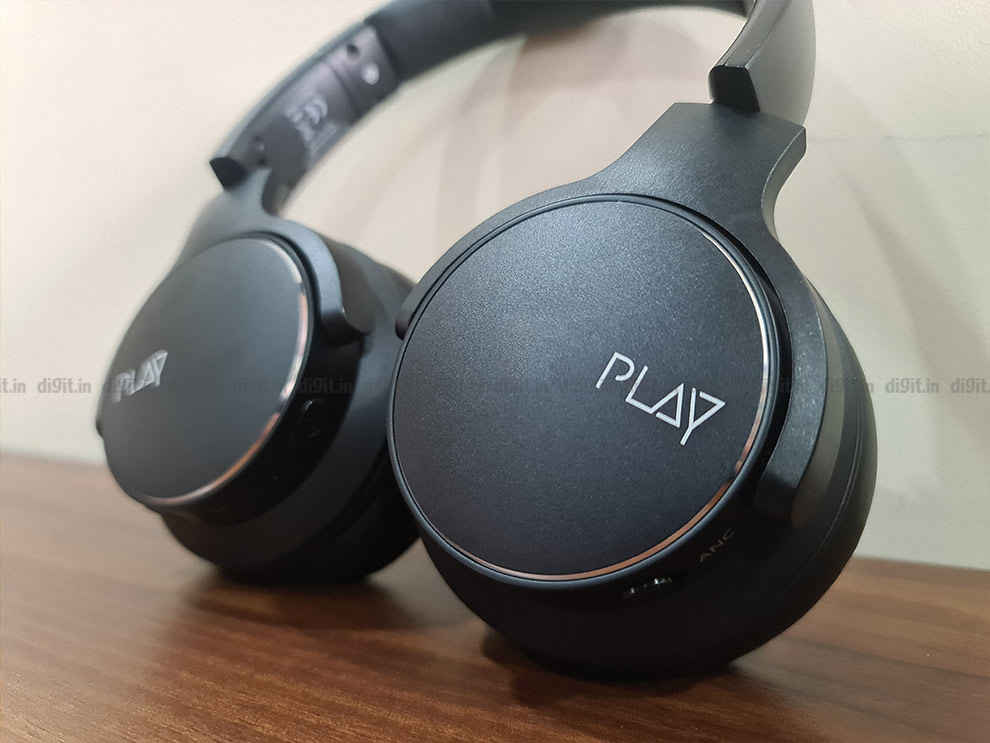 As for instrument separation, the PlayGo BH47 does a decent job keeping the instruments distinct and clear, however, the soundstage is slightly closed off which may cost you some immersiveness. Additionally, the PlayGo Bh47's audio does suffer from some bleeding, so people around you may be able to hear what you're listening to. Overall, we're fans of the fairly balanced sound profile the PlayGo BH47 provides at an affordable price point. 
As for the microphone, the performance is slightly disappointing. When using the headphones to make calls, our voice often sounded too distant and muffled. In an indoor setting, the BH47 does a slightly better job, but there's room for improvement, for sure.
Battery life
The PlayGo BH47's wireless playtime is rated at 30 hours (without ANC) and 23 hours (with ANC) by the company. These are some pretty good numbers and you should have no problem using these cans for days from a single charge, provided that you use your headphones for about 5-6 hours per day. In our testing, the PlayGo BH47 lasted 21 hours and 20 minutes on a single charge with ANC turned on and volume levels set to 60 per cent. 
The only thing that disappoints us in the battery department is having to charge the device using the dated micro-USB charger. It's a good thing that PlayGo provides a charger in the box, since we've ditched those pesky micro USB cables for good as most devices have made the shift to USB Type-C charging.
Verdict
The PlayGo BH47 is a great entry-level on-ear wireless headphone for those who want to experience some ANC goodness without breaking the bank. The headphones also offer a fairly balanced sound profile with dynamic bass response and detailed mids. However, the microphone performance leaves something to be desired and we're not fans of the dated micro-USB charging. Battery life, however, is pretty stellar, providing most users with a few days to a week's worth of usage without having to reach for the charging cable. Overall, there's more to like about these headphones than to complain about. They are a good value-for-money option for most people looking to purchase headphones under 7K. However, if you're mostly going to be using these headphones for calls, we suggest looking elsewhere.