If you're looking for a buying recommendation for some of the best truly wireless earphones you can purchase under ₹5K, chances are, Realme with its gamut of affordable but feature-rich TWS will come up. The company is honestly at the top of its game in the audio segment, launching product after product – all with modest price tags and eye-catching features. The Realme Buds Air 3 Neo, priced competitively at ₹1,999, are the company's latest budget entrant with an array of features such as Bluetooth v5.2 connectivity, customisable controls, voice assistant, Dolby Atmos support, IPX5 rating, and more. It competes against similarly-priced earphones from boAt, Oppo, Soundcore, OnePlus, Xiaomi, and Realme itself. Will these affordable earbuds impress or is the grass greener elsewhere? Let's find out.
Realme Buds Air 3 Neo Review: Build and Fit
The Realme Buds Air 3 Neo sports an in-ear design with protruding stems. The back of the stems doubles as capacitive touch sensors for music and call controls. The controls work reliably and misreadings are few and far between. 
The case comes with a half-translucent design as we recently saw on the Oppo Enco Air2. The translucent lid lets you peek at your earbuds from the outside and gives it a unique look. There's subtle Realme branding on the front of the case alongside a small LED light that indicates how much battery remains. At the bottom, you have the USB Type-C charging port.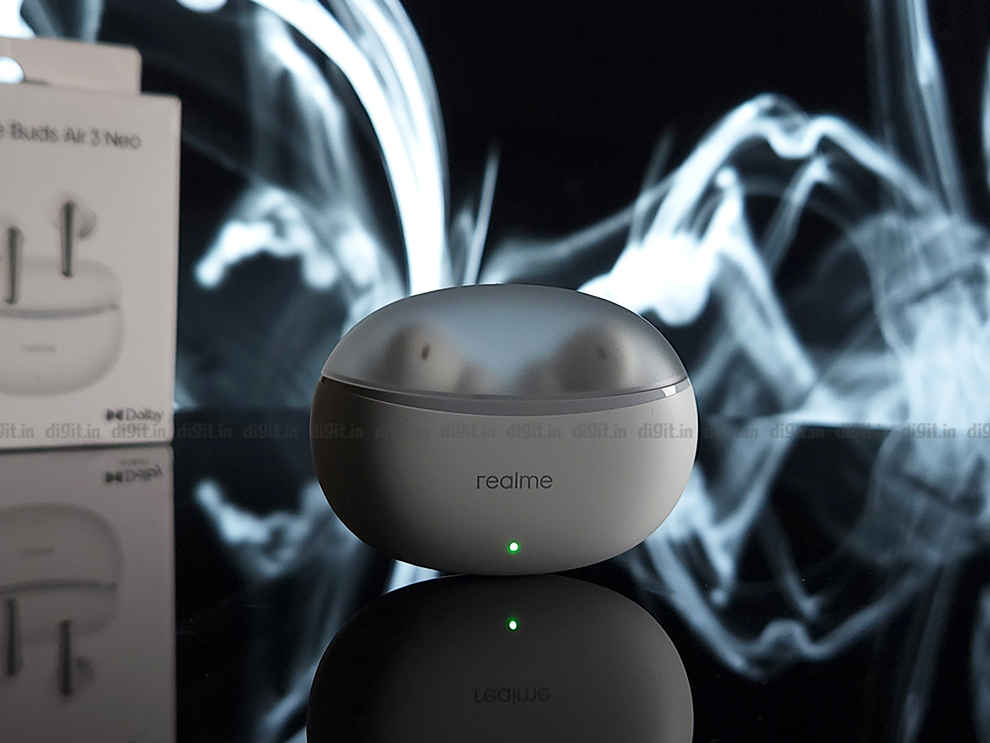 The case is exceptionally slim and compact, so it will easily slip into small handbags and pockets without bulging out too much. The case's hinge is reinforced with metal, so it feels sturdy enough, but the plastic lid does feel slightly flimsy.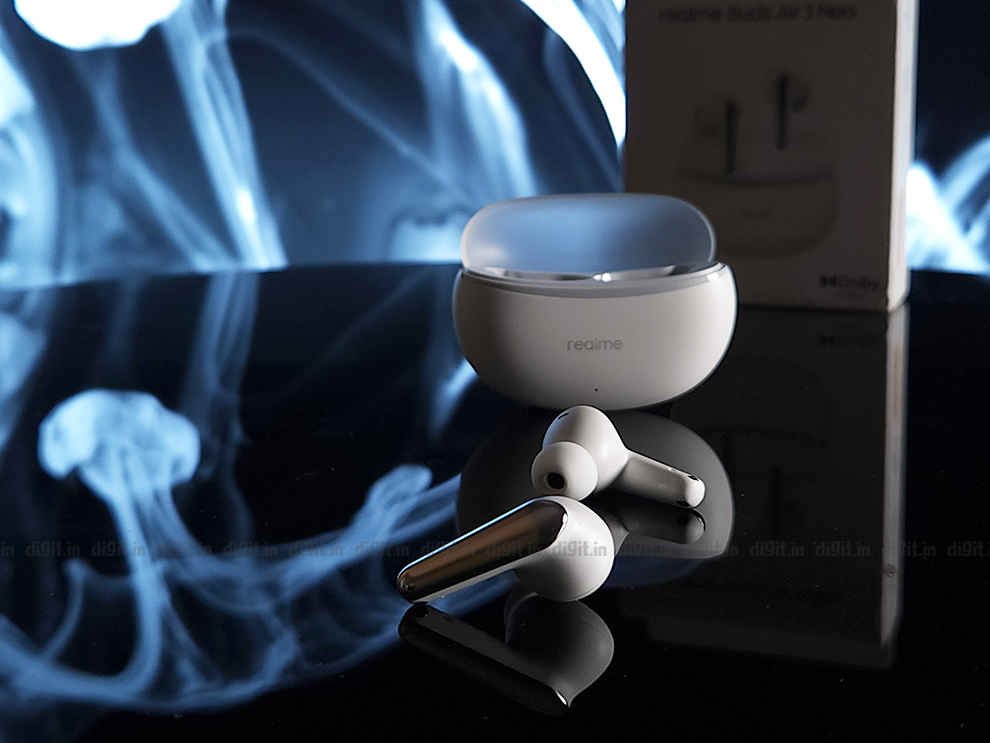 The earbuds have a matte finish and are white all over except for the back of the stems which possess a glossy silver finish. It does look a bit ostentatious, in our opinion, but the young target audience may like the look. The buds fit exceptionally well and can be used during activities such as gymming, running, or jogging. The company has provided three pairs of silicone tips that users can choose from. Weighing merely 4g each, we found the earbuds to be pretty comfortable to wear as well, even during long listening sessions that span hours. 
Overall, we've got no serious complaints about the build quality and fit of these earphones, especially at the inexpensive price of ₹1,999. The case's lid is slightly plasticky and flimsy, and the earbuds look slightly garish, but that's about it. The buds are also IPX5 water resistant, so you needn't worry about water damage.
Realme Buds Air 3 Neo Review: Features
For the lowly price of ₹1,999, the Realme Buds Air 3 Neo is brimming with features. One such feature is Dolby Atmos support. The buds are Dolby Atmos-enabled and provide a decent spatial audio experience when listening to compatible content. They don't have the widest soundstage, so the experience won't be exceptional, but it is certainly something you don't usually get at this price point.
The earbuds are also compatible with Realme's excellent accompanying app – Realme Link. The Realme Link app doesn't open up quite as many avenues as it would on a more expensive Realme TWS, such as the Realme Buds Air 3, but you do get access to some nifty features such as Game Mode, Volume Enhancer Mode, customisable controls, and EQ presets.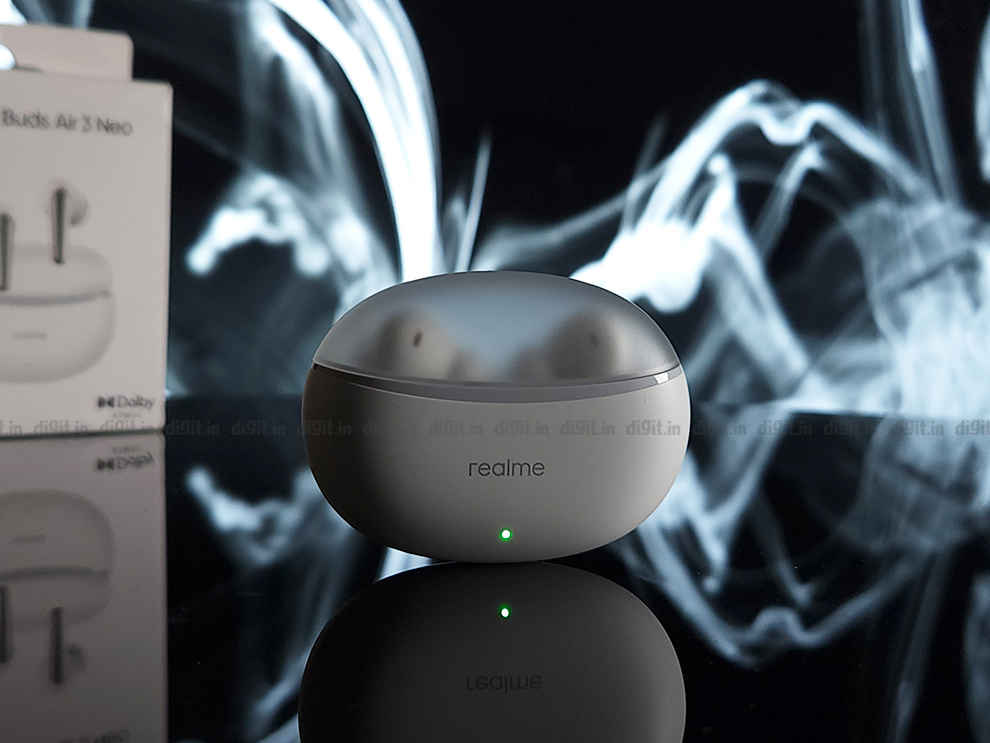 You can customise the earbud controls as you wish. You can even set an action for volume controls, something that audio manufacturers usually skip out on. So, we're glad Realme decided to include volume controls alongside other ones such as voice assistant, seeking tracks, play/pause, and game mode. Speaking of Game Mode, the company claims that the latency drops to 88ms when in use. In our testing, we experienced a slight improvement in audio delay when using this mode, so you can use this when watching content or playing games to improve your experience.
The earbuds also come packing other features such as instant connection with paired devices (when opening up the case), IPX5 water resistance, and Bluetooth v5.2 connectivity. At ₹2K, these are feature-packed earphones but Realme seems to be competing with itself here since the Realme Buds Q2 earphones can now be purchased at the same price of ₹1,999 on e-commerce platforms, but they come packing extra features such as Active Noise Cancellation and Transparency Mode as well. 
So, the value proposition of these buds plummets as long as the Realme Buds Q2 are still in circulation. You can find the Buds Air 3 Neo at ₹1,799 at this point online, but we still feel that for ₹200 more, you're getting a few more attractive features on Realme's own Buds Q2.
Realme Buds Air 3 Neo Review: Performance
Equipped with 10mm dynamic drivers and a PEEK + TPU composite diaphragm, the Realme Buds Air 3 Neo has a bass-boosted sound profile that bass-lovers will appreciate. The bass response is thumpy and packs a punch, but on the default Bass Boost+ EQ setting, it can sound quite muddy. This, in turn, hampers the clarity of the mids due to auditory masking.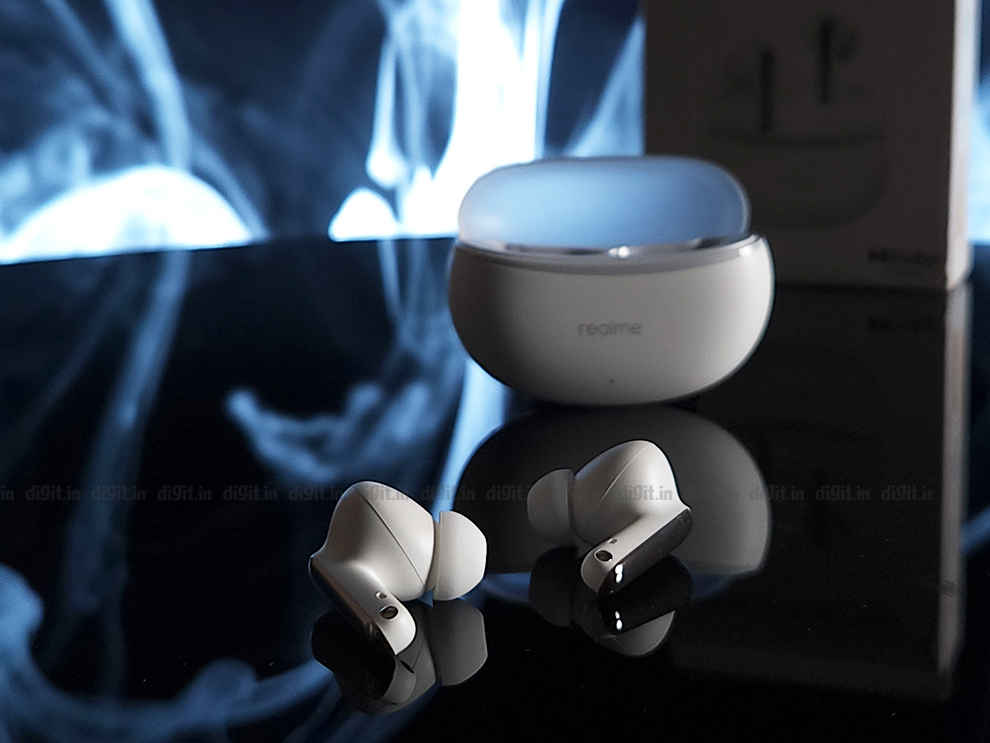 To combat this, you can choose the Balanced EQ preset within the app which applies a more agreeable sound signature. The result is still bass-biased, but it does dampen the rattling, muddy bass effect. We found that the mids, by themselves, are depicted pretty accurately with clear vocals and detailed-sounding instruments in this range. If you turn on Balanced EQ mode, you will get to appreciate the clean-sounding vocals a bit more since they're not aggressively shadowed by the thumping bass. In Hello by Adele, you can hear the small breaths she takes between sentences with the Balanced or Bright EQ preset turned on.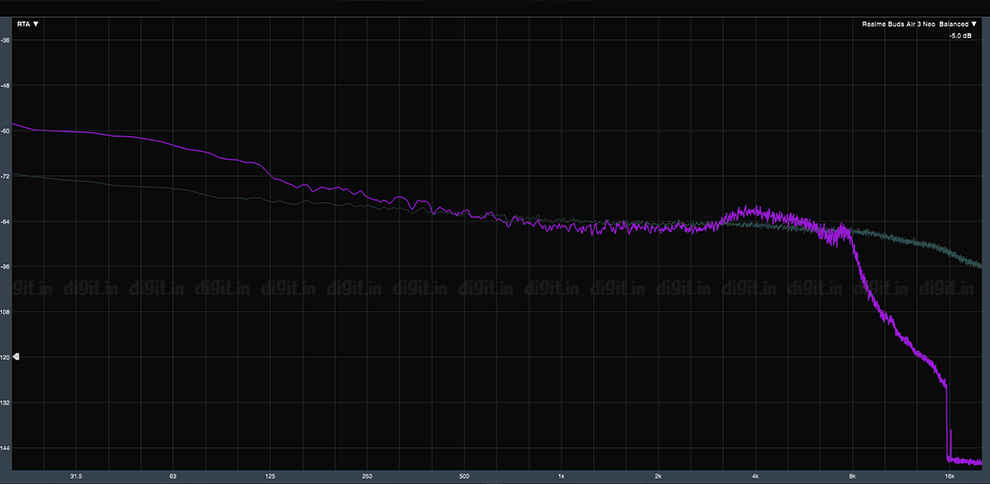 Uncompensated frequency response of Realme Buds Air 3 Neo Balanced EQ (Purple) vs Neutral (Dark Green)
The highs are pretty well-produced as well up to the 8 kHz mark, closely following our in-house curve. The bump in the 3 kHz – 4 kHz mark does cause some unwanted sibilance that can sound a bit unpleasant at times, and cause listening fatigue. However, we're still impressed by the highs from the Buds Air 3 Neo at this price point. In Selkies by BTBAM, the instruments are clear and the sound is detailed, but the instrument separation is a bit weak in comparison to more expensive earphones.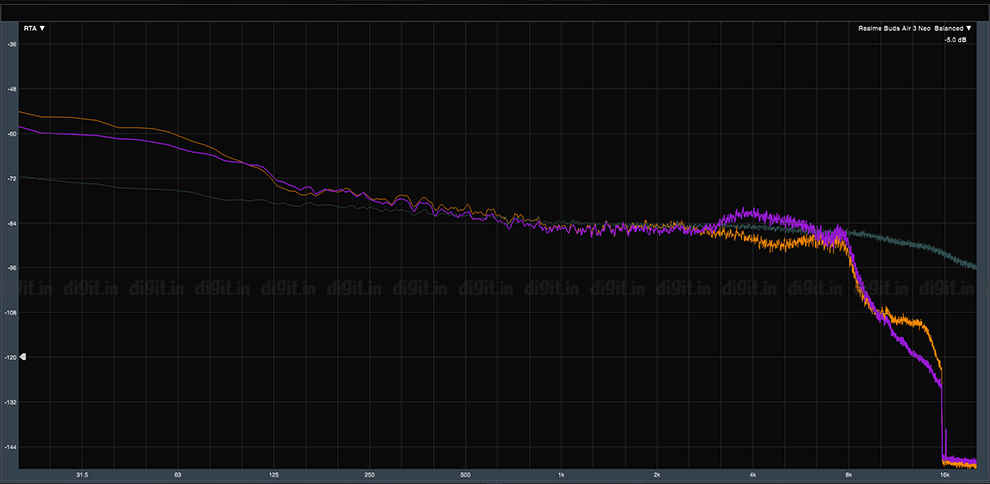 Uncompensated frequency response of Realme Buds Air 3 Neo Bass Boost+ EQ (Orange) vs Realme Buds Air 3 Neo Balanced EQ (Purple) vs Neutral (Dark Green)
Still, this is a tiny nitpick. But if Realme could have tweaked down the bass response a bit more, we would have an excellent-sounding pair of earphones under 2K, which is a rarity. However, bass-lovers definitely will eat kind of this sound signature up, especially with Bass Boost+ active. Now, as for the soundstage, as mentioned before, it is not the widest, so you won't get an extremely immersive sonic experience but the imaging is pretty good for the price.
As for the microphone performance, the earbuds come with AI Environmental Noise Cancellation (ENC) for calls. Despite the long, protruding stem design and AI-assisted ENC, the microphone performance is quite lacklustre. Your voice can sound slightly muffled at times and environmental sounds get picked up by the microphones pretty easily. We'd advise you to take calls with these earphones in indoor settings only.
Realme Buds Air 3 Neo Review: Battery Life
Battery life worries are a non-issue with the Realme Buds Air 3 Neo. The earphones are rated at 30 hours of playback time with the earbuds and charging case combined, which is plenty of power to get most users through a week's worth of usage. The buds provide 7 hours of continuous wireless playback as well, which is pretty solid.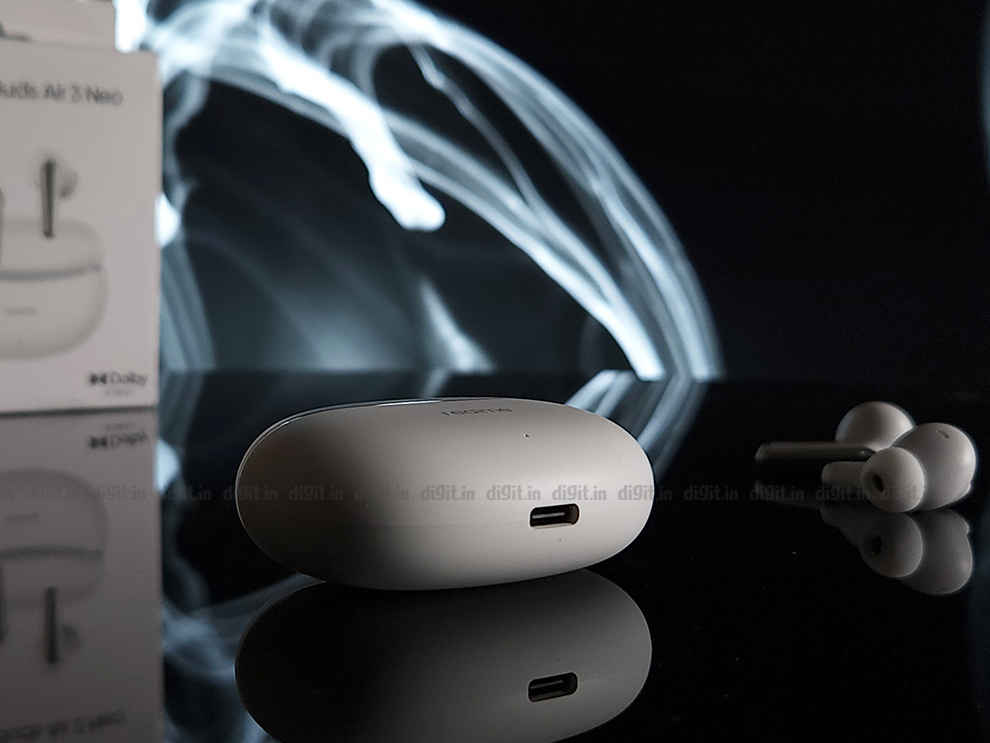 In our tests, the earbuds surpassed their rated battery life and lasted a little over 7 hours at 70 per cent volume. The charging case provided another 3 full charges with some juice left to spare. The buds even support fast charging, so when they're finally running low on juice, you can top them up to full in just 60 minutes. Additionally, just 10 minutes of charge time provides a whopping 2 hours of playtime, which is excellent. 
Realme Buds Air 3 Neo Review: Verdict
The Realme Buds Air 3 Neo are a pretty sweet deal equipped with a plethora of features for its relatively inexpensive price. At ₹1,999, you get an array of features such as Game Mode, IPX5 water-resistant, customisable controls, volume controls, and voice assistant support. Add to that, excellent battery life, a decent build, and a comfortable fit. The sound quality is definitely bass-boosted, even with Natural EQ preset turned on, so it best suits genres that sound good with a thumpy bass such as hip hop, pop, rap, Bollywood, and EDM. 
However, Realme's vast portfolio of TWS earphones – all within a few hundred rupees from each other – means that the company's own products compete against each other. The Realme Buds Air 3 Neo is available at ₹1,799 on e-commerce platforms, but just for ₹200 more, you can pick up the Realme Buds Q2 which comes packing extra nifty features such as Active Noise Cancellation and Transparency Mode. At this price point, the Realme Buds Q2 heavily compromise its value proposition. However, when compared to TWS from other companies such as Oppo and OnePlus, the Realme Buds Air 3 Neo is still an excellent value for money buy.
We would recommend you to pick up these earphones only when they're heavily discounted during sales at ₹1,200-1,400, else just go for the Realme Buds Q2.