It is fairly difficult to test thin and light laptops during the Indian summer. Your Ultrabooks will thank you in return with high performance if you're sitting in an air-cooled office. A plan to be anywhere else without an AC will surely bite off a certain chunk of your device's performance. With peak temperatures rising as quickly as inflation across the world, we all need a device that can stay cool and help us keep calm as well while we manage our financial well-being in this economy. 
Thankfully, Samsung recently released its range of laptops after several years and were kind enough to send it to our office desk as well. I didn't know much about this device, as I skipped the media event and the following lunch thereafter. I did so to stay objective about the laptop and to review it in an unbiased manner, and it certainly wasn't because I was up playing Age of Mythology the night earlier, I assure you.
The device Samsung sent over is the Galaxy Book 2 Pro 360. It currently has a price tag of Rs 1,20,990 on the Samsung Store. The Galaxy Book Portfolio also has multiple devices priced above this price range, but they're all powered by different processors so I'll reserve my judgment on them for now. 
Inside the Samsung Galaxy Book 2 Pro 360, you get a 65W charging brick, a USB Type-C to Type-C charging cable, and an S-pen. With that said, here are the specs of the Samsung Galaxy Book 2 Pro 360. 
Samsung Galaxy Book 2 Pro 360
Processor: Intel Core i7-1260P 12-core 16-thread CPU with 28W TDP with 18MB smart cache

Graphics Chip: Intel Iris Xe Graphics with 96 EUs and 1GB VRAM

Memory: 16GB LPDDR5 Quad-Channel memory

Display: 13.3-Inch Touch AMOLED

Storage: 512GB M.2 PCIe 3.0 SSD

Battery: 62Wh usable battery capacity

Weight: 1.04kg 
Samsung Galaxy Book 2 Pro 360 Design Review
To summarise what I am going to talk about in elaborate detail over the next few paragraphs, the Samsung Galaxy Book 2 Pro looks beautiful but it could use a few upgrades. Starting with the overall build quality, the Galaxy Book 2 Pro 360 feels very sturdy. The laptop is very thin around 11.5mm in overall thickness. Even then whenever I try to pick the machine from its corner end with its flap open, the flex on the device feels very minimal. A user will slightly feel a small flex but the device's weight is distributed in a way to minimize such an issue as much as possible. 
The display accommodates a touch panel which adds heft to the flap. Despite that additional weight, there is no need to hold down the laptop with one hand before its flap can be opened. A user can easily do so with one hand. However, it might take some practice though. Considering the fact that the Galaxy Book 2 Pro 360 is a 2-in-1 device, it comes with a fairly solid hinge, most devices in this category usually have such a feature. And you can easily use it either in a hybrid mode, in the tablet mode, or in the normal laptop mode.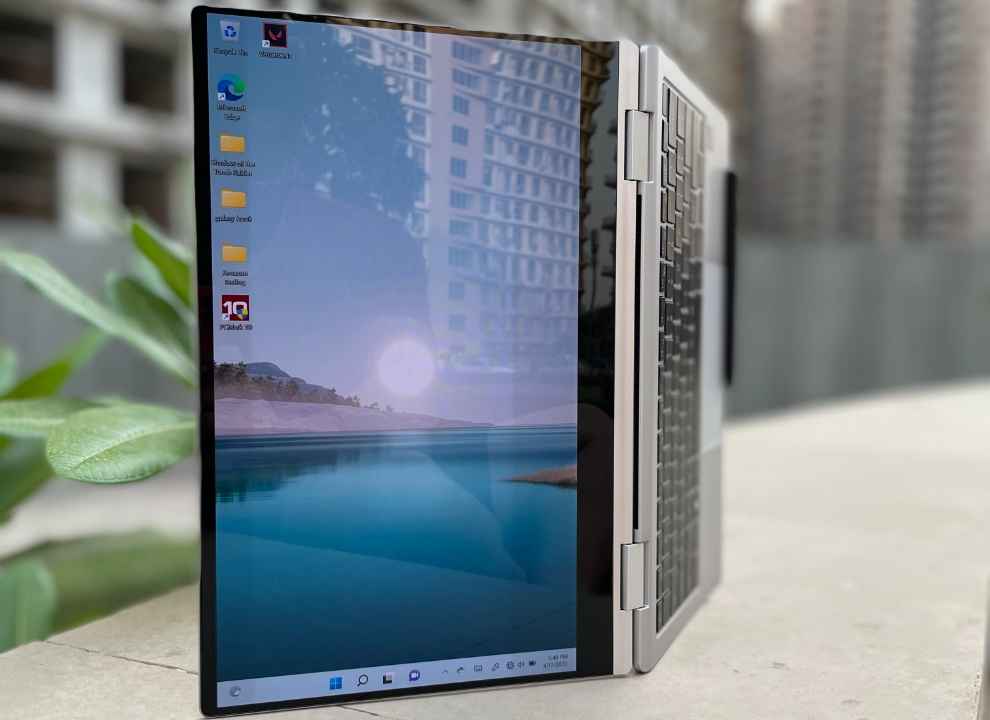 The "least durable" area in terms of build quality on the Samsung Galaxy Book 2 Pro 360 is the lower middle spot between the two hinges. It feels rather flimsy for a laptop that's designed so well overall. Speaking of well designed, my review unit came with a silver satin finish which feels very premium. It'd be a shame to get scratches on the device so I'd suggest getting a laptop sleeve for it, as soon as you start using it. 
Samsung Galaxy Book 2 Pro 360 CPU, Battery, And Thermal Performance Review
Here comes the fun part. The Samsung Galaxy Book 2 Pro 360 comes equipped with Intel's 12th Gen Alder lake processor. Specifically, the Samsung Galaxy laptop features an Intel Core i7-1260P processor based on the Intel EVO platform for enhanced efficiency. The chip includes 12-cores and 16-threads.
For the uninitiated, Intel began using a hybrid architecture consisting of Performance cores (P-cores) and Efficiency cores (E-cores) for its 12th Gen processor range. The Intel Core i7-1260P contains 4-performance cores and 8-efficiency cores for a total of 12-cores. The high core count immediately benefits the laptop in multi-threaded workloads like Cinebench R23 multi-core. For most intents and purposes, the current Intel Core i7-1260P processor is replacing last the last year's Core i7-1165G7 CPU, which was a quad-core chip. Here you can easily see the performance difference between these two chips. 
Intel Core i7-1260P Cinebench R23 Multi-Core – 7571

Intel Core i7-1165G7 Cinebench R23 Multi-Core – 4324
Intel Core i7-1260P Cinebench R23 Single-Core – 1698

Intel Core i7-1165G7 Cinebench R23 Single-Core – 1352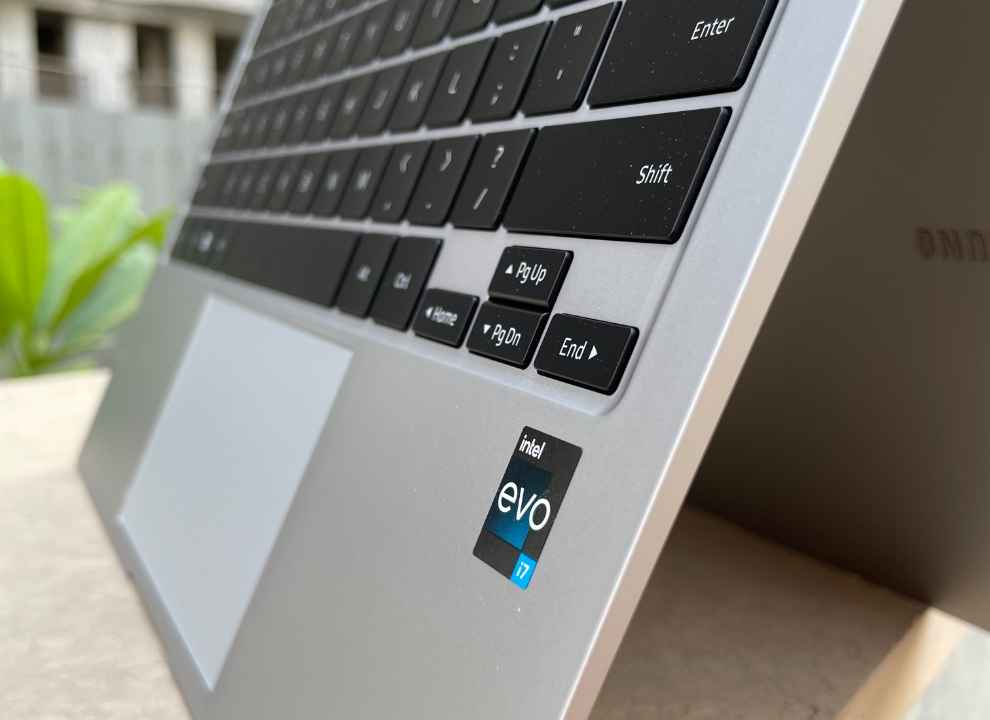 The Core i7-1260P performs equivalent to a Hexa-core processor in a gaming laptop in terms of multi-threaded performance without consuming as much power. Such a boost to multi-core performance is huge for Microsoft Excel, which is one of the applications able to make use of multiple cores very well. However, under stress, the Intel Core i7-1260P managed to score 5500 in the Cinebench R23 multicore test. Indicating a certain level of thermal throttling. Even at this point, Core i7-1260P's multi-core score is still higher than last year's Core i7-1165G7, which is amazing.
Moving on to efficiency and I am pleased to say that the laptop delivers on this metric as well. According to a rough estimate, the Galaxy Book 2 Pro 360 would last you all day even with its battery set in performance mode. To put some figures to this analogy, here's how the Galaxy Book 2 Pro 360 performed with some of the best thin and light ultrabooks we tested last year. 
Samsung Galaxy Book 2 Pro 360 – 11h 50mins

Dell XPS 13 – 6h 2mins

Lenovo Yoga Slim 7i Carbon – 7h 40mins

Fujitsu UH-X 2-in-1 – 7h 29mins
In terms of thermals, however, the Samsung Galaxy Book 2 Pro struggles just like every other thin and light. The CPU temperature reached 99°C several times during our stress test. The surface temperature as well goes pretty high, particularly near the middle of the keyboard. It goes without saying but things are particularly difficult for users who prefer to work while keeping their laptops on their laps. The underside of the laptop gets pretty hot under heavy usage. The Samsung Galaxy Book 2 Pro 360 has a single vent on the lower side of the screen. For such a small thin and light laptop, a minimum of two air vents seem optimal. It's less of a laptop issue and more of a physics issue. A 13.3-inch thin and light chassis can only do so much in terms of cooling. Props to Intel though, as the laptop still manages to run relatively cooler under most normal tasks. The surface temperature near three key areas on the laptop is as follows.
Surface Temperature
W,A,S,D Keys – 42.1 °C 

Keyboard Middle – 44.1 °C

Palm Rest – 37.0 °C  
Samsung Galaxy Book 2 Pro Display Performance Review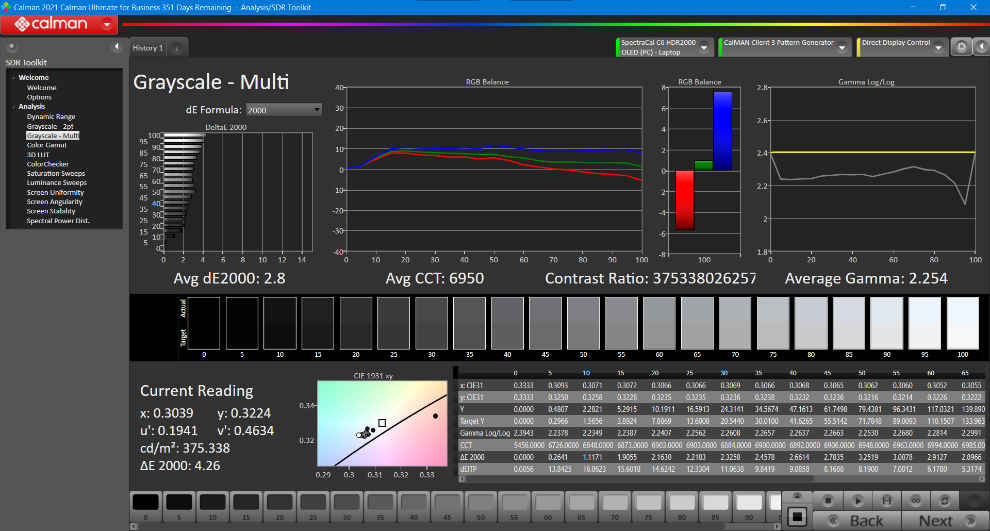 The Samsung Galaxy Book 2 Pro's display is one of the best in business. It is a 13.3-inch FHD AMOLED display with a 60Hz refresh rate. Sure the laptop would have come equipped with a 4k display but that'd come at a big cost to battery life. Personally, I think the 1080p AMOLED panel looks great. 
In terms of specifics, the screen supports 10-bit colours and has an average peak brightness of around 380 nits. The maximum peak brightness of this screen goes up to 500nits but that's mainly for HDR content. In our testing, we also found out that it's a fairly colour accurate display as well. The screen also covers 100% DCI-P3 colour space as expected and has a fairly decent RGB balance. Overall, it is a very nice AMOLED panel that is fairly bright even when viewed in outdoor lighting conditions. The touch performance of the laptop is also pretty good. The S-Pen is very responsive despite the display's refresh rate being limited to 60Hz. The laptop has no internal slot for the S-Pen but it is instead can be attached near the trackpad or over the screen flap.
Samsung Galaxy Book 2 Pro 360 Keyboard, Trackpad, Speakers, And I/O Review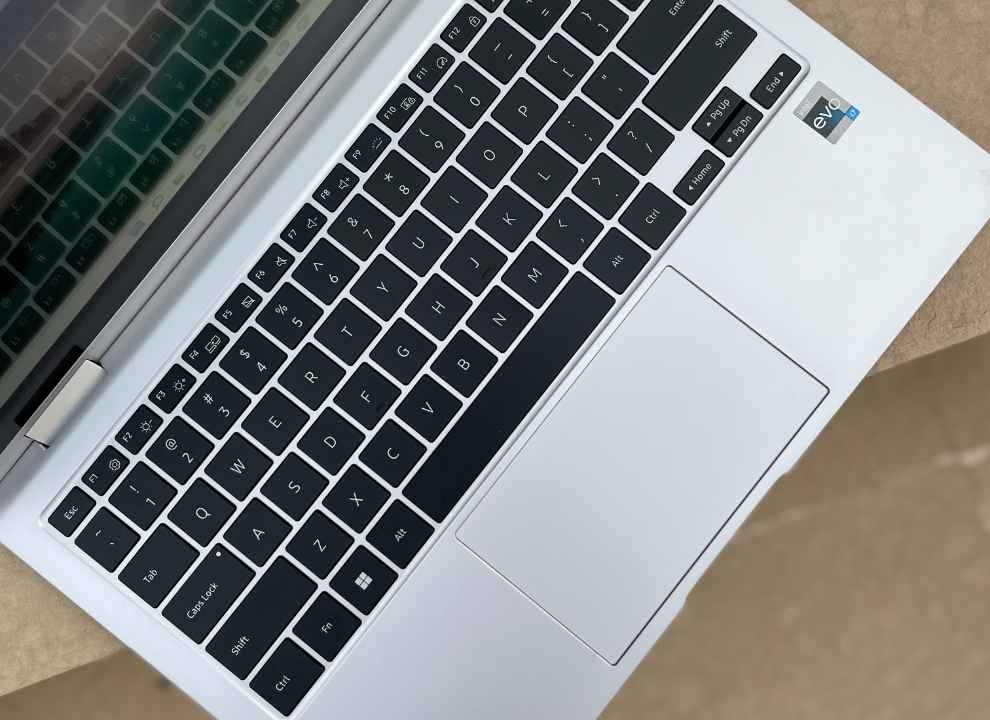 The Samsung Galaxy Book 2 Pro 360 laptop has a great keyboard and trackpad combination. The trackpad is fairly responsive and feels very well built. Meanwhile, the keys also have a decent travel to them. The keyboard has no Numpad which is a good choice as it allows the placement of big keys with enough spaces between them. 
The Galaxy Book 2 Pro 360 also comes with a set of powerful speakers. They output a sound that is crisp, has a good base and is decently loud. My only complaint would be their downward-firing position. In terms of I/O, the Galaxy Book 2 Pro 360 features three USB Type-C ports and one of them is a Thunderbolt 4 port. My suggestion would be to get a USB dock as the lack of a USB Type-A port may not sit well with many users. 
Samsung Galaxy Book 2 Pro 360 Review: Final Verdict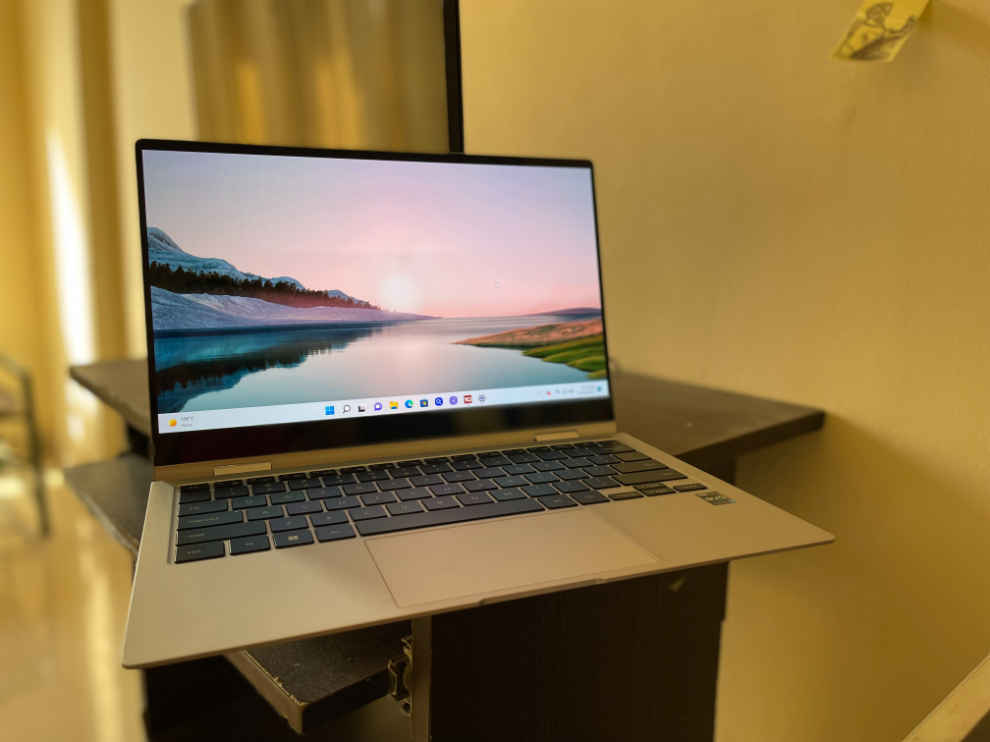 The Samsung Galaxy Book 2 Pro 360 represents brilliant chip engineering from Intel in addition to Samsung's ingenious design capabilities. The Intel 12th Gen chip based on the Evo platform gives this laptop a huge performance boost over previous-gen even when the thermal throttling kicks in. The display on the Samsung Galaxy Book 2 Pro looks good enough even for a 1080p 60Hz screen and is equally bright making it viewable under every lighting condition. The lack of I/O ports is clearly visible but I think an ultrabook design rarely allows a high breathing room. The Galaxy Book 2 Pro 360 is highly portable, compact, feature-packed, and powerful enough to easily mark Samsung's return to the laptop market as a solid move.