The wait for a compact DSLR quality camera with interchangeable lenses is over with the launch of the new Sony NEX range of  compact digital cameras, which take images at 14.2MP resolution, and are the world's lightest and smallest, mirror-less digital cameras with interchangeable lenses. They offer DSLR like picture quality and responsive shooting.
Some key features of the NEX range of cameras are as follows:
Feature a 14.2 effective megapixels Exmor APS HD CMOS sensor for crisp pictures

The BIONZ sensor built into the cameras is the same as used by all Sony DSLR's

Supports full 1080p HD video recording with stereo sound, fast and silent autofocus

They use Sony's new Alpha digital technology resulting in DSLR picture quality and responsive shooting

Their E-mount lens system is compatible with all Sony DSLR lenses with an optional Mount Adaptor

Feature an intuitive new interface with shooting tips and Help Guide.

Sony's Anti-Dust Technology helps keep the Exmor CMOS sensor clean, which results in consistently clear pictures

It has Sweep Panorama with 3D imaging capability

The Nex has Anti-Motion Blur mode for better pictures
Both cameras share near identical features, except that the NEX-3 captures 720p video recording at a rate of 9MB/s, instead of 1080p at 17MB/s. As of now only three E-mount lenses designed specifically for these 2 cameras have been announced. The first is a 16mm F2.8 pancake mostly for portraits, the second a standard 18-55mm with an aperture range of F3.5-5.6 image stabilized kit zoom lens, and the third an image stabilized 18-200mm with an aperture range of F3.5-6.3, the super zoom lens. The company does talk a great deal about their shallow depth-of-field, but from the specification of these lenses it is difficult to see how that would be possible.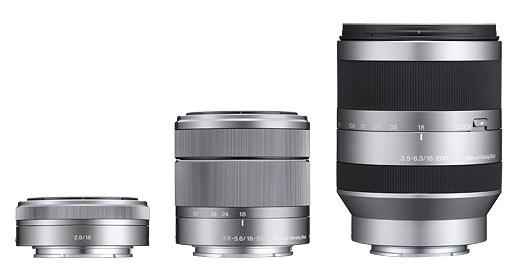 The 3 E-mount lenses: pancake, kit zoom lens, & super zoom lens (left to right)
The NEX series of cameras boast an elegant, uncluttered user interface that features a new 'never get lost' menu, making the powerful creative possibilities of the NEX-5 and NEX-3 accessible to amateur photographers and step-up users alike. Shooting settings can be easily accessed via an intuitive control wheel and two soft keys. For example, turning the control dial would allow depth of focus changes to be previewed live on the LCD before capturing the final image, giving effortless control over immaculate professional styled portraits. Further help for amateur photographers and users is provided by the on-screen shooting tips and a friendly help guide. The Sony NEX-5 would be priced in India at approximately Rs.30,000, and the NEX-3 would be priced at around Rs.28,000.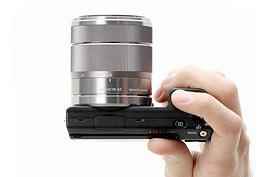 Image courtesy: DPreview