The Xiaomi 11i Hypercharge is the first phone in India to offer support for 120W fast charging right out of the box and is only the second phone to be powered by the Dimensity 920 chipset. While it follows the Mi 10i series from last year, the 11i Hypercharge is actually based on the Redmi Note 11 Pro+ which launched in China in November 2021. We have seen fast-charging getting speedier every year and with the 11i Hypercharge, Xiaomi has set a benchmark for everyone else to follow this year. What's more, is that the phone is priced in the upper echelons of the mid-range segment which makes it a unique offering in the sub-Rs 30,000 price bracket. We took the Xiaomi 11i Hypercharge through our usual set of tests to see how it holds up against the competition and whether the 15-minute charge claim does hold up in real life.
Xiaomi 11i Hypercharge Performance test
The 11i Hypercharge is powered by the MediaTek Dimensity 920 chipset which has an octa-core CPU and Mali-G68 GPU. This is paired with 6GB/8GB of LPDDR4x RAM and 128GB/256GB UFS 2.2 storage to choose from. The CPU comprises two performance cores running at upto 2.5GHz and six power-efficient cores clocked at upto 2.0GHz. It runs on Android 11 based MIUI 12.5 which is set to receive MIUI 13 based on Android 12.
In my day-to-day use, the 11i Hypercharge showed no signs of slowdown or lags in any kind of interaction. And neither did I face a barrage of ads in the notifications panel, something Xiaomi has been criticized in past. Although the phone does come with some pre-loaded apps including LinkedIn, it largely remains clutter-free and is very snappy, thanks in part to the 120Hz refresh rate. 
The 11i Hypercharge performed well in synthetic benchmarks and we also compared its stats with the OnePlus Nord 2, Samsung Galaxy M52 and the only other phone which has Dimensity 920, the Vivo V23.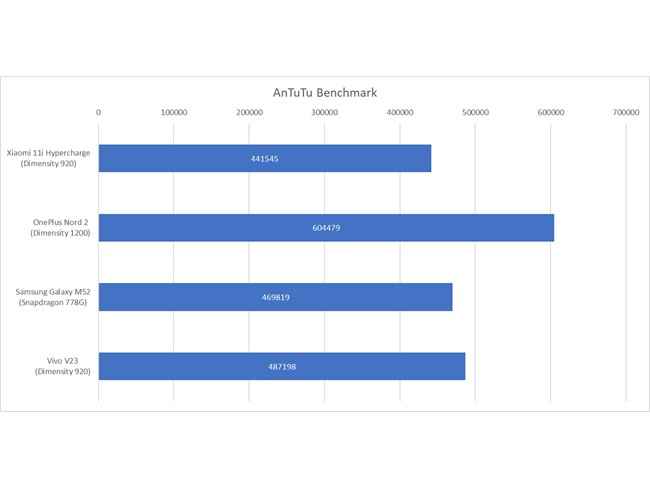 In the AnTuTu benchmark, the 11i Hypercharge got a decent score in comparison with phones like the V23 or Galaxy M52. However, between the four phones, the Nord 2 managed to get a lead of over 2 lac+ points. That said, the Dimensity 920 on the 11i Hypercharge still manages to catch up to the Snapdragon 778G on the Galaxy M52.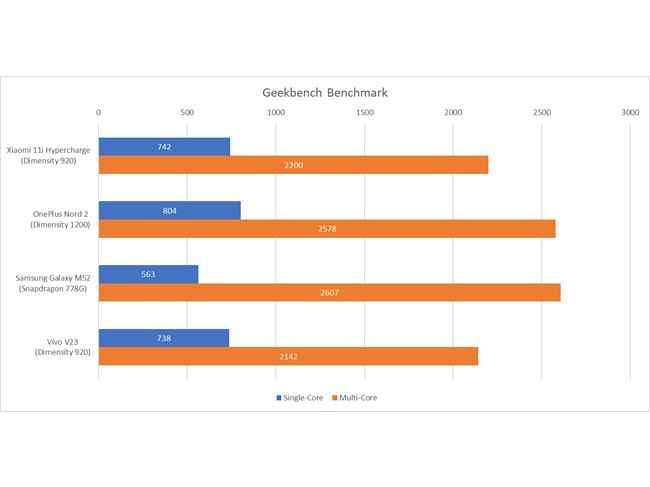 We saw a similar trend in the Geekbench single-core and multi-core tests where the 11i Hypercharge manages to beat the Vivo V23 and goes toe-to-toe with the M52 and Nord 2.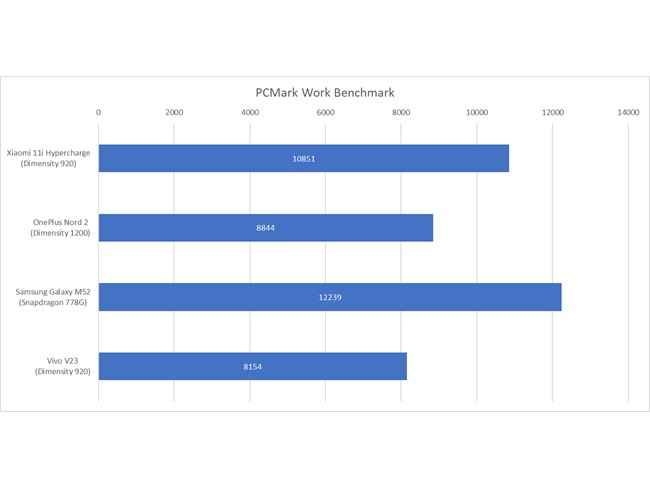 Next, we ran the PCMark workload test which checks the real-time performance of the phone by running some pre-loaded tasks like video editing, picture editing, document editing, web browsing and more. In this test, the 11i Hypercharge managed to surpass both the Nord 2 and V23 which proves that it is much more adept.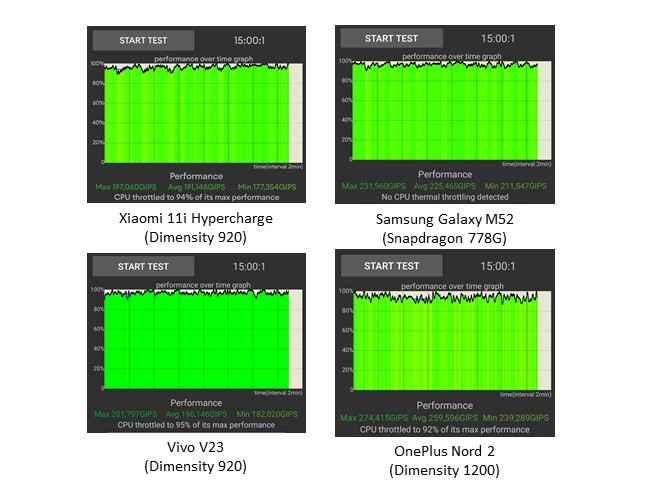 We also ran a CPU Throttling test which stress tests the CPU to determine whether it throttles under extreme workloads. Here, the Xiaomi 11i Hypercharge throttled to 94% of its maximum performance which proves that it is almost able to run up to its full potential while keeping the thermals in check.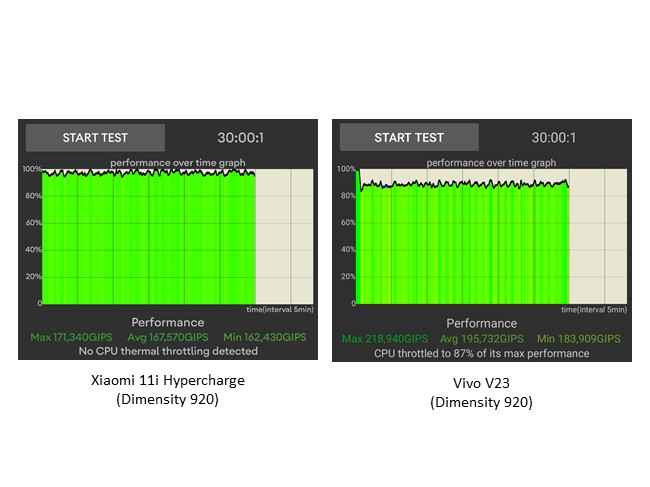 We ran the same test but for a longer duration and there was no thermal throttling detected this time which means that the phone is offering peak performance for a sustained time. The 12600 mm2 vapour chamber is able to dissipate heat at a faster rate which in turn ensures that the phone stays cool most of the time.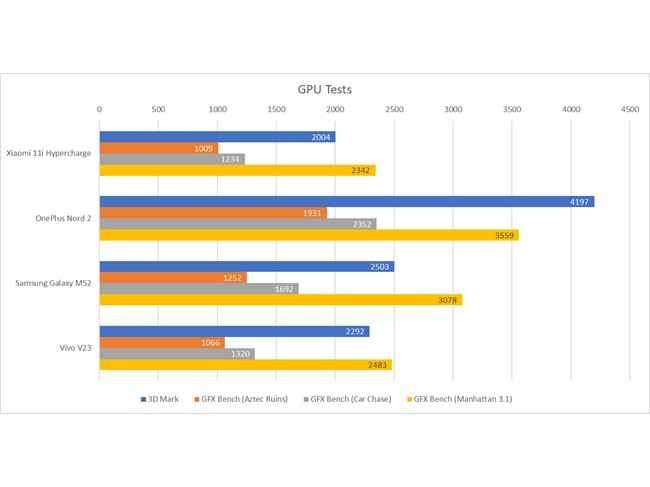 In 3DMark and GFX Bench GPU tests, the 11i Hypercharge got some of the lowest scores amongst the Nord 2, V23 and Galaxy M52 which indicates that this phone isn't meant for serious gamers. 
We also used Gamebench metrics to record the gameplay sessions to check its gaming performance in COD Mobile, BGMI, Asphalt 9 and more. The 11i Hypercharge runs COD Mobile at 60FPS with 96% stability on medium graphic quality and Very High frame rates. Sadly, that's the maximum quality supported by the Dimensity 920 chip on COD Mobile while I didn't face the same in other games like BGMI and PUBG New State.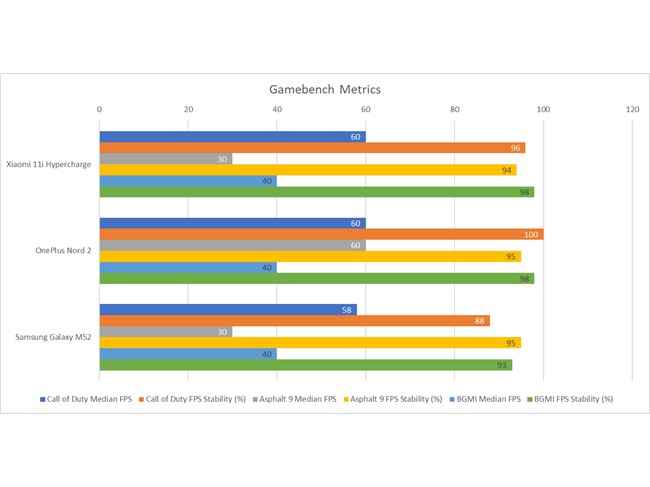 In Asphalt 9, Gamebench recorded 30FPS at 94% stability and BGMI runs at 40FPS with 98% stability which is pretty great and in line with the competition.
While these numbers may not tell you the full story, they are enough to prove that the 11i Hypercharge is a great phone for use in your daily life. However, if you go on expecting too much from it like an intensive gaming experience, you are bound to end up disappointed.
Xiaomi 11i Hypercharge Battery and Charging test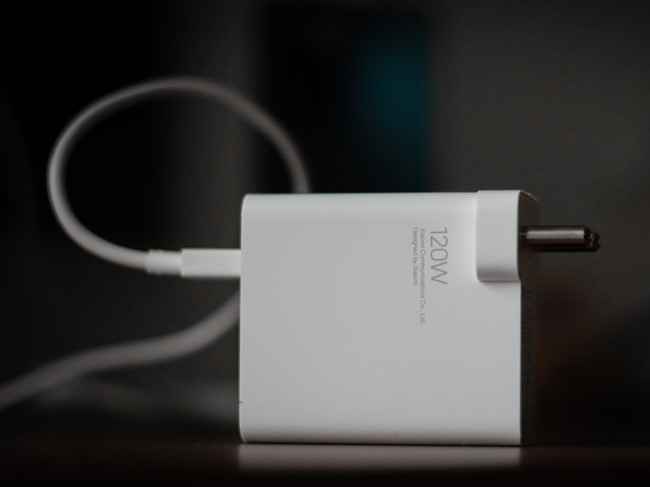 The 11i Hypercharge's fame to claim its 4,500mAh battery that supports 120W fast charging and Xiaomi claims that it can fully charge in just 15 minutes.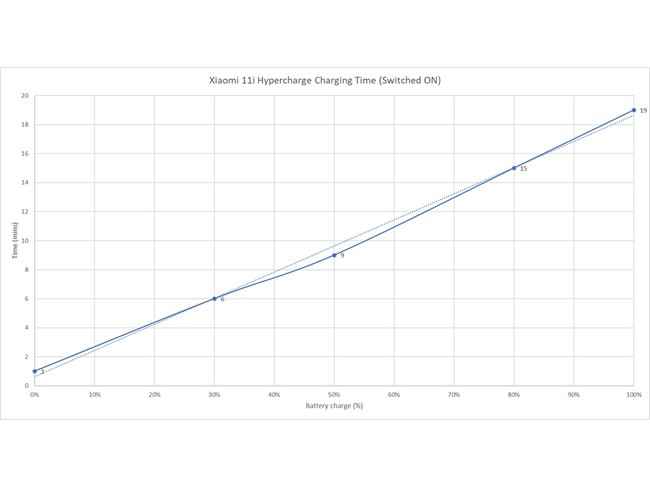 Now we did put that claim to test and surprisingly, the 11i Hypercharge did not live up to the hype. But there's more to it than meets the eye. Right out of the box, the first time I charged this phone from 0-100% without enabling internet or logging into a Google account, it did take 15 minutes to fully charge. However, my subsequent attempts at charging this phone from 0-100 took around 20 minutes on average. When switched on, the 11i Hypercharge took 19 minutes to go from 0-100% which is groundbreaking nonetheless. This was with the brightness set to the maximum with 120Hz refresh rate and always-on display enabled. I deep discharged the battery on the phone again for round two and this time the 11i Hypercharge took 21 minutes to go from 0-100% when switched off.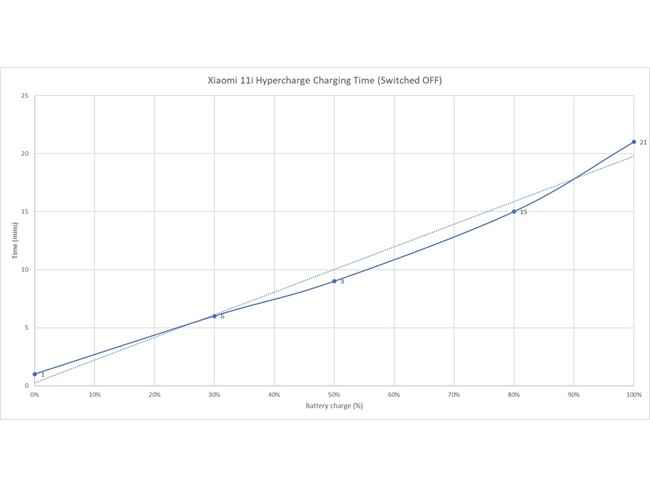 Xiaomi's claim stands true but only in lab conditions with set parameters wherein you need the phone to not be connected to the internet or logged into a google account. Since that's not how most buyers will end up charging the phone, the results we received still puts the 11i Hypercharge at the forefront of the fast-charging bandwagon.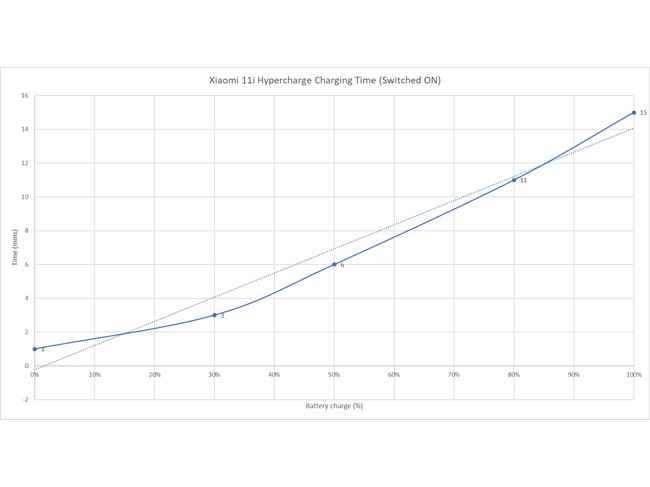 The 11i Hypercharg takes anywhere from 17-24 minutes to fully charge on average while being switched on or off. Now, that is some serious uptick in the charging time and the impact can only be felt when you use this phone as your daily driver. 
As for the battery life, you can expect a day's worth of use when listening to music, watching videos on YouTube, playing games occasionally, using social media apps, making video calls and more.
Xiaomi 11i Hypercharge Camera review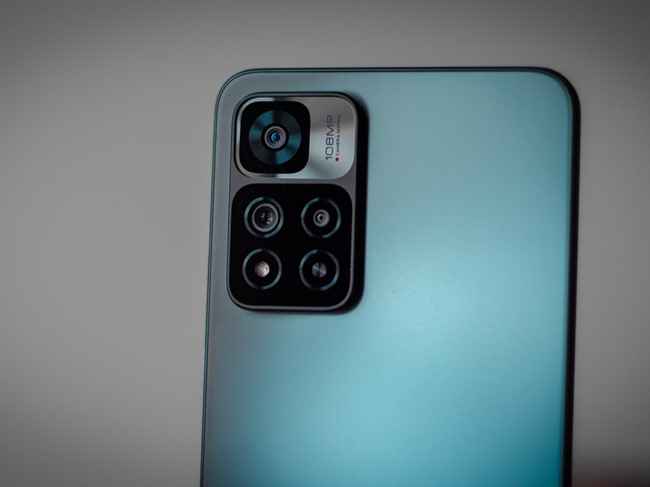 The Xiaomi 11i Hypercharge comes with a triple camera setup on the back headlined by a 108MP camera with an f/1.9 followed by an 8MP ultra-wide camera and a 2MP macro camera. The rear cameras can record in 4K UHD and 1080p at upto 60FPS. 
Out of the three cameras, the main 108MP camera is capable of producing some decent pictures that are colour accurate and detailed. During the day and in ample lighting conditions, you will be able to get some good images from the primary sensor with a good dynamic range, textures and natural depth of field effect. We also noticed some ghosting effects in pictures taken from the front camera but it's very rare and shouldn't be a problem for most users.
Having said that, the phone fails to produce usable pictures at night or in low-lighting conditions. While the main camera manages to enhance the brightness and details in night mode, it does not come across as natural and you can see signs of shabby post-processing.
The ultra-wide camera produces average results with images having sharpness in the centre. But as you tend to move away from the centre, there is little sharpness and noticeable barrel distortion. Also, the colour tone between the main camera and the ultra-wide camera just does not match and is ever so slightly dull and warm.
Similarly, the 2MP macro camera can get really close to the subject but the result is filled with grains and sometimes it gets tough to focus on the subject. 
Overall, the camera stack on the 11i Hypercharge is decent and nothing groundbreaking. Its performance is at par with other phones in this segment, sometimes better and sometimes worse. That said, it is common across this price point and if great cameras is a priority then you may have to look elsewhere.
Xiaomi 11i Hypercharge Build and Design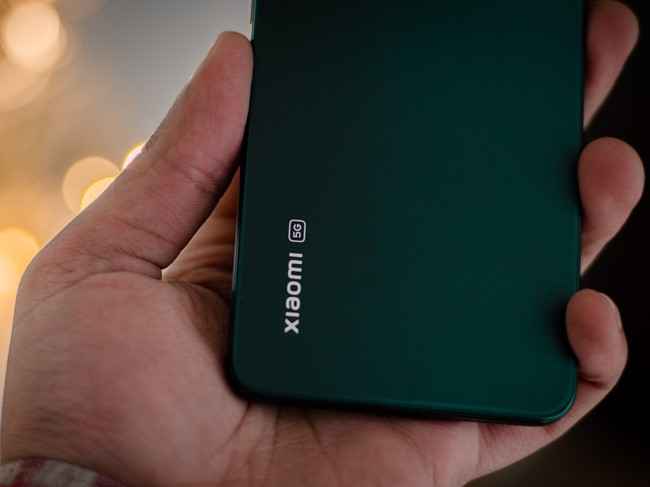 The Xiaomi 11i Hypercharge has a plastic build with an anti-glare matte finish on the back which means that you won't have to keep cleaning the back off of fingerprints and smudges. However, the matte finish is only available with Stealth Black, Camo Green and Purple Mist colours while the Pacific Pearl has a shining gradient finish. The phone also has flat edges which aren't sharp and has a comfortable grip.
I like the build, design and in-hand feel of the 11i Hypercharge. It is slim measuring 8.3 mm and weighs 204 grams which don't feel hefty in the hand. It'll be safe to say that you can use this phone without straining your hands in tasks like gaming or watching movies.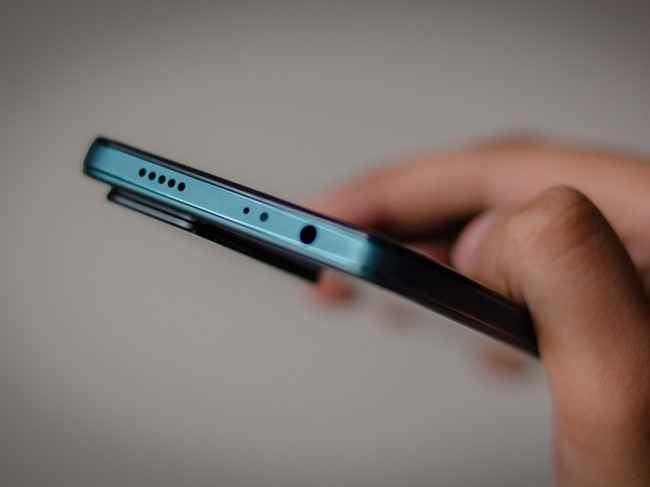 The back panel has a large protruding camera module that houses three sensors along with an LED flash. The design of this camera module makes it wobbly when kept on a flat surface which is slightly more than my preferred liking.
Xiaomi 11i Hypercharge Display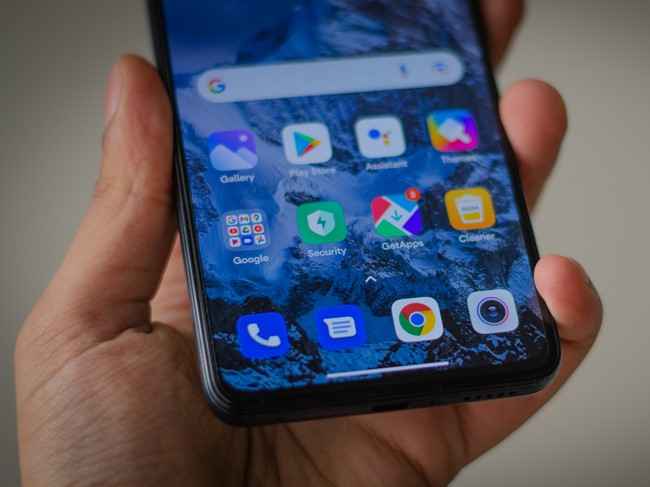 The Xiaomi 11i Hypercharge features a 6.67-inch Full HD+ (2400×1080 pixels) resolution AMOLED display that offers upto a 120Hz refresh rate and has a tiny punch-hole notch cutout for the 16MP selfie camera upfront. 
The display on the 11i Hypercharge is great for watching videos or movies and you can expect an immersive experience from the large and vibrant screen. Since the punch-hole notch cutout is very small, it does not spoil the viewing experience and the screen can get really bright, even outdoors and in sunlight.
Verdict
The Xiaomi 11i Hypercharge sets a new benchmark with its 120W fast charging solution which is capable of topping up the phone's battery in no time. While Xiaomi claims that it takes 15 minutes to charge the phone fully, in reality, it isn't a consistent speed and more often than not it will take more than 15 minutes to fully charge. Having said that, it is still the fastest charging phone you can get your hands on in India at the moment which makes it a great buy for people who demand better battery life and faster-charging speeds. The long-term effect of fast charging on the 11i Hypercharge's battery is something we will only see in the long run, but for now, the feature works well, just not as advertised.
Apart from this, the display is really good in my opinion for daily use and you will enjoy crisp details with HDR10 playback support. This is paired with stereo speakers which can get loud and compliment the viewing experience. The build and design of this phone are good too and it feels comfortable and lightweight in the hand. However, cameras on this phone are very ordinary and you should not expect a groundbreaking camera performance as it is at par with the competition.
Overall, the 120W fast charging remains the only highlighting feature of the 11i Hypercharge and if you are someone looking for a phone with blazing fast charging speeds, then you couldn't go wrong with the 11i Hypercharge.