Xiaomi Mi Mix 2 detailed review
Having sold millions of phones in India, Xiaomi is yet to crack its way into the flagship market. The company will never sell a uber premium phone in any country, but its own flagships have failed to make a mark, at least as far as Indian buyers are concerned. So, passed on the Mi 6 this year, it seemed like the right idea, choosing instead to sell the Mi Mix 2.
The Mix series has a short history, beginning only last year. It's meant to prove that Xiaomi isn't a company that makes affordable phones only. It's a mascot, for innovation and creativity. It's meant to prove that Xiaomi is capable of making uber premium devices and bring them to market before others. The Mix isn't a first of its kind phone, but it's a phone that meets every modern standard you can think of. It won't be the best selling phone in the country, but it's not meant to be that anyway. Xiaomi simply wants you to know that it can make such phones, in the hopes that you will one day buy them.
Build and Design
Most of the Mi Mix 2's defining elements are in its design. Xiaomi has refined its bezel-less design, creating a substantially smaller form factor this time. The bezels are still trimmed, but you find a larger black border around the screen this time, as compared to last year's Mi Mix (review). The Mix 2 is also thinner than its predecessor, and all of that together makes for a much more compact smartphone, despite the 6 inch screen.
Next, while there is a glass version of the Mi Mix 2, Xiaomi is only selling the ceramic variant here in India. Thanks to the smaller form factor, the finish feels tighter and the body more solid. However, while it is almost impossible to scratch ceramic, the material is more brittle. That means that on the one hand, your Mi Mix 2 will break the first time it's dropped, on the other, you won't have to worry about wiping off the fingerprints with a soft cloth. You can do that with your shirt without having to worry about scratches. To someone like me, who's careful never to drop their phone, that seems like a reasonable end.
The proximity sensor is behind the display, while the front camera is on the bottom, almost invisible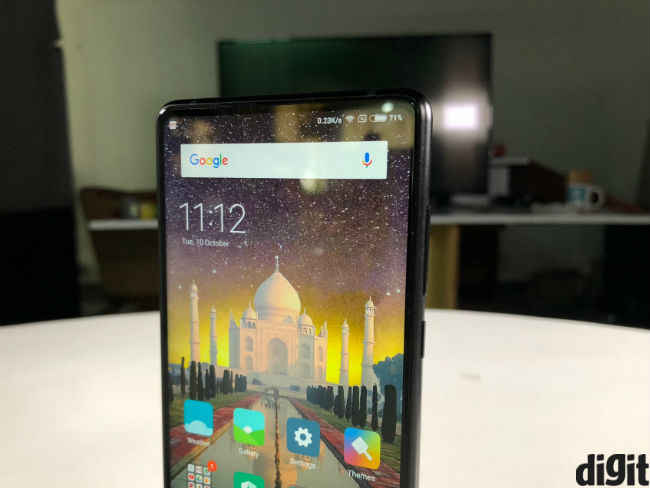 You can see a thicker border around the screen this time, although the bezels are still trimmed
There's another very important change made on the Mi Mix 2, that of the rounded metal frame on its side. Along with its compact form, the rounded sides allow better grip, while the use of metal makes the body slightly more resistant to damage when dropped. The antenna lines are on the top and bottom of this frame, while the speaker grilles and USB Type-C port are at the bottom. You will also find a noise cancellation mic on the top, while the volume rocker and power button are on the right. The SIM slot is on the left side of the phone.
The last noticeable design element of the Mix 2, that makes it more premium than last year's Mi Mix, is the round golden accented camera module on the back. It's slightly raised, with the flash next to it and a similar looking, spherical fingerprint sensor below it. Written below all this is "Mix Designed By Xiaomi", a declaration by the company that it can make a phone like the Mix/Mix 2.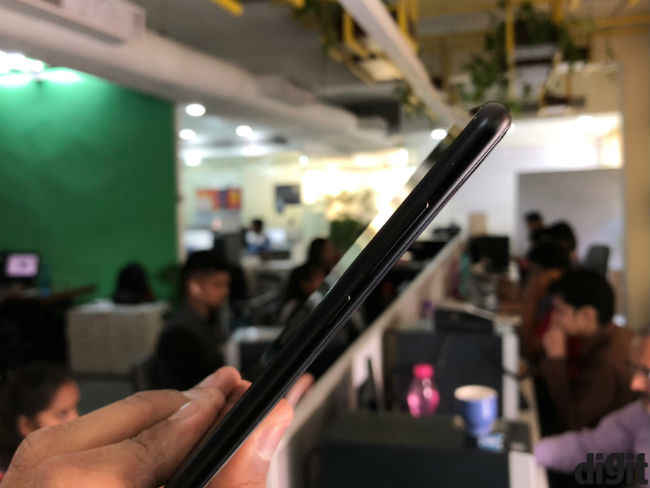 The metal frame around the side makes the Mi Mix 2 feel premium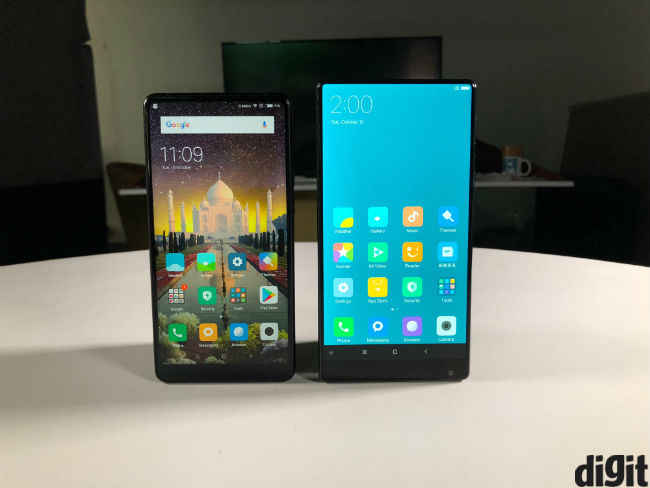 Mi Mix 2 i(left) s substantially smaller than the Mi Mix (right)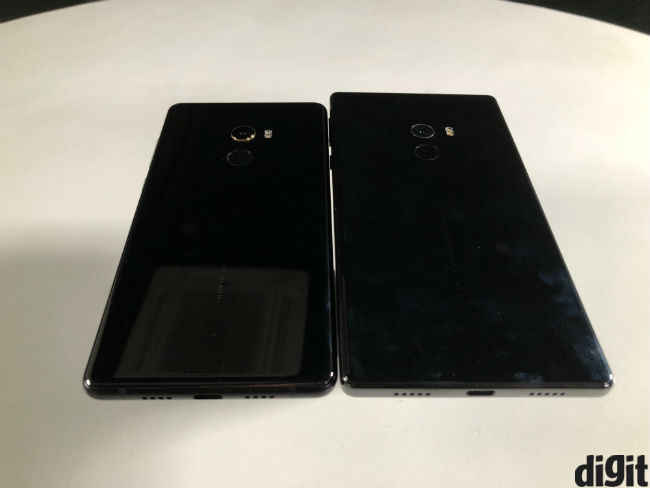 The smaller form factor of the Mi Mix 2 (left) makes the ceramic back fell more tightly packed
Along with that message, Xiaomi has once again placed the proximity sensor behind the display. There is a slight notch on the top this time, to fit the earpiece.
When explained in paragraphs, the Mix 2's design feels neither special nor new, but it's the succinct marriage of all of these materials that makes this a modern flagship. Based simply on design, the Mix 2 would easily impress budget buyers who yearn for the premium feel a phone priced at 50k brings. It's miles ahead of mid-ranged flagships like the OnePlus 5 and Honor 8 Pro. When you walk into a Mi Home, the Mi Mix 2 is the phone that'll catch your eye.
Display
The design does a huge favour to the Mi Mix 2's display. I spent nearly 500 words describing the premium design, but it also left Xiaomi with little room cost-wise. As a result, a 1080p display is all you get, although the lack of bezels make it feel much more immersive on the Mix 2.
While Gorilla Glass 2 feels extremely premium, I would have certainly preferred an AMOLED panel on the Mix 2, and one that pushes the pixels to the high 500s. Instead, you get 403 ppi pixel density and 18:9 aspect ratio that still feels excellent, but leaves you wanting a tad more. I do hope next year's Mix 3 will at least have an AMOLED panel.
Performance
Being Xiaomi's flagship, the Mix 2 is also Xiaomi's fastest smartphone to date. It runs on the Snapdragon 835 chipset clocked at 2.45GHz. There's 6GB of RAM here and 128GB storage inside. As far as mid-ranged phones go, this is the most storage you can get, eliminating the need for micro-SD expansion.
The Mix 2 sets high benchmark scores and the same is seen on regular usage as well. Apps open fast and Xiaomi has tuned the software to reduce app load times. The phone is lag free and smooth. It feels almost as fast as the OnePlus 5, although differences are easy to spot when placed side by side. Still, the Mi Mix 2 is snappy and responsive.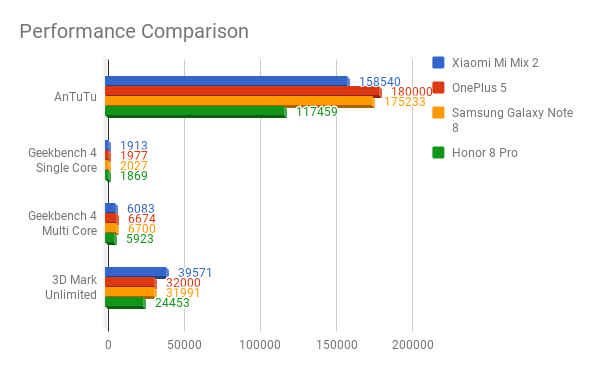 The earpiece on the Mix 2 is cleaner this time. That is not to say the Mix made calls difficult, the new earpiece just feels easier to use. There were no issues in terms of call quality, and no drops.
The Mix 2 also supports 43 LTE bands, meaning you can literally use it anywhere in the world. You won't see the impact on this unless you happen to be a globetrotter.
Software
For everything the Mi Mix 2 is capable of, it's unfortunate that the Mix 2 will not get Android updates fast. It runs on MiUI 8, layered over Android Nougat, and given Xiaomi's history, I wouldn't expect timely OS updates.
While MiUI does have some useful features, like allowing you to swipe screens when moving apps, there are also downsides. For instance, the Mix 2 will only show you the number of notifications from an app when the screen is locked. This means you will have to open the app every time there's a notification.
That said, whether you like the UI finally comes down to personal choices. MiUI is one of the better designed custom interfaces out there.
Camera
The Mi Mix 2 has an improved camera compared to last time, but it's easily outperformed by any flagship today, mid-ranged or high-end. It has a 12MP camera with f/2.0 aperture and 1.25 micron pixel size.
It takes reasonable photos in daylight, although you can see fine noise when you enlarge them. Details are also low and they reduce in low light or indoor shots. Shadow details are low and photos shot at night remain sub-par. The good thing is that colours and white balance are decent and the camera is quite fast to shoot with.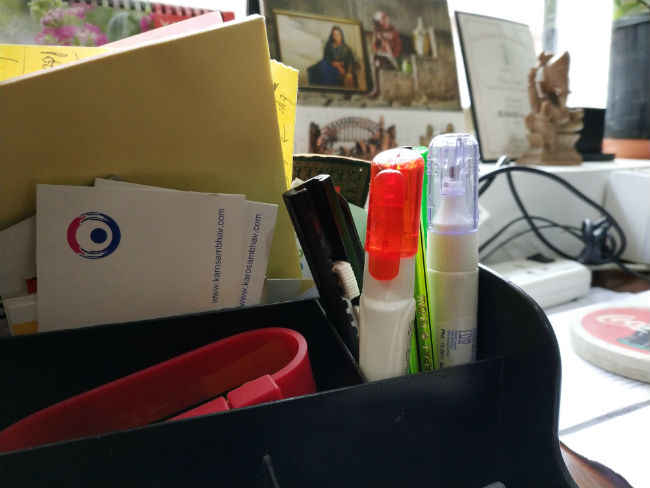 Indoor natural light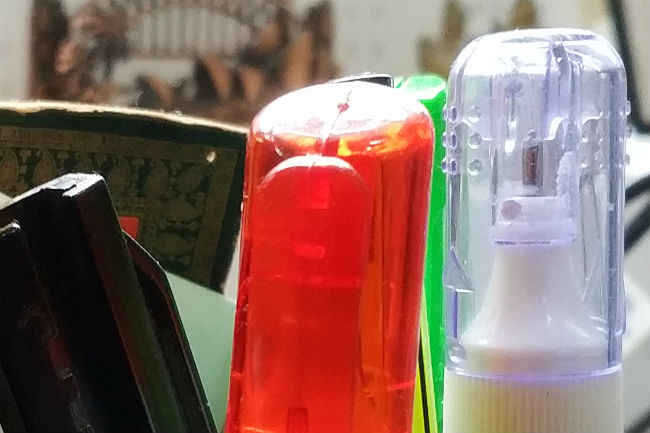 100% crop of image above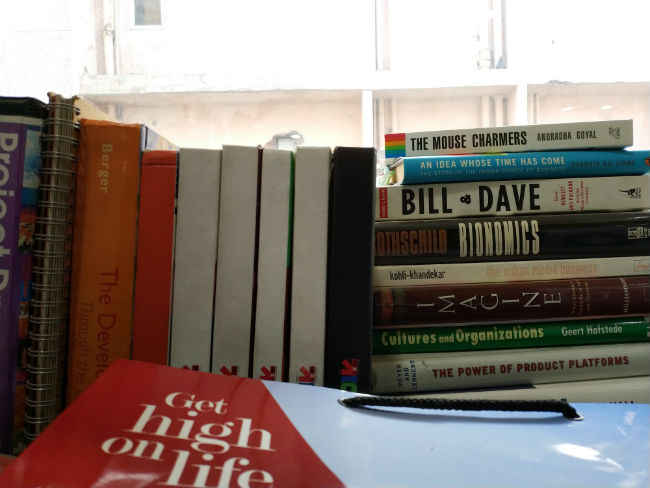 Indoor lights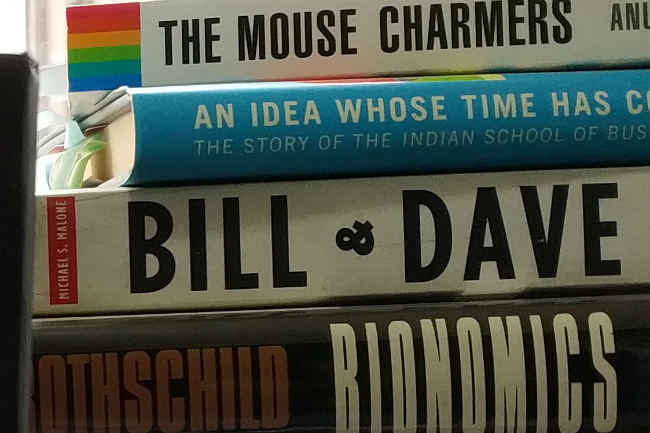 100% crop of image above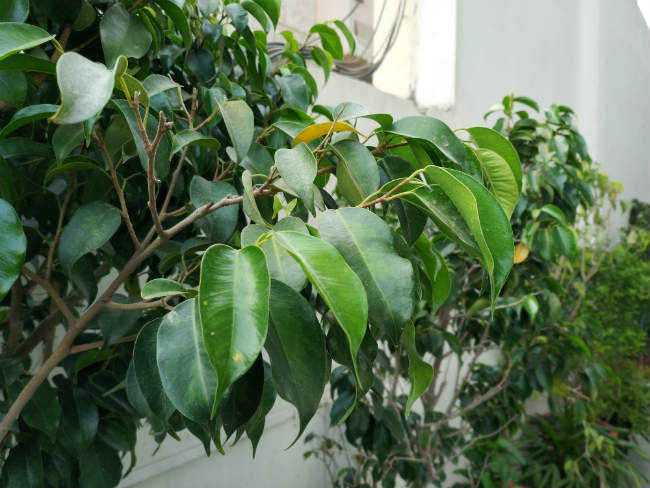 Outdoor Daylight shot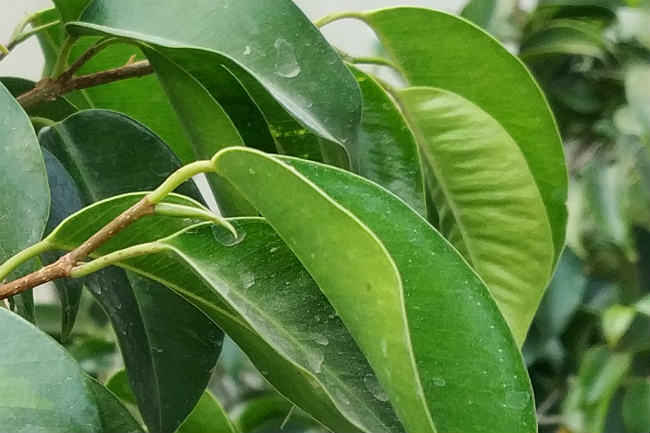 100% crop of image above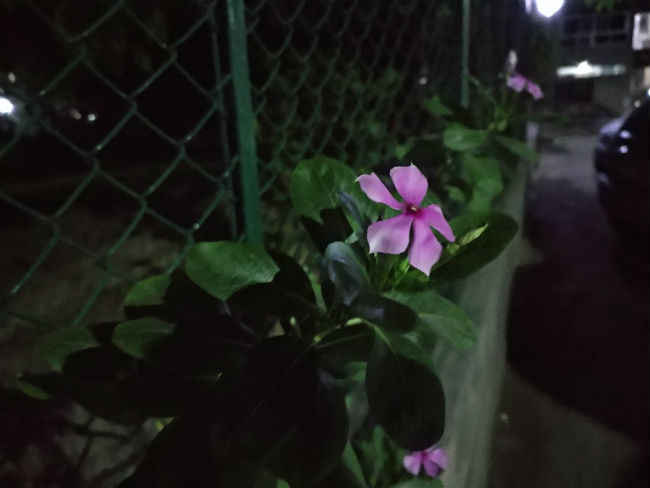 Low light
100% crop of image above
Overall, though Xiaomi has improved the camera this time, there's still work to be done here.
Battery
The Mi Mix 2 is well designed, fast and has a nice display. But, my favourite feature of this phone is its battery life. The phone runs on a comparatively small 3400 mAh battery, but it drops almost no battery when idle and regular usage times are higher than any flagship I've used so far. On a weekend, with only a few calls and toned down usage, the phone easily surpassed 15 hours on a single charge. For most users, the phone will easily last at least 12 hours on each charge. The PC Mark battery test returns a score of nearly 12 hours to bring the battery down from 80% to 20%, which is the highest amongst flagships on our tests.
Bottomline
The Xiaomi Mi Mix 2 looks premium, feels high end it's fast. It doesn't set new heights in terms of what flagships can be, but it certainly proves what Xiaomi is capable of. A better camera would have made this the best mid-ranged flagship to buy, but Xiaomi has been making mistakes in this department for a while now. So, while the Mi Mix 2 is indeed a great phone, Xiaomi needs to address the camera to make it worth the money.
How it compares
The Mi Mix 2 matches any phone in terms of speed, design or build quality. Where it fails though is in terms of camera performance. The OnePlus 5 (review) and Honor 8 Pro (review) outperform this phone in that department, while they're equally fast and competitively priced. The Mix 2 will impress those who want an out and out flagship design, it's not the perfect mid-ranged flagship out there, and certainly not the best buy.